RED OAK, TX — Americans have always enjoyed watching the Olympics, and the games held in London this past summer were especially exciting. During the Parade of Nations, members of Team USA strolled proudly through the stadium waving to a multitude of cheering onlookers. The best athletes in the world had gathered to compete in the ultimate athletic arena. And amidst the backdrop of dazzling fireworks and the pageantry of the opening ceremonies, there was one Olympic delegate who thought to herself, I can't believe I'm here — again! That Olympian was Red Oak's own Michelle Carter.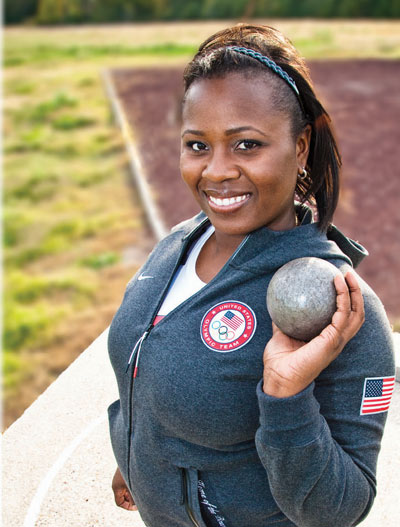 Michelle is a world-class shot put competitor, and she was in London to represent the USA in the track and field games. It wasn't her first time representing her country. It was her second. Her first Olympic appearance was in 2008 at the summer games held in Beijing, China.
Michelle really enjoyed her experience in London. "Everyone spoke English, so there was no language barrier," she said. "The food was good, and the shopping was great! I did too much shopping." As for the competition, she showed a marked improvement from her first Olympic appearance, placing an impressive fifth place in the event that has long been dominated by the Russians. Being the competitor that she is, Michelle already has her sights set on gold for the 2016 games being held in Rio de Janeiro, Brazil.
Michelle is a warm and engaging young lady. She is soft spoken, and converses about her experiences in a matter-of-fact manner. But don't let her mild demeanor fool you. She is one super-competitive athlete. It's not surprising, because the competitive vein runs deep in the Carter household.
Her father, Michael Carter, was a star athlete at Thomas Jefferson High School in Dallas. His national high school shot put record of 81 feet 3 inches is the longest ever recorded and still stands today. As a Southern Methodist University alumnus, he was drafted by the San Francisco 49ers and helped the team win three Super Bowl titles (1984, 1989 and 1990). While playing professional football, Michael continued to excel in track and field. In 1984, he won the silver medal at the summer games in Los Angeles, California. To this day, Michael is the only athlete to have medaled in the Olympics and won a Super Bowl in the same year. He was a gifted athlete, and he quickly recognized his daughter's budding talent.
Growing up, Michelle had always been a standout athlete. "In high school, I started on the varsity basketball team as a freshman," she said. "I really loved playing basketball, but things always got complicated because the basketball season overlapped into the track and field season. Playoff basketball games and mandatory practices for the track team were scheduled at the same time, but I couldn't be in two places at once."
Other problems weren't so evident, like the size and weight differences between the basketball and shot put. Michelle continued, "The differences made it difficult to switch back and forth between the two balls on a daily basis." Soon it became impossible for her to concentrate fully on either sport. Michelle knew she had a decision to make. She was torn between the two sports she loved, so she turned to her personal coach. "My father advised me that I had a better chance of getting a shot put scholarship than a basketball scholarship, so I eventually decided to give up basketball. I cried and cried, because I felt like I was letting my team down. But the team understood the reason for my decision," she shared.
Once Michelle resolved her dilemma, the shot put training and competition intensified, and she was ready for the challenge. Her hard work paid off, and in 2001 at the youthful age of 14, Michelle found herself on her first overseas flight — destination Debrecen, Hungary. She was competing in her first world-class event — the World Youth Championships in Athletics. It was at this point that she found herself starting to believe she, too, was a gifted athlete.
The flight to Hungary turned out to be its own memorable event. Michelle laughed as she recalled how the journey started. "Our flight was full of young athletes from all over the U.S. We hadn't been in the air very long when we felt the plane descending, and then we smelled smoke. The pilot announced that we were going to make an emergency landing in Canada because of engine failure. The delay caused us to miss connecting flights, and a flight that should have taken 12 hours ended up taking over 48 hours.
"We were tired and miserable. We didn't have our luggage. We couldn't change clothes, and we were hungry. But the airline apologized for the delays, and they gave us each $100. For teenagers, that was a lot of money, so we perked up considerably once we started shopping at the airport!"
As a senior at Red Oak High School, Michelle set the girls national high school shot put record — a record that still stands today. In 2004, she won the gold medal at the World Junior Championships in Athletics. After graduation, she accepted a scholarship to The University of Texas, where she continued to break records. In 2008, she made her first Olympic appearance in Beijing, China, where she placed 15th in overall competition.
As a professional athlete, Michelle trains continuously for competitions, both nationally and internationally. She is already training for the World Championships being held this summer in Moscow, Russia. Her athletic apparel sponsor is Nike, and she has represented her sponsors admirably, both on the field and off.
Over the years, there has been much debate over whether or not professional athletes have the moral responsibility of being role models for young people. Michelle didn't hesitate to share her opinion. "I believe that if you are a high-profile athlete, then you are also a role model. You may not want that responsibility, but you have it. I know that I am an example for many young people, especially young women, and I'm OK with that.
"I would rather set a positive example for young people with my goals and aspirations," Michelle continued, "than for them to be bombarded with negative images in the media and have them believe that those images are the only ones to which they can aspire." A very heartfelt sentiment shared by a world-class athlete — and a first-class individual.
Written by Dianne Reaux.