MIDLOTHIAN, TX — The clock was ticking and the wait was interminable. At the end of 48 hours, Justin and Heather Blackwell would experience the greatest joy of their lives or their deepest sorrow. They were trying to adopt a baby girl, and in Texas, the birthmother cannot sign the adoption papers until 48 hours after birth. With two hours to go, it looked as though she was changing her mind. "It was the hardest time in our marriage, but it was good to have each other," Heather recalled.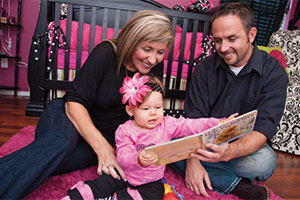 This drama began 18 months ago when the couple first contacted Inheritance Adoption Agency in Wichita Falls. Understandably, they were anxious about the process for many reasons. Heather is employed as a flight attendant, and Justin is a varsity coach for Midlothian Independent School District (MISD) football and baseball assistant for junior varsity baseball. "We didn't have tons of money for an adoption," Heather said. "We were both apprehensive because adoption wasn't something we planned to do in our life. But we prayed, and I had started to feel a pull in my heart to adopt. We hadn't had a baby of our own, so we decided that adoption was the way to go."
After waiting almost a year, they finally received a call that changed their lives. It was from an 18-year-old who already had one baby and could not care for a second one. "We met in Wichita Falls, and she had three pages of questions," Heather said. "She asked Justin, 'What will you tell the baby about me?' He said, 'I will tell her that you didn't just look at us and say, "OK, I like you," but you had three pages of questions [ranging from] what our favorite TV program was to our feelings about divorce and our relationship with God.' On our way home, she called and said how much she enjoyed us and didn't feel the need to meet with anyone else."
Heather didn't want to get her hopes up, because the young lady was only five months pregnant and could easily change her mind. "I wasn't going to have any showers or get the baby's room ready," Heather shared. "She insisted on me doing those things. I was hesitant to go to all the doctor appointments, but our social  worker said one day I would be glad I did. Now I can tell my daughter I was there when we heard her heartbeat and when we found out she would be a girl."
Finally, the big day came. The birthmother wanted Heather in the room during the birth, but only two people could be present, and she chose her boyfriend and mom. Heather and Justin waited anxiously in a nearby room until they received the phone call. The biological grandmother called Heather on her cell and asked, "Do you want to hear your baby?"
"This was like 30 seconds after she was born," Heather said. "I could hear her crying, and I started bawling. I couldn't believe this was happening! The biological granddad immediately went to the gift shop and bought fake cigars that said, 'I'm a mom' and 'I'm a dad' for us. I was able to give Brooklynn her first bottle. It was emotional to say the least." During the next 48 hours of waiting, Justin and Heather fell in love with their baby. They named her Brooklynn.
"That 48-hour period was probably the most difficult thing I've been through," Justin declared. "We weren't able to have any family with us because of the rules of our adoption agency. We only got to see Brooklynn when her biological mother and father went outside to take a break. It was so hard to have no control over what went on with our potential little girl. I just wanted to grab Brooklynn and run away from that place and never look back!"
Although the waiting was hard, the worst was yet to come. Even now, Heather becomes emotional when she recalls learning the birthmother was considering changing her mind. "It was my worst nightmare," she said. "It was what I most feared. I almost thought it was my fault, because I got too excited.
I went into the bathroom and threw up. I couldn't think. I can't describe how attached I was to her already. I told our social worker if that was going to happen, I didn't know if we could tell her goodbye. We had such a strong bond with her and had already become so protective of her."
Justin was also living his own nightmare. "Heather was literally throwing up in the bathroom. I was losing my mind. I was trying my best to hold it together in front of Heather, but I literally felt like I was dying inside. It had been months of getting to know this family and preparing our hearts to be parents. It just didn't seem real that it could come to an end in the last moments of our journey."
Meanwhile, Heather had to break the news to family members at their home who were decorating and preparing for a joyous homecoming celebration. "I asked them to pray for Brooklynn to come home with us. The nurses were crying. Everybody at home was praying. I've always been a Christian. In the bathroom while I was being sick, I could literally feel the power of prayer," Heather shared.
After an agonizing wait, the Blackwells got their miracle. The birthmother's mom came in and said, "She's signing the papers right now."
Heather sent out another text to let everyone know it was happening. "I could feel the excitement of everybody there. When I checked my phone, I had over 200 text messages from people. It was a weird moment, because you want to be excited, but my heart was breaking for the birthmother. I knew this was a tough decision for her."
Justin gushes when talking about his daughter. "God is good! I can't imagine life without her. She has been worth all the drama, heartache and money 10 times over. She was meant for us, and I cherish every moment that I have with her. She has made me realize what's really important in life. She is daddy's little angel now and forever!"
"I want to use our story as a testimony to others to be thankful to be parents," Heather stated. "I consider being Brooklynn's mommy a huge honor. All we went through to get her just reinforced to us even more how blessed we are to have her. I want our story to remind others who are parents how lucky we are God blesses us with these babies! She is our gift that will always keep giving."
Written by Betty Tryon.