RED OAK, TX — Alan Thomas speaks two languages: English and music. As a precocious preschooler, he learned to read both of these at the same time. His parents were both professional musicians, and he grew up listening to his father teach private lessons in their home. From that foundation, Alan grew into an award-winning composer and sound designer, who makes his home in Red Oak.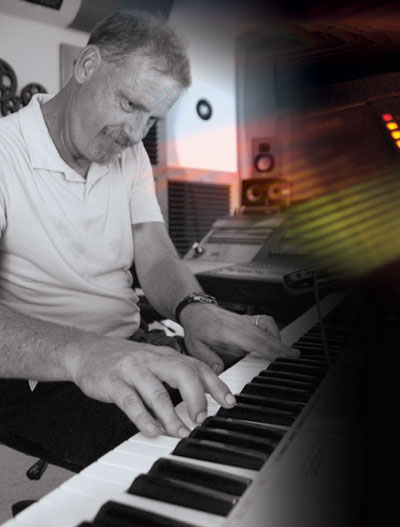 "By eighth grade, I was playing in the local college orchestra and arranging music on paper for full orchestra. The first public performance of one of my compositions was my junior year in high school when the 107-voice school choir performed a work for eight-part mixed choir, piano and flutes from piccolo to bass," Alan recalled.
A San Diego native, Alan managed to partner his love of music with a military career. In 1982 he joined the U.S. Navy and graduated from the U.S. Armed Forces School of Music to begin his professional career. "I was assigned to Navy Band San Diego. I bought my first synthesizer that year," Alan said.
In 1983 Musical Instrument Digital Interface (MIDI) was released. MIDI is an electronic musical instrument enabling a variety of digital instruments, computers and other related devices to connect and communicate with one another. "It was obvious at the time that MIDI and digital sequencing would change the face of music production, so I jumped on board," Alan said.
Alan was transferred to the CINCPAC (Commander in Chief Pacific) fleet band in Pearl Harbor, Hawaii in 1986. "In the Navy, we were expected to be able to make music in any style. I arranged music for, and gave over 300 performances a year playing French horn, keyboards, vocals, harmonica, percussion, bass recorder, or just about anything else I could make noise on. In bands ranging from '40s-style big bands, to Renaissance chamber ensembles, to variety showbands."
In 1989, Alan partnered with the top audio post-production company in Honolulu as composer and music director, and formed Designer Music. "At the time, we were pretty much tape-based, but we were the very first to have a sound card for a computer that could do CD quality sound and editing in Hawaii," Alan noted. "Later, we were accepted as beta testers for the first multitrack audio editor, and still the industry standard today, Pro Tools. We pioneered the idea of sending sound files via modem in minutes instead of hours or days, pre-Internet. Since then, I have remained a high-tech audio production company."
After living in Hawaii for 12 years, Alan moved his family – including his wife, Jennifer, and son, Cameron, to Waxahachie in 1998 – and took a job as an audio engineer/producer/instructor at the Dallas Sound Lab School for the Recording Arts (now MediaTech in Las Colinas).
"I got involved with the Waxahachie music program while my son was a student at Waxahachie High School. I've been doing a lot of teaching since then, while keeping up the business of sound design," Alan said. Four years ago, Alan discovered Red Oak. "We founda great price on
a great home with land and the permission to build a 1,200-square-foot recording facility in the back,"
he said. Today Alan handles audio production on a variety of projects. "A fifilm project, for example, includes things like dialog cleanup, replacement of lines, audio processing, along with sound effects, foley, music composition and production, which followed by mix and layback to film. Straight music projects, or voice overs, are a little different," Alan noted. "I wear all of the hats, so some days I am doing production, some days sales and promotion, some days teaching."
While classically trained, Alan admits to enjoying all types of music. His diverse taste and impressive talent have earned him three Silver Telly Awards and the Summit International Award. Telly honors the best in TV commercials and programs, as well as video and  film productions. Summit International Awards recognize excellence in the communications industry.
Despite these honors, Alan's favorite of his work is the score for a magic show in Waikiki called the Magic of Polynesia. "That show was the top attended show in Waikiki for three years while my score was being played. I think they may still be using some of it," Alan said.
Ironically, of all his prestigious sound work with groups like The National Geographic Society, PBS and Japanese radio, Alan said his most recognizable project is a bit less upscale. "Unfortunately, the project with the largest distribution was a singing fish called Big Mouth Billy Bass that I spent all of about 15 minutes on."
A far cry from the singing fish on a plaque is Alan's first solo album project, QuirK!, which appropriately dropped April 1 this year. "It's an eclectic collection of my compositions in various styles," Alan explained.
Now available on disk or download, music enthusiasts can listen to the album at www.althomasonline.com/quirk. With more than 20 years of experience writing custom music for TV, radio, stage or just about anywhere there is recorded sound, Alan anticipates his future in the ever changing, competitive field. Especially working from his own home.
Be it a kitschy singing fish or more classical sounds, Alan manipulates both the languages he loves into the music of success. His next evolution is to build a new facility designed for sound from the ground up.
"The audio boutique combines the audio tools of the corporate studio with the relatively low overhead of the home studio — a professional engineer with professional equipment in an excellent listening environment," Alan explained. "People would be amazed at the ability to manipulate audio today. I have some pretty amazing tools!"
Written by Angel Morris.