WEATHERFORD, TX — Many students are headed off to college. The Parker County Aggie Moms' Club has been instrumental in getting some local teens get there. The club's main focus is to raise money for local Texas A&M University students and the school through scholarships and other support functions.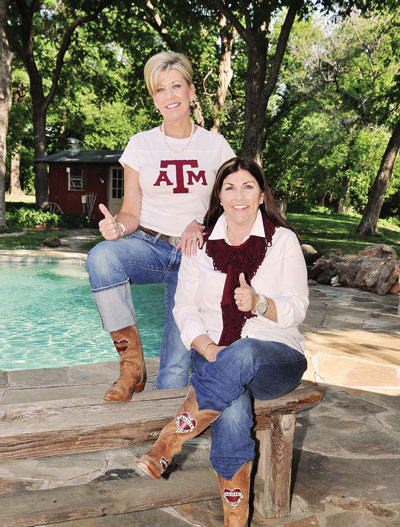 Both Cathy Cobb and Lori McCarty have spent countless hours raising money for the club, and being second moms to the school body.
Cathy is the club's incoming president. "I just think it's so important to help them get that education financially," she said. Participating in the club is also an extension of being a mom. Cathy's two boys, Matthew, class of 2012, and Michael, class of 2014, are both in the Corps of Cadets at A&M. Her son, John, is not an Aggie, but he learned how to be one quickly because of the family's focus on school traditions and values. Instead of having just three children, Cathy feels like she now has 60,000 by taking on the responsibilities involved with the network of Aggie moms. "You celebrate every kid's achievement. It really is an extended family."
The Parker County club, with around 55 members, meets once a month. "We always start our meeting with the pledge and a prayer. We end it with Aggie brag, so any mom can get up and brag about their Aggie," Lori explained. The moms hosted their annual Howdy Party this summer at Clear Fork Restaurant in Willow Park and raised $6,000, making it possible for them to award $12,000 in scholarships to local students for the current school year. They will donate funds to student organizations and the Aggie Mothers' Room at the Memorial Student Center on campus in College Station.
They also put together final exam study packets for students. "They deliver them to A&M, and the kids come by and pick them up," Lori said. Club moms can even send out e-mails if their child needs a ride home from school one weekend, or if they need something delivered from home by another student. "Everybody is helping everybody. It's nice to have that when your kid is away."
For Aggie moms, it's easy to be passionate about the university. "You can't explain it from the inside looking out, and from the outside looking in, you can't understand it," Cathy said. Aggies not only receive an education in academics, but they get a secondary education, as well.
"I think it's about the Aggie spirit," Cathy explained. A&M students live by six core values: excellence, integrity, leadership, loyalty, respect and selfless service. With Cathy's sons both involved in the Corps, she had to learn the culture quickly. "The Corps is a lot of structure. It is part of who you are as an Aggie.
There is a code of honor, and the Aggies stick to it. When someone strays, they remind them of that code of honor."
The Corps has been a good experience for her boys. Matthew has even made
the decision to join the Texas Army National Guard. "We always raised our kids to be patriotic and to give back that selfless service," Cathy stated. Matthew
is deployable after graduation, and was in Mongolia with the Army this summer. "That's part of being a mom. I've raised you to be an independent thinker and by golly you are," Cathy said, referring to all her children.
Many students are generational Aggies. Lori's husband, Bruce, is a 1978 A&M graduate. Although her son Tate chose to live and work in Colorado instead of Aggieland, her daughter, Shelby, will graduate in 2013 with a degree in horticulture. As outgoing president, Lori spent many hours volunteering with the club, mostly because of her passion for children. She has an education degree from Texas Christian University and has taught school, as well as volunteering with multiple kid-focused organizations — including leadership roles with the Parent Teacher Association and the 4-H club. "This was just the next natural step for me to take," Lori admitted. "I'm all about the kids in everything I do."
A&M was a perfect fit for her daughter. "I do want Shelby to have those values instilled in her," she said, speaking of dedication to personal leadership as well A&M traditions. Shelby loves her College Station home, and Lori is glad her daughter made the decision to be a part of such a close-knit community and involved in her Chi Omega sorority. "I'm happy she loves it. I wouldn't have it any other way."
The university is not for everyone, though. "I think you get it or you don't. You love it or you don't," Lori said. "But, if you go there, you're in it." Once you're an Aggie, you're always an Aggie. That also helps graduates with networking.
"The degree from A&M carries a lot of weight," Cathy said. "People know the tradition of excellence, and they know the core values that every Aggie has gone to school with for at least four years. It speaks to the character of who you hire, and it speaks to the quality of education they received."
Cathy enjoys being part of the Aggie culture and helping students along the way. "You don't stop being a mom, so it's a continuation of support for your child," Cathy said. The moms' club is also a great way to connect with other moms to answer questions or keep an eye on each other's Aggies. "My boys are accountable to a whole lot of other moms."
The local Aggie moms are the only club selling Aggie Mom Nacona boots to raise money for scholarships. Lori came up with the idea after her daughter asked for a pair of custom-made boots with the Aggie logo. "We have shipped them all over the United States. It's the same boot design as their collegiate boots," Lori explained. But, the "Aggie Mom" boots are a little flashier. "I got to thinking they would be so much cuter if they were painted." So, another local mom, Sherry Watters, paints the logo and adds some bling.
Even though she has left her post
as club president, Lori plans to stay involved. "I feel a little sad, but Cathy will be great," she said.
Cathy teaches at both Hall and Tison Middle Schools in Weatherford, and her passion for children will play into her new role as club president. "I tried to get her to be president for life, but she won't," Cathy chuckled. "I've got big boots to fill."
Written by Amber D. Browne.