ENNIS, TX — Zachary Lopez doesn't just enjoy learning foreign languages. The 14-year-old model student at Ennis Junior High School is passionate about it. He can speak seven languages so far and hopes to pick up more in time. "I welcome the challenge of studying the expressions and accents of other cultures," explained the articulate,  high-spirited eighth grader. "I know some people think it's hard to speak another language, and I guess it can be, but I love it." Love is the operative word, considering that French and Italian, in which he is fluent,
are classic "romance" languages.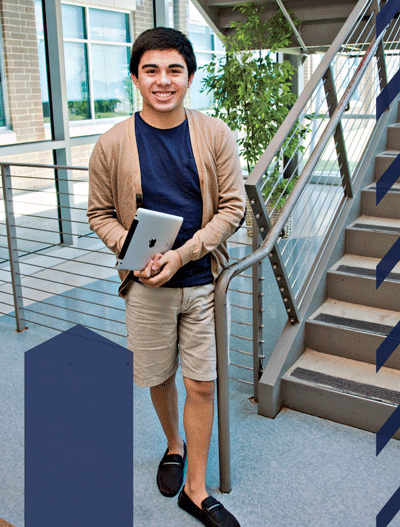 Zachary is also conversant in Portuguese, has achieved intermediate status in Russian and German and recently began tackling Polish and Latin. One language he has yet to master is Spanish, although he's proud of his Hispanic heritage, and his parents, Robert and Mary Lopez, are bilingual. "I like to set goals for myself that are hard," Zachary said. "People would expect me to know Spanish, so maybe that's why I'd rather concentrate on other languages."
The young man's mother and father may be divorced, but they have always encouraged him and his older siblings to make education a high priority, and he's grateful to have had the incentive they set for him to excel in school. "My parents instilled in me a desire for knowledge," Zachary pointed out. "They have been supportive from the beginning, which is probably why school is an important part of my life."
Zachary's foreign language skills aren't being honed at Ennis  Junior High, although he has impressed friends, teachers and other staff there with his aptitude. Zachary is also enrolled in Stanford University's Online High School, a fully accredited program that grants diplomas to seventh through 12th grade students around the world. "It's a great opportunity," he said. "Through the school I can sign up for more advanced classes, such as biology, which I normally couldn't take until ninth grade, or quantum physics."
Language is obviously Zachary's forte, and he's especially fond  of French. "I like French best," he confirmed. "It's the most  beautiful language there is. And I love the culture and history of France. I guess you could call me a Francophile. I don't know where the attraction to the language came from, but it always seemed natural to me. I started learning to speak French at about age 9 or 10." Zachary leaves in the dust many adults who visit Paris, brushing up on just enough of the native language to order dinner or buy souvenirs. This teenager can carry on full-scale conversations in French, discussing politics and art, and he understands the nuances of the language that many never absorb.
But learning languages isn't all roses. Zachary thinks German is the most difficult language he has attempted. "It's more intricate than others," he said. "And the correct delivery is hard to get. It's a very assertive style of speaking." From a historical perspective, Latin is most intriguing. "It may be a dead language, but it's exciting to learn, and to see how many familiar words and phrases originated in Latin."
Zachary's motivatation to learn foreign languages is not to astonish his classmates with his prowess or to compete with others intellectually. He enjoys the task of challenging himself to accomplish goals he has set. "There's a sense of satisfaction in completing something you thought you might not be able to do," he said. "It's the same as athletes pushing themselves, so it is  very gratifying."
Although the credits Zachary earns  through the Stanford curriculum are not transferrable to his classes at Ennis Junior High, the young man is far from discouraged. "It doesn't matter that I can't use the credits," he said. "It's the experience and the learning that matters, and they will help me in my education here and down the road."
Zachary enjoys campus life, and while he admits to being more focused on studying than many of his classmates, he isn't treated differently for his concentration on academia. "Ennis is big on athletics," he admitted. "But there's a lot of support for kids interested in English and other subjects. I don't feel left out or that I'm missing out on anything by paying more attention to school than to extracurricular activities." He has many friends, both among fellow students and academics who admire his devotion to self-education. He singles out his English teacher, Virginia Phillips, for inspiring him in his studies. "She's a great educator," Zachary said. "Mrs. Phillips has been a teacher for 40 years, and I respect her dedication to, and understanding of, English."
Apart from improving his grasp of foreign languages, he enjoys such subjects as science and psychology. "I really find medicine an interesting area, and I might go into anesthesiology," Zachary said. It wouldn't be mandatory for him to speak other languages in that field, but he points out that the ability would be very helpful if he decided to join the Peace Corps or volunteered for international medical aid missions.
Psychology captivates Zachary because of its exploration of the meaning behind certain behaviors and idiosyncratic character traits. He is also a self-described techie, enjoying all things computer-oriented. He may consider a position in software development after college. In fact, he is already working in the sphere as an intern with Apple. "I help sort 'app' proposals," Zachary explained. "There are 10,000 or more apps submitted for approval by Apple every week and interns like me help streamline the procedure by making sure all requirements are met." He isn't certain if it's a career path he will follow but admits to being fascinated by the possibilities of a market that's increasingly geared to other nations. "It would give me an edge in that profession to speak several languages," he said. "Asia is a huge market now, and Japanese would be an interesting language to learn."
Harvard University would also be a short cut to success, and the Ennis prodigy hopes to attend the famed Ivy League school. "May as well shoot for the top!" he laughed. "But at whichever college I pick, I will probably pursue an MBA degree which would be a good foundation for whatever else I decide to do."
For the time being Zachary looks forward to becoming more and more adept at the languages he loves through the Stanford program, gaining hands-on technical proficiency at Apple and even enjoying some down time. "I have a great support system and love Ennis, even if sometimes life here can be routine," he said. "I love my family and friends and know wherever I go from here they will be in my corner."
Written by Randy Bigham.