CORSICANA, TX — Billy Elias grew up living the kind of life portrayed in the book and movie, The Help. His single mom was a maid to a wealthy family in Kilgore, Texas, so Billy was left home alone a lot. He remembers entertaining himself by bouncing up and down on a mattress in the back room of his childhood home while singing. He sang so well that a neighbor lady told his mom, "Mrs. Elias,  that boy can sing!" Billy's first public performance was in first  grade when he sang in white tails and a top hat. Before long, he was performing on the local radio  station. "I had to be on a box. I wasn't tall enough to reach the mike," Billy remembered.
His family moved to Corsicana where Billy graduated from Jackson High School. "I received a great education from great teachers," Billy remembered. He showed his excellent work ethic as a teenage dishwasher at Roy's Café — an ethic that continues today. After moving to Dallas, Billy stayed in the restaurant business and learned how to cook kosher food, a knowledge that he put to use when he opened his own kosher restaurant later in Corsicana.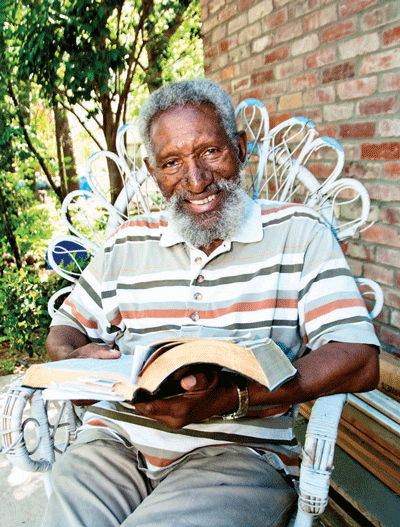 However, Billy kept hearing the call  from God to preach. He first received  the call in 1959 in Waco at Grace Gospel Church. "In Dallas, I ran down during an A.A. Allen tent meeting like I was running the 220 to answer that call," Billy remembered. He began preaching in tent revivals. "It's been a struggle — uphill and downhill," Billy recalled. Although he grew up going to church, and his mother read the Bible to him, Billy remarked humbly, "I didn't know much, so I've been learning for over 30 years.
"One day at work, God told me, 'Go to Corsicana. I'm starting a church.' I gathered boxes and kids and got away from Dallas so fast that I lost our best mattress," Billy remembered. The mattress blew off the roof of a car  that wouldn't crank. Miraculously, that day it cranked, got to Corsicana and never ran again.
Billy started a ministry and formed a family singing group comprised of his 14 children, some of whom he delivered personally. The family made an album of their music. "I have seven girls and seven boys — all by the same wife," he revealed. He is proud of their accomplishments. A son serves at the Pentagon, and his youngest daughter just got accepted to medical school. "About 30 grandkids and seven great-grandchildren" make up the family today. "They keep coming so fast now, it's hard to keep up," he  said, laughingly.
There were always books for children in his home. Billy emphasizes the importance of education. He has studied at Del Mar College, Johnson's Bible School, Criswell College, North Lake College and has taken computer and voice classes at Navarro College.
Since Billy does not ever pass an offering plate, he has depended on a number of different jobs to support his family and ministry. He has picked cotton, been "an insurance man," Department of Labor counselor, assistant manager at K. Wolens Department Store, a massage therapist, radio personality and minister. He retired from Oil City Iron Works after an injury but stays busy today with his street ministry, conducting funerals, doing community work, working as an election judge and serving as a McDonald's chaplain. "God didn't call me to gather money; he called me to preach. I work 21 hours a day. I have too much that I want to do," Billy said. He has built his ministry just like his home, brick by brick.
With minimal equipment, Billy can be found preaching and singing at the corner of 1st Avenue (Rhone Road) and 3rd Street. There are no stained glass windows, air conditioning or softly cushioned pews. Instead, Billy preaches where he is needed to troubled souls who sometimes walk on the wrong side of the law.  "People come crying. I tell them that tomorrow is not promised to you. You need to  find a church and keep going. A lot of  people have lost faith," Billy said. "So many people in the community have so many talents. I like to turn them around to being gainfully employed. I want to put families back together again," he added.
Concern for the children of the neighborhood is uppermost. "I tell  parents to get their kids into a church  and tell them that someday that child  is going to give them grief, and they're  going to wonder why," Billy recounted.  Kids come by when they see him working  in his yard. "They just start talking, and
I start praying," Billy said. He dreams  of building a learning center in the neighborhood. "Kids can't read, so they can't read the Bible," he lamented.
Billy's ministry stretches outside of Corsicana's boundaries through his service mission trips to Mexico and his chaplaincy to McDonald's employees in Corsicana and Ennis through Market Place Ministries. Billy volunteers at the Salvation Army, has a jail ministry in Waxahachie and serves on the Corsicana Crime Commission. He enjoys the fellowship and food at Corsicana's  First Baptist Church Good News Café each Monday.
An accomplished musician who played with Bo Thompson and jazz bands in Dallas, Billy plays the bongo drums, saxophone and clarinet and is often asked to sing at events around the Corsicana area. "Billy was one of the first young men we met when we came to Corsicana," Warner Redus remembered. "My husband used to stay up late to hear him and his family sing on their radio program. He has always been a favorite."
Carole Davenport invited Billy to sing the National Anthem at the Rotary Freedom Festival and at an Elderhostel program hosted by Navarro College. "I don't remember where I first heard Billy sing, but I was absolutely blown away. His voice was such a blessing to all who heard him," Carole stated. Billy has also performed at the annual House of Refuge benefit.
The challenges of his ministry,  which is centered on John 3:16, sometimes are difficult for Billy to overcome, but he gives credit to God and his many friends around the area for encouraging him to continue. "He is such a humble and incredibly kind, Christian man. I am honored to call him my friend," Carole said.
"Every time I get down and out, someone comes along to give encouragement to me," Billy revealed. "I don't have a lot, but God answers prayers. He blesses me in every way."
Written by Virginia Riddle.