BURLESON, TX — A dedicated volunteer and longtime Burleson dating back to the early days of American Indians, resident, 86-year-old Mary Norris, is often the the visitor's center, supported by the Burleson Heritage familiar face patrons see when they enter the Burleson Foundation, has preserved many treasures that tell the Visitors Center. Complete with historical displays story of Burleson's rich history.
Mary, as both a member and the current first vice president of the Heritage Foundation, is instrumental in keeping the organization's displays and historical records. She works closely with the foundation's second vice president, John Duke Smith, and its other members to promote the significance and value of their city's roots. Even though she's only scheduled to volunteer one day a week, she typically finds herself there four days a week. "Sometimes, they call and need my help, so I come up. I'm happy to," she said.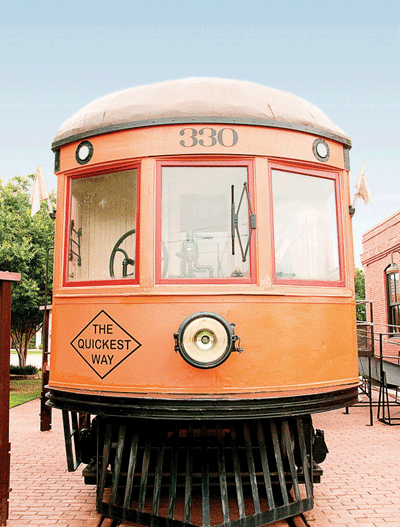 "Mary is the glue that holds this place together," John said. "She's in charge of our displays, both here and the one at the library, and she decides what goes in and what comes out.
She is the star of our group."
The Burleson Heritage Foundation is not the only organization that gets to enjoy Mary's dedicated determination and good humor. She is a member of the Republican Women, volunteers at the Cleburne historical museum once a week and is a longstanding member of the Burleson Eumathian Club, the oldest ladies club in Burleson. She joined the Eumathian Club one year after she and her late husband, Loy Norris, returned to Burleson following his 30-year career in the Air Force. Loy grew up in Burleson and knew everyone, but Mary grew up on a farm just west of Wichita Falls. "I didn't know anyone, and I needed something to do," Mary said. "So when an old friend of Loy's invited me to a meeting, I decided to go. I had been a part of the Air Force Wives Club when Loy was in the service and thought attending the Eumathian Club would be a great way to meet people."
Now four decades later, she is still a member, and until recently, she still served on the board. Two years ago, she stepped down from her 22-year tenure as the club's secretary. "No one else ever wanted to do it, so I was happy to continue," Mary said. As a result of taking countless minutes, she combined them with other historical minutes to create a commemorative book for the Eumathian Club's centennial in 1999. "I've learned a lot over the years, and I'm very proud to be a part of the group.
The women before us did a lot for this city, and we are still active in the community today."
Historical records tell the story of how the Eumathian Club formed 113 years ago. In the late 1800s, nine women felt deprived of culture and wanted to stimulate their minds and enhance their social life. Because their responsibilities at home and lack of transportation kept them from exploring these things in other cities, they decided to create it for themselves. They started meeting in each other's homes to discuss literature, history and other cultural interests. As they
developed official bylaws and considered a name for their newfound club, they chose Eumathian because it meant "right thinking." It was a combination of two
Greek words they felt best represented their goals and values.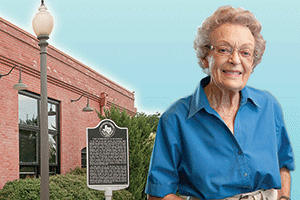 History shows that the club wanted to contribute to their community, so they immediately set out to start the first circulating library in Burleson. By 1900, they had 68 books available in a local department store. The women not only made books available to the community, they also spent a great deal of time studying books themselves. They often performed works of Shakespeare and musical pieces.
As time went by, the Eumathian women worked to create a city park and were instrumental in other historical landmarks. In addition to the Burleson Library, which they still run today, one of their most notable projects was guiding the city in the creation of a sewer system in 1938. They took the initiative to meet with Fort Worth city officials and later returned to Fort Worth with Burleson's mayor and city secretary to meet with Fort Worth city engineers about the process. "They were strong women, and looking back through our history, it's clear that when they put their minds to something, it usually happened," Mary said.
Mary's friends would say the same of her. "Mary is a sweet, friendly lady. She always has a smile, and she was always willing to do anything the club needed her to do. She still is, and she kept excellent records of our club and was always very informed," said Mary Ruth Arnold, one of Mary's longtime friends and fellow member of the Eumathian Club. Mary Ruth and Doris Jo Haas are the only two remaining members who joined with Mary 40 years ago.
"We have a lot of nice memories together," Doris Jo said. "Mary is a wonderful person and always willing and involved in something. She really makes a difference in everything she does." One of Mary's favorite memories of their time together as Eumathian women is the program they put on to celebrate the club's 100th anniversary. Several women, Mary included, dressed up in costumes representing different periods through the years and described that time to guests at the library, the same library the Eumathian women had worked so hard to develop. By then they had raised enough money to move the library into the Renfro Clark home, the oldest house in Burleson.
"I wore a three piece, knit, black dress with a caramel colored, sleeveless coat," Mary said. "It was a dress I wore many years before in the '70s, and it still fit. One lady dressed up as a flapper for the '20s and another lady dressed up from the late 1800s for when the club was first founded. We really had fun with our outfits."
As the city of Burleson approaches its centennial, Mary is thrilled to be a part of it. Although she is not originally from Burleson, her many years here combined with her husband's extensive Burleson heritage have made it home. "I have met some really nice people and formed meaningful friendships over the years," she said. The Eumathian Club is at the heart of that for Mary. "Through the Eumathian Club, I have met people from all walks of life. Some are native Burleson people, some were just passing through and others are like me. They came, and they stayed."
Written by Sarah Anderson.