MANSFIELD, TX — Educator. Missionary. Leader. Each of these words can be used to describe Imogene Gideon. In a career that has taken her around the globe, she has made a difference through her actions and left her mark on the Mansfield Independent School District.
Imogene and her first husband, Ray Milligan, lived and worked for 10 years in Kenya, where they founded a high school that continues to teach children today. When they returned to the United States, Imogene got her teaching certificate at the University of North Texas. Her final semester there, she took a course in special education that changed her life.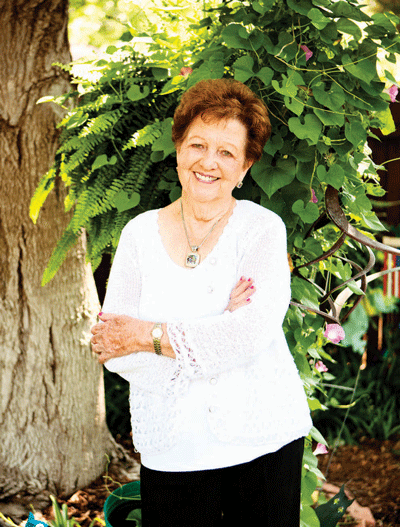 "I never intended to teach special ed., but my senior year in college I took a course in it and had to go to the state school in Denton for a classroom observation. It made me sad, but the teacher was a great example because he had had polio and had disabilities. He recommended me to replace him when he left. The doors just opened for me in special education. You have to have a heart for it, or you can't do it," Imogene said.
"All children can learn," she continued, "but some learn at a different rate, and you have to understand that. You have to expect children to learn, because they all can do something. Sometimes you just have to look. Just as you develop a gifted child, you have to develop a child with special needs, too."
After graduating from college, she took a job teaching special education, where she excelled. An auditor for the Texas Education Association told her during that year that she would not be in the classroom for long but would instead become an administrator, a prediction that came true. Soon, she formed the Montague Special Services Co-op after being hired as a supervisor and diagnostician. Ray died during her first year there, but she stayed on. After the first year, she wrote a government grant for high school
"What I found was that good teaching strategies for gifted education and special education are the same. Good teaching is good teaching."
teacher training. The grant allowed her to hire relief teachers to go into classrooms for two weeks while the regular teachers came to training to help them be successful. She became director of special education a few years later. When her new husband, Dr. Virtus Gideon, became a professor at Southwestern Seminary and her daughter graduated high school and enrolled at Dallas Baptist University, Imogene decided they should  move to Mansfield to cut down on  commuting. Soon, she had a job in the Mansfield ISD.
"Lee Pennington, the superintendent, announced one day in a meeting that I would lead the gifted program for the district, and he told Vernon Newsom that he should help me. Of course, he hadn't asked either of us prior to the meeting, but we had to do it," Imogene chuckled. "What I found was that good teaching strategies for gifted education and special education are the same. Good teaching is good teaching." She wrote grants which were funded, then started the program in grades three, four and five while still teaching special education. As the school district kept growing, the program followed suit. Imogene told the superintendent she could not do both and wanted remain with special education. Then, in 1995, she received a phone call out of the blue that led her down a different path.
It was 9:00 p.m., and the caller from Morrison Christian Academy in Taiwan asked her if she would consider moving there to teach. She let the call go, but then a teacher with whom she had not spoken in 20 years wrote a letter to ask again, and the school's superintendent followed up with another phone call to ask her to come and start a special education program in Taiwan. "I told them I couldn't leave in the middle of the year, so I resigned in November of 1995 and left for Taiwan in January to help develop the special education program. I stayed six months before I came back to the states," Imogene said.
Imogene's adventure got off to a slow start when her flight was diverted and did not arrive in Taipei until 2:00 a.m. Her luggage was lost, and the woman who was to pick her up was nowhere to be found in the deserted airport. To make matters worse, none of the taxi drivers spoke English, and Imogene did not speak Chinese. Finally, her ride was summoned from the local hotel and came to get her. "I managed. I lived a mile from the village, and I learned there are a lot of ways to do things. I'd go to the store and couldn't read the labels, so I'd sniff things and point and eventually come out with what I wanted," she said.
Upon returning to the U.S., Imogene worked at the Educational Service Center for Region 11 in Fort Worth. She has been a teacher advisor for the Education Career Alternatives Program (ECAP) since 1996, and it is a job she loves.
ECAP is a privately owned, alternative teacher-certification program. "I see everything: the children, good teachers and bad, administrators, the school atmosphere. It's just a fun job, and the people I work with have such integrity. When we go into a classroom, I can see the training the teacher has received because I see them doing it. They have the skills to manage a classroom. They learn to keep kids on task and how to get their attention," Imogene said.
Imogene's contributions to the Mansfield ISD were recognized in 2001. Vernon called her one day to tell her that a new elementary school was to be named in her honor. The school, located on Mansfield-Webb Road, had opened its doors that year, and Imogene was very appreciative of the honor. "It was very rewarding and very humbling that they would name a school after me. When Vernon called me it was a total surprise. He told me where it was, so that day I drove out and found it," Imogene recalled.
A sewing center in India also bears her name. She struck up a conversation with a man from India at a Sunday School Christmas party at her church and asked what people needed most. He told her sewing machines would allow people to make clothes they could wear to jobs and also enable people to start a sewing business. Imogene bought several sewing machines for the center to help it get off the ground.
"It's been such a privilege to have some of the experiences I've had," said Imogene. "To be able to do all the things I've done, I'm very blessed."
Written by Jeremy Agor.