Red Oak, TX — One look at Chuck Steger and you'd say he's been exercising faithfully and eating healthy every day of his life. Nothing could be further from the truth. "Actually, I didn't start until I was over 50," Chuck confessed. At 51, a routine visit to his physician revealed both high cholesterol and high blood pressure. The doctor advised Chuck to start walking 45 minutes a day, five to six times a week, to get his heart rate up. "Look, I'm in construction, that's all we do," he replied. "We're out there working and hustling in the sun and all that." The doctor was unimpressed with Chuck's response. In fact, he laughed.
Chuck took his doctor's advice and started walking regularly. He hit the pavement nearly every day and just kept going through heat, cold and rain. "Even when I didn't want to, when I wanted to quit, I just stuck with it. I just kept doing it," Chuck stated.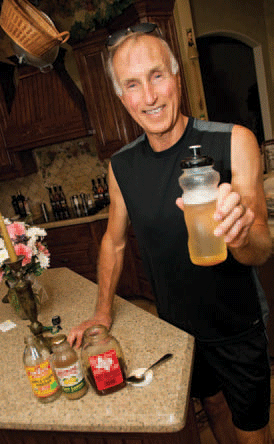 One day while he was walking with his wife, Lois, everything changed. "We were out walking in Bryan Terrace when a girl ran past us, and I thought to myself, I wonder if
I could run? I wonder if I could do something like that? So, I set myself a goal to be able to run around that subdivision," Chuck recalled. It didn't happen overnight, though. It took significant time and effort to achieve his goal. "I'd run and walk, and huff and puff. But finally, the day came when I was able to run around that thing twice," Chuck grinned.
That was just the beginning. Twice around Bryan Terrace was quickly followed by a new goal: Bryan Terrace to Ovilla Road and back. "I would run and walk and run and walk. It's just baby steps, and I finally got to where I could consistently run for 30 to 35 minutes. I just built up my time," Chuck declared. The next goal was running from Red Oak to Waxahachie. "It's very addictive," Chuck admitted, "but in a good way."
The advantages of running were starting to show. Chuck's cholesterol and blood pressure returned to normal range, but an even greater benefit surfaced. "I could tell after I ran that stress had no effect on me. So, running is very beneficial both physically and emotionally," Chuck said.
Diet was another area where Chuck was slowly changing his habits. While he was still in his walking phase, an acquaintance inquired if he had ever really read the food labels in the grocery store. Chuck was curious and asked for more explanation.
"She gave me all these key words, which I don't even think I knew what they meant, like hydrogenated and enriched to look for," Chuck said. He did a little research and then went to the grocery store. "I walked through there, reading labels, and I came out thinking, Man alive, I can't eat anything in this store. What in the world can I eat? It was a bittersweet moment," he said.
Chuck's attitude toward nutrition was starting to change. "When I go to Red Lobster and I get seven Sprites because of free refills, maybe it's not good for me," Chuck confessed. He switched from soft drinks to juice as he was learning, little by little, how to make better choices. "I finally switched over to water with just a little lemon in it. I started to be very particular about what I ate. I quit eating fried food. I ate less red meat," he explained. "I started eating more chicken and lots more fish." That series of small steps led to big results. "I was losing weight. I was feeling better, and I was handling stress a lot better," he confessed. "I just felt better, so I determined to keep going."
Setting and achieving goals is a recurrent strategy in Chuck's success. It works for him, whether it's a long-term or short-term goal. "I remember one time I was running from Waxahachie
to Red Oak. I was running up the hill by the cemetery and the golf course. It's a hill, and I was feeling the effects of it, but I'm saying to myself, I can make it to the next telephone pole. And once I got there, I said, 'Well, I can make it to the next one.' And before you know it, I was on top of that hill," Chuck explained.
Chuck went on to emphasize the importance of mind over matter. "It's like talking to your mind, telling it, I can make it here. If your mind is determined, your body will come along. It may not like it, but it'll come along," Chuck declared. "I still do it today. If things get tough, I hunker on down and  say, Well, I can turn it up one more notch. It's the kind of thing that goes through your mind as long as you're still setting goals," Chuck maintained.
That attitude provided the foundation for Chuck's next big goal. "That's basically the story of how it all started. From there, I got pretty good at running.
I ran for about an hour and a half a day. So, what do you do for an encore, you know?" Chuck wondered.
Turns out the encore was pretty impressive — he ran a marathon. "I told my wife, 'I've heard about these marathons up in Dallas. I think I've got to go do one of those things.' I found out when it was, and I entered," Chuck said. He had it all planned out, knew what his pace would be and told his wife what time he thought he'd finish. He was right. Chuck ran his first Dallas White Rock Marathon at age 55. He ran 26.2 miles in under four hours. His official time was 3:56. "I was still standing at
the end, feeling all right. That's quite an accomplishment, considering I started when I was over 50 years old," Chuck stated. Since that first race, Chuck has run five additional marathons.
He's also run the Turkey Trot, an eight-mile race held annually on Thanksgiving Day. "I was coming over the bridge on mile seven, and I remember thinking, I'm running eight miles today and in two weeks, I'll be running 26 miles." Chuck continued, "Your mind and your body just come together when you know what your goal is. For that day, it was run the eight miles. In two weeks it would be run the 26.2 miles."
Whether running an eight-minute mile, completing the 100-mile leg of the Cow Creek Classic Bike Ride or working the treadmill like a full-time job, Chuck's determination continues to take him across the finish line in style.
Written by Katie Almond.