MANSFIELD, TX — Alan Chin intended to study computer science when he enrolled at the University of North Texas. Like many 20 year olds, he enjoyed computer games and thought programming would be his path. To his surprise, though, one of his classes was suddenly dropped, and he found himself scrambling to fill the time slot. "I needed the credits, so I signed up for an Internet security class," he smiled. Accident or destiny, that last-minute class changed his life.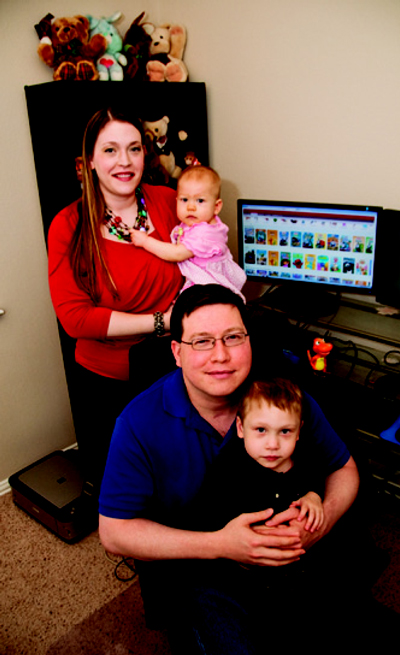 After earning his bachelor's degree, Alan entered a graduate program at The University of Texas at San Antonio. "The Air Force Information Warfare Center is located there," he said. "At the time, The University of Texas at San Antonio was the only school in Texas, and one of the few in the nation, to offer certification in Internet security." He graduated with a master's degree in information technology with an emphasis in information assurance. "I'm an Internet security professional which, in this field, is equivalent to being a generalist," he said. "I know enough to break in and out of most systems, but am not proficient at managing them."
Alan was born in Iowa. His Chinese father had grown up in Singapore and eventually moved to the United States, where he made a living helping pharmaceutical plants comply with U.S. government regulations. He also taught ballroom dancing, which is how he met and fell in love with a dancing student of Scots-Irish descent. They were married in Iowa, had two children, moved to Arizona for a while and arrived in Texas in time for Alan to attend high school. "They live in California now," he said. "My mom is a magazine and romance novel writer."
With such exotic and romantic beginnings, it isn't surprising that as a college student, Alan would meet a beautiful blonde calculus tutor, Christina, and they would marry and have two children. "Christina has a bachelor's degree in math and a master's degree in statistics," he smiled. "She's staying home now to be with our 4-year-old son, Alec, and 9-month-old daughter, Catheryn."
Before Catheryn was born, the family travelled to Singapore to visit Alan's grandmother. "She has no computers and no Internet access," he smiled. "Hers is truly a technology-free environment. We want our kids to know their heritage, so we hope to visit her about every three years. At the time, we didn't know Christina was pregnant, so as it turned out, it was Catheryn's first visit, too!"
The Chins moved to Mansfield about two years ago. "We liked the location, the community in general and, especially, the school system," he said. They bought a spacious, three-bedroom home, and it seemed that all was in place to settle in, enjoy each other and build their futures together.
Then, in July 2011, Alan was diagnosed with lymphoma. "Texas is the best place to be if you have cancer," he said. He underwent treatment at MD Anderson Cancer Center in Houston. "Chemotherapy weakens the immune system so the doctors asked that I stay in Houston for six months and avoid being with the children." Thankfully, he was able to visit at Halloween and Christmas. "I lost my hair, but it has grown back, and now we're monitoring the progress. I fully intend to see my kids grow up," he smiled.
The Chins were not alone as they faced their challenge. "Christina belongs to a group called Mom's Club of Mansfield," Alan said. "They helped us while I was away. They brought meals and support to    the family. I don't know when I've seen such acts of kindness."
Now that he is home and gaining strength, he is considering how he might thank them. "It seems natural to offer thanks by giving the group some useful information about Internet safety.
I'm not a child safety professional, but when I was in San Antonio and belonged to the Information Systems Security Association, I had the opportunity to see a presentation about their program called KidSafe."
Also, he is the father of two and a parent at a time when young people tend to know more about technology devices than adults. "Giving a young person a cell phone is like handing them a miniature computer," he said. "Smartphones can do what computers could do in 2000." Alan pointed out how much has changed in just the past 10 years. "Who could have predicted the popularity of Facebook and the introduction of iPads?
Parents used to worry about their children accessing AOL chat rooms. Today, with random texting, invitations to video chats and the myriad of devices, the technology world has become so complex."
Much of his work involves penetration testing. "We find issues so we can fix them before hackers do harm," Alan explained. He knows firsthand that people who specialize in technology crime, particularly those operating in the dangerous world of child pornography, tend to be extremely tech-savvy. "Parents must deal with an interesting dynamic," Alan said. "We want to keep our children safe, but as schools increasingly require and rely on the use of technology, restricting or monitoring access is no longer feasible. Parents would literally need to watch each of their kids do homework every night."
He believes in the importance of staying aware of dangers inherent with the use of technology, of educating and talking with children while encouraging them to be alert and report concerns. "We want our kids to be successful in life, and technology is integral," Alan shared. "A child growing up anti-tech these days won't have an easy time entering the workforce."
At the same time, he knows that growing up involves many choices. "Facebook allows people to feel important," he explained. "Visit a young person's page and chances are you'll see a self-photo taken with a cell phone. This is what a lot of kids are doing, and some of the photos are provocative. There's a feature now too that lets them tell everyone where they are at any given moment." While Facebook allows kids to feel more popular, vanity can make them targets, so it is wise for parents to exercise vigilance tempered with patience, education and communication.
Given a choice to live at an earlier time or in the future, Alan and Christina each opt for the future. "Alec is 4 years old now. He will never know what a phone line is or a CRT (Cathode Ray Tube) monitor. Thinking of all of the changes in technology over the past 10 years," Alan said, "I can only wonder what will exist when he's 14. We want our kids to live their best lives, and this is an exciting time for them."
Written by Carolyn Wills.