MIDLOTHIAN, TX — She could feel the weariness in her body. The illness had definitely taken a toll. Still, Ashley Cunningham did what she always does. She kept running and giving her best effort. Feeling somewhat discouraged after her race for the indoor track meet at the University of Arkansas in January, she waited for her score. "I didn't think I did well," she stated. When the score was announced, the news was great. "I ran the 200 meter race in 24.7 seconds! It was the third-fastest score in the nation," Ashley exclaimed. Throughout her time at Midlothian High School, Ashley's participation in track has brought accolades and wins to her team.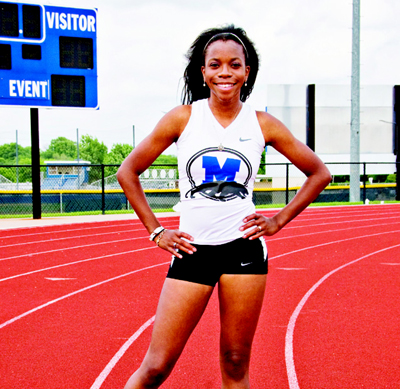 It almost never happened. Ashley did not want to be on the track team, because it seemed as if it required more energy than she was willing to put into it. However, mother knows best, and Ashley's mom, seeing the potential in her daughter, insisted. "When I first started running, it was fun and wasn't about competition all the time," Ashley shared. "I enjoyed the people I got to meet. I wanted to do gymnastics and be a cheerleader.
I was a cheerleader in eighth grade, but it is hard to do track and be a cheerleader at the same time." Ashley made the choice to run track exclusively. That decision paid off with a scholarship to Columbia University in New York City. She takes with her to Columbia a record of running the 100 meter last year in 11.7 seconds, which made her No. 1 in the district and third fastest in the state. Like any dedicated athlete, the joy is in winning. "I only disliked running when I lost. When you're running just for fun, it doesn't matter if you lose, but if you are running for a competition, then when you lose you get sad. You want to try and start over, to get another chance. Whenever I have practice after I lose, it makes me want to work that much harder."
Ashley's success was not only on the track field. She excelled in her school work. Going into her final semester in high school, she carried a 4.97 grade point average (GPA). With her track scores, GPA and exemplary character, it is no surprise she operated as a leader on the track team. "I was the captain of the track team," she shared. "I lead stretches, helped Coach Christine Gann come up with workouts for certain days and gave encouragement to the girls. If someone got down on themselves in practice or was slacking off in practice, I cheered them on and encouraged them to never give up.
"I always try to find the positive in every situation. If I'm not feeling well, I try to work through it to show that we all have our bad days, but we can all get through it, no matter what. Another reason they may have made me captain is because last year I was really sick and didn't do so well, but I still came to practice and did all the workouts. I was trying my hardest. They could see that people who are really good have really bad days."
Ashley had many bad days last year. She started having symptoms of incredible pain and fatigue but did not tell her mother right away. "My stomach was bleeding," she said. "I finally told my mom, who took me to see the doctor. He said I was OK, and it was nothing. He gave me pain medication and sent me home where it became much worse. I had to go to the hospital, and they found that my blood count had dropped to borderline needing a transfusion."
With that discovery, Ashley was transferred to Children's Medical Center where she was diagnosed the next day with ulcerative colitis. Her illness was so severe that she was admitted to the hospital for two weeks. Ulcerative colitis is a chronic inflammatory disease in parts of the digestive tract. Thankfully, the doctors were able to get the disease under control and a blood transfusion was not necessary.
"Before being admitted to the hospital, I had been training for indoor track, so I was in good shape. But after the hospital, I was in no shape. Even going to school was a struggle. I was tired halfway through the day, and at practice I could barely run. So my coach had to work me back up to where I needed to be. With the track season starting and participating in the first meet, I did really badly. I had a doctor's appointment the Wednesday before the meet, and I was OK. After the meet I felt really sick, so my mom took me to the hospital and my blood count had dropped three points in three days. That was like unbelievable, so I was readmitted for two more weeks right after the first meet."
The diagnosis of ulcerative colitis has changed Ashley's life. She now has to make frequent trips to her physician for monitoring. Her diet had to have a major overhaul. That would be a trial for any teenager, but because of her heavy caloric need to provide energy for training, finding proper food that appealed to her was a challenge. "My diet is very strict.
I can't eat raw fruit or vegetables, high fiber foods and spicy food. I can't eat what I want to. When I found that out, it kind of broke my heart a little bit,"
she laughed.
It was difficult to attend practice and compete in track meets, but Ashley did. "My teammates cut me a lot of slack. They were very encouraging. My teachers were supportive and would gather my work and have it ready for my mom to pick up." During this difficult time, Ashley looked to her faith for strength. "The Holy Spirit floods my soul, and I don't think God would take me through something that would destroy me. When I would get really down, my grandmother would tell me that if I don't give up, I will have a good testimony through this. I will have a good story to tell." Jesse Owens, winner of four gold track and field medals in the 1936 Summer Olympics, made the statement: "We all have dreams. But in order to make dreams come into reality, it takes an awful lot of determination, dedication, self-discipline and effort." Ashley has what it takes to make her dreams come true.
Written by Betty Tryon.