ENNIS, TX — Ed Stegemoller grew up in a time when hard work and an honest day's living were expected. If he isn't adding to an already beautiful landscape, meandering alongside the winding brooks he has created or propagating flowers in his greenhouse, you can bet he's probably visualizing new ideas!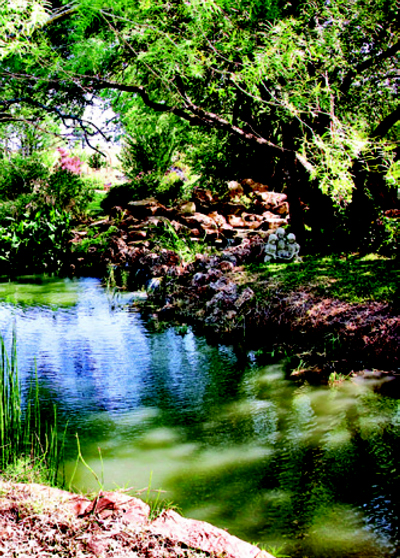 Growing up in Hamilton County, Ed remembers the natural rock streams. Those memories prompted him to begin a project at his home outside the city limits three years ago. "I laid my first bit of rock as a teenager," he stated. "If I have a project in mind, I can usually knock it out in a weekend. My crew is a backhoe and a forklift." "He can do so much in one weekend," added Suzanne, his wife of 25 years. "He can do whatever he puts his mind to."
The idea of several water ponds connected by winding brooks began with one pond that was natural to the land where their home is located. "I added stones and planted flowers and greenery," he explained. "It just grew from there." His vast experience as a builder, farmer and rancher was quite useful during this time of self-expression. As a builder, he can visualize the outcome of a weekend addition before the actual work gets underway. As a farmer and rancher, he loves watching what he's planted grow.
"It is a lot of hard work," he said, referring to the water ponds, the greenhouse, the weekend additions and just the overall maintenance of 88 acres, "but I love it."
As one idea comes to fruition, another one quickly pops into mind. The first pond, which is still home to an original pair of bullfrogs, has grown to include eight other ponds in a park-like setting. Every water pond needs a name. The Winding Brooks name Ed and Suzanne chose together is derived from the way in which the water constantly flows from one pond to another. The ponds and winding brooks are landscaped with boulders, flagstone rock, large trees, plants and flowers with rainwater collected over time. "I wanted the water gardens, the ponds and the waterfalls to have a natural look and feel to them," he admitted. "I'm pretty good at helter-skelter landscaping, so I think I'll just keep going the way I'm going."
His attitude has created something which is not only pleasing to the eye, but peaceful to the soul. "The ponds attract frogs, bugs, butterflies and many types of birds," Suzanne shared. "But, they also provide a very relaxing atmosphere." The sounds of nature and the water as it gently runs over the rocks provide a place of tranquility. Shaded areas and pathways that allow visitors to walk over the water are perfect for clearing their minds following a stressful day.
Ed has never minded going against the grain, especially when it comes to the water gardens. He enjoys seeing new landscaping, so trying new things is commonplace. He began by frequenting the local plant stores and landscaping businesses to find the plants he was looking for. Now he also grows, or propagates, some of his own plants. "I've learned a lot by doing it myself," he confessed. After a few mistakes and some moments of trial and error, Ed now realizes how easy it is to grow his own plants and flowers, thus making it more cost-efficient to make the constant visual changes he so desires in the water gardens. And it doesn't hurt that Ed has his own greenhouse on the property.
As Ed continues to "grow his garden," he does so with the help of some valuable friends. He gets many of his landscaping rocks and boulders locally. He also gets crystal boulders from outside the Ellis County area. "The crystal boulders you see are from Mount Ida, Arkansas," he explained, as he pointed to the large waterfall he just recently completed. "But I buy them from a guy in Canton, Texas."
Over the years, Ed has learned by listening. "You hear things all your life," he added, "but until it actually pertains
to you and what you're doing, it doesn't dawn on you." Ed's listening paid off. Almost everything he and Suzanne have planted has survived. "Drainage is so important," Ed stressed. "Even plants that are drought-tolerant need proper drainage. I build my flowerbeds up with good dirt and mulch to allow for drainage."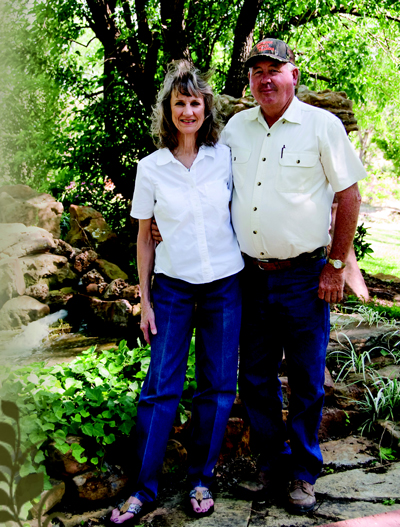 Ed and Suzanne had been on several tours to see the water garden ideas of other like-minded individuals. When
the North Texas Water Garden Society invited them to share their creation during their annual pond tour, it only seemed natural to say, "Yes." Needless to say, the Stegemollers are looking forward to the second weekend of this month with anticipation and excitement. "It will be the third year Winding Brooks is included in their tour," Ed enthused. "We thoroughly enjoy sharing it with others."
To be back on the annual pond tour three years in a row is rewarding to say the least. It gives Ed's hard work credibility, while giving him all the encouragement he needs to change things around from year-to-year. "Plants and flowers are never the same each year," he explained. "I enjoy making it different, so return visitors experience something new. I'd really love it if the locals would come out and take a glance."
The water gardens Ed has created over the years were built for his own pleasure. The added bonus is that he's willing and proud to share it with others. "I get bored with things quickly," he stated. "I really enjoy the variety the water ponds offer. There is nothing about building ponds that I don't enjoy. The end result is so rewarding. I can teach others to do things themselves for that same sense of pride I feel when a job has been done well."
Ed and Suzanne have learned a lot about themselves in this latest venture.
They found out they enjoy working together, although Ed jokingly added, "For about three minutes." They already knew that hard work doesn't hurt you, but this just reinforced their personal philosophy. "The key to a healthy, happy life is to stay busy doing something. Don't get stagnant," Ed explained. "Keep on working. It keeps you young."
Ed deals with other's dreams when
he is building for other people, but he's dealing with his own dreams when it comes to his water gardens. Pride for Ed and Suzanne comes from knowing "they did it their way."
Editor's Note: To find out more about water gardens, visit www.windingbrooks.com. 
Written by Sandra Strong.