CORSICANA, TX — Matt Hazelwood and his son, Matthew, aren't just related. They're bonded for life through the music they love to play. Born and reared in Navarro County, Matt's passion for song came early, and it has remained a source of pride — but never more so than today, when his son is poised to achieve even greater success as a musician than he ever imagined for either of them. The younger Hazelwood showed the world his skill when he performed recently at Carnegie Hall, playing the trombone in a featured band composed of students from all over the world. "The experience was very humbling for me," Matt admitted. "There comes a time in a parent's life when you realize that your kids may surpass you! That was one of those times for me. I am so proud of him."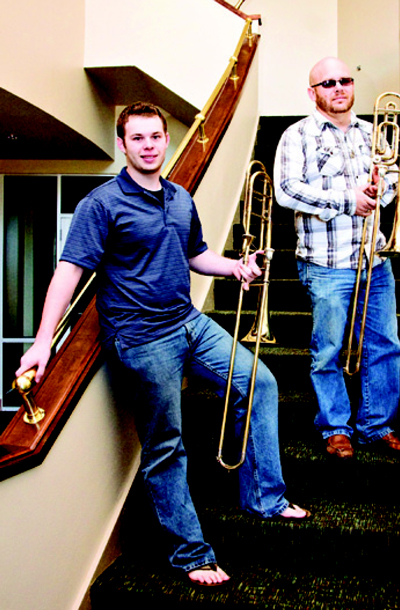 Matthew acknowledges he's a chip off the old musical block but never expected to achieve such a milestone as a high school band member. Now away at college, he sees his performance
at the famous theatre as a hard act to follow. "The venue is like the NFL for musicians, so it was an unbelievable experience," Matthew said. "But how do you top playing Carnegie? I don't know, but I hope to!"
Matthew inherited his talent and ambition from his father, who first played the trombone in junior high school. "As far back as I can remember, I've always enjoyed music," Matt said. "My mother put me in guitar lessons when I was 10, and I became interested in trombone at 12, when I tried out for sixth-grade band." But he insists he never tried to influence his son to take up the trombone.
"No, I always encouraged him to play clarinet," he laughed, "because it's easy to learn saxophone after learning clarinet, and I'm a fan of a good sax player."
Matthew confirms his dad never urged him to play trombone. "He was encouraging but didn't push me to play any instrument," he said. "He has always been there, no matter what I was doing. He's always been a very involved dad. He was my soccer coach and coached me in T-ball."
His father's pride swelled last year when the teenager was selected to be part of the prestigious American High School Honors Performance Series while a trombonist at Corsicana High School. Being a member of the local band was exciting enough, but to be picked to join the Honors Orchestra in an international contest that would allow him to perform on the legendary Carnegie Hall stage was an incredible opportunity. Matthew credits the band program at Corsicana High for preparing him for the occasion by giving him the drive, motivation and inspiration to try out for the five-day series, which included seminars, rehearsals and sightseeing in New York City. "I'm very competitive and love that part of playing music," Matthew revealed. His audition tape was submitted for consideration to the judges for the program. It was accepted, and Matthew was chosen to join the Honors Orchestra, which is limited to only the highest-ranking high school musicians from the United States and Canada.
The press release stated at the time: "Acceptance to the elite group is a direct result of the talent, dedication and achievements demonstrated in [Matthew's] application and audition." In addition to the privilege of appearing at Carnegie Hall, participants were treated to a visit to the iconic Juilliard School, where they rehearsed with famous conductors like Jeffrey Grogan.
For Matthew, the program not only provided exposure for his abilities but was an opportunity to share with his family the favor bestowed on him. "My whole family came, even my grandparents," Matthew enthused.
For Matt, it was especially moving to see his son receive such an honor. "It was truly amazing to be in a building with such history," he said, "and that has hosted some of the greatest musicians in the world, and then to see my son on stage! I'll never forget that trip!"
Matthew tried to stay focused but now admits he was overwhelmed by the experience. "Just being there was incredible," he recalled. "The minute we walked out, it was mind-blowing. But I just concentrated on what I had to do and let the awe wash over me later."
The event may have been life-changing, but it's only one of many that father and son have shared over the years. Just getting together for family gatherings or for sports activities is as important to them as their New York City adventure. "The music we love is a common bond,
but dad and I like to do lots of things together," Matthew said. "Hunting, fishing — we love anything outdoors." Time together is even more valuable now that Matthew is busy studying at Howard Payne University in Brownwood.
A recent occasion that both pointed to as one of the most gratifying in their lives was a special concert at Corsicana's Northside Baptist Church, during which they were honored with a duet that was written and dedicated to them. The duet was a hymn, titled "If That Isn't Love." It was composed by the church pianist at the time, Velma Burnett, whom Matthew really looked up to. "It was wonderful," Matthew shared. "It was an amazing tribute."
Father and son have performed with the church's orchestra for about four years, and Matthew, in particular, singles out Phil Moore, minister of music, for being a "great supportive influence in my life." "Phil helped me prepare my piece for Juilliard and has helped me at every stage along the way," Matthew added.
Matthew is enjoying school and looks forward to a bright future. He hopes to further his musical career through singing and "getting a record deal" but also by teaching music. Personally, he wants to start a family and to be as good a dad as the one with which he's been blessed. He is close to his mother, Ann, as well as his siblings, Brittany, 16, and Justin, 14, who are also music lovers, and believes his family's support has contributed to his success.
As for Matt, he couldn't be prouder of his musical family, and he has faith that Matthew will be a good example for his younger children to follow. "My hopes for Matthew are for him to become the man God wants him to become, to love God and his family and to support his children's interests, as I feel I have."
Written by Randy Bigham.