WEATHERFORD, TX — As Memorial Day approaches on May 28, some people are planning family gatherings or picnics. It's a holiday from work and school. It's a day set aside to honor those who have died in military service for our country. Decoration Day, as it was once called, was started for the men who died in the Civil War. After World War I, Memorial Day became a federal holiday. Many spend the day outside grilling and playing with the kids. Jim Pope, a veteran fighter pilot, will also be outside. He will be on a large grassy lawn looking up at the sky. Jim flies remote control airplanes and is the safety officer for the local Weatherford Aero Modeling Society.
As a young boy, Jim was interested in model airplanes. They were glued together and had to be painted. "I don't know how many I finished," Jim said, "but I started a lot of them." Jim was born in Mineral Wells, Texas, and had family in Weatherford. His dad worked in radio, and their family moved often. He lived in Cincinnati, Indianapolis and St. Louis. "But Weatherford was always home.
My sister and I would always spend our summers in Weatherford with our cousins," Jim explained. "Weatherford was always the place I came back to."
Jim attended Washington University in St. Louis and then North Texas State University (now University of North Texas). He was in the Reserve Officer Training Corp (ROTC) and commissioned as an officer in the U.S. Air Force. He trained at Reese Air Force Base in Lubbock. While in the Air Force, "there were times when there was not much for us boys to do, so we went to the BX (base exchange) and got model airplanes.
We put them together and flew them," Jim said. Four of his buddies informally started Eagle Pass Air Force. It was a model airplane club.
After the service, Jim became an engineer and managed operations for Williamson-Dickie for 13 years. They are the largest manufacturer of work wear in the world. He also started Quickprint on the southeast corner of the square. "I became interested in sailing for five or six years in the '70s. I helped a buddy work on a boat that we then sailed from St. Augustine, Florida, to Sint Maarten in the West Indies. We sailed over 1,500 miles on a 43-foot sailboat. It took us 16 days."
Because of his interest in flying model planes, Jim was a founder of a local chapter of the Academy of Model Aeronautics in 1986. The local club is called Weatherford Aero Modeling Society (WAMS). The goal of the club is to enjoy the family aspect offered by model aviation. "Now, kids have technology and want instant gratification. It's hard to get kids interested in [model airplanes]," Jim said. "We want to help establish a hobby for kids." Jim also writes and edits for the WAMS newsletter every month.
The WAMS' flying field is located on Tin Top Road just a few miles past the high school. Flyers come every Sunday afternoon and activities continue year round, weather permitting. The field includes a runway, parking area, permanent shade structures and a security area to protect pilots and spectators.
Safety is very important to Jim. As WAMS' safety officer, he enforces rigid and precise rules, and keeps up with insurance and changing guidelines. One of the most important rules he stresses is, "Don't go flying alone. Anything can happen. I enforce our rules by reminding the WAMS membership to be careful all the time," Jim explained.
Since retirement in 2000, Jim spends much of his time in his workshop building remote control planes. This hobby is very flexible. "You can go from design to construction to flying, or you can buy kits that are ready to fly (RTF) or almost ready to fly (ARF)." Jim has several planes in his shop in various stages of completion. He has blue prints rolled up in a corner. His F-4U Corsair WW2 fighter plane is in pieces. A T-33 in a box is waiting to be started. The planes are made of light balsa wood. They are then covered in thin plastic called MonoKote applied with a hot iron. This hobby is also unique in the fact that "we can do it all," Jim explained. "For instance, a baseball player does not make his own ball. A basketball player does not make his either, but we can go from design to operation. It could take months, but time is not a problem for me since I'm retired."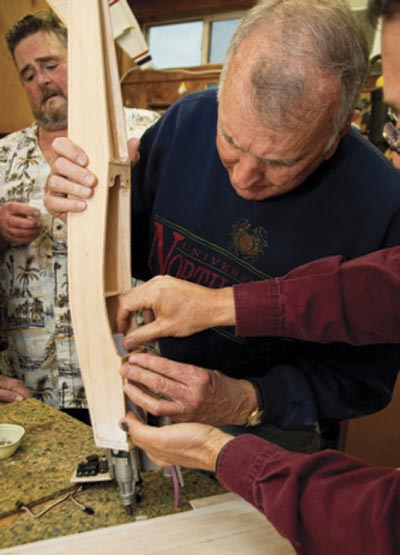 National competition involves three categories — scale modeling, pylon racing and precision pattern flying. "Locally, WAMS has a Float Fly twice a year at Cartwright Park," Jim said. "We also have an annual swap meet held at Hall Middle School. It's like a reunion for two days, as well as a swap meet." Classes are provided on different subjects, drawings and actions. Dues and swap meets help to finance the club operations and improvements to the facility. Swap meets are considered the life-blood of the club. "A child can experience flying using a 'buddy box' we bring. This is a controller for two. An instructor can take over at any time, and the child can start learning how to fly a model safely," Jim explained.
To spread interest in flying planes in the community, WAMS helped at a local day camp for Cub Scouts last summer. The theme for the camp was aviation. All week WAMS members helped kids build
and decorate a kit plane. The kids flew their planes under supervision. WAMS provided a simulator so the kids could experience flying. "The highlight of the week was when we had the kids fly their plane in the gym on the last day … all at the same time," Jim laughed. "There were 68 kids and 68 planes." You can just imagine the chaos, collisions and laughter involved in that event.
"Our planes are all doomed, it's just a matter of time," Jim said. "The equipment is almost fool proof. Problems are most often not electrical or structural failures. It is usually pilot error." That is
a sad prospect and could potentially be an expensive one, too, since planes range anywhere from $70-$600. Instructors are always on-site to help and provide advice.
The organization's motto is: Be polite, be sportsman-like, be a good neighbor and if you brought it with you, take it home with you. But most of all enjoy your hobby! Jim will continue to pursue his childhood hobby into adulthood. As he laughingly said, "We're grown men playing with toy airplanes."
Written by  Erin McEndree.