WAXAHACHIE, TX — Charles Wagliardo has always had a passion for things that go fast. "I guess it's a guy thing, the wild child syndrome," he said, remembering his younger days as a teenager. "I did everything my older siblings did. I rode bicycles, go-karts and motorcycles. If it had wheels, I was on it."
So it really came as no surprise to family and friends when, 13 years ago, Charles decided to teach others the importance of motorcycle safety. His desire to teach was prompted by a basic motorcycle course Charles took with his youngest son when his son was 17. "I was a self-taught rider," Charles admitted. "I soon found out there was so much I didn't know."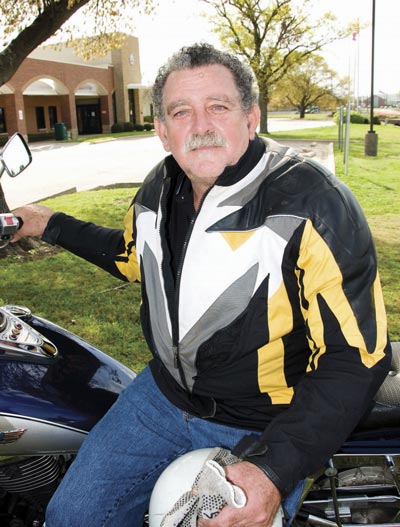 Charles spent one year working under the tutelage of another instructor before making the break to do his own thing. "Before I could venture out on my own, I had to become a licensed instructor," Charles explained. "I also had to have a contract with the state, which is renewed every two years." The safety course didn't become mandatory until course he teaches two years ago, so like today provides one half Charles, there were a lot of what it takes to secure a of self-taught motorcycle license. The other half is a written riders and enthusiasts. The
course he teaches at the Texas Department of Motor Vehicles. Charles teaches two classes — the basic class for beginners and an experienced class for those who, like Charles, are self-taught riders. "The basic program is designed for the beginning rider, the person who's never sat on a bike before," Charles said. "Since the motorcycle course became mandatory, we've seen lots of individuals in the
basic class who have being riding for a long time, but they now must have the schooling to get their motorcycle license." The classes are taught on the weekends — biweekly in the fall and winter, weekly during the spring and summer months. "We have been lucky to have the support of the Navarro College," Charles said. "We start off in the classroom. Then we move out onto the campus property for the hands-on portion of the course, which is four-and-a-half to five hours both Saturday and Sunday.
The two-day class is for beginners. Charles' goal for this class is to teach riders how to properly maneuver to be able to ride safely on the street alongside other vehicles. During classroom time, they are told about the basics and what will be expected of them once they get outside. "We read, we discuss and we watch a video," Charles stated. The program is based on the strict guidelines of the Motorcycle Safety Foundation (MSF) based out of California. It's a multi-sensory course that's taught in sequential order. One skill builds on the next."
Classroom time is broken down into sessions that deal with specific points. "All points are centered on safety," Charles said. "Sessions include: riding gear, basic maneuvers, special riding situations, carrying a passenger and what can happen while riding under the influence."
"The 17 exercises introduced
in the classroom are taken to the
riding area," Charles continued.
"They put what they've learned in class to the motorcycle."
The most difficult things for new riders to master in the basic course
are balance and coordination. "Using your hands, feet and head at the same time is so important when riding," Charles admitted. "But, practice really does make perfect." Unless the conditions are hazardous, the class is held rain or shine. If they happen to be outside in the rain, many of the safety tips learned in class for inclement weather can be put to the test.
"Speed seems to come easily for most students, which make the classroom and riding times so important," Charles stated. "They learn proper speed, especially in turns."
All instructors are Department of Public Safety (DPS) and MSF certified. FBI background checks are also part of the instructors' credentials. "We have students who range in age from 15 to 80," Charles said. "These background checks are so important since we deal with minors."
In the state of Texas, it's mandatory for all riders under the age of 21 to wear a helmet. At the age of 21, it becomes the rider's choice. "We teach them to ride in full gear," Charles said, explaining that full gear includes helmet; motorcycle jacket, pants and boots; gloves and eye protection. "And we do stress the importance of wearing a helmet no matter your age. It just makes sense."
All schools must also be DPS- and MSF-approved. "The only real difference will be found in the personality of the instructors," Charles said. "All our instructors work hard to help each student succeed, as well as enjoy the class."
Charles has firm guidelines to follow set up by the MSF and DPS. His natural personality and love of motorcycling is apparent in his teaching method. When everyone in class is following his directives, the overall experience of motorcycle safety school becomes one of student-centered camaraderie and fun. "Safety rules and issues are my primary concern with students," Charles reiterated.
The month of May is designated as Motorcycle Safety Month, but Charles believes motorcycle safety is something that should be practiced on a daily basis. "You can't buy the family groceries on a bike. You really don't want to ride it in bad weather," he said. "Don't buy a motorcycle to save money, buy a motorcycle for the love of riding."
In his 13 years as a teacher, Charles has learned that students need to be teachable in order to learn. In days gone by, motorcycles were synonymous with gangs, drugs and alcohol. That is no longer the case. Charles has taught the motorcycle safety course to riders from all walks of life — from housewives and teachers to doctors and lawyers.
Charles also brings his own philosophy to class. "Find a bike you are comfortable on," he shared. "Use the Three Bear mentality. Not too big, not too small, just right. Learn to ride with confidence, and always remember to be as safety conscious as possible."
Written by Sandra Strong.