RED OAK, TX — Sitting in a room decorated with buck antlers, stuffed bobcats and Mason jars full of homemade preserves, Morris Gresham is at ease behind his computer desk writing stories about the things he knows — hunting, fishing and growing up in a small Texas town. His house is just far enough out of town to have a country feel while still close enough to enjoy the conveniences of a larger city. He lives with his wife, to whom he has been married for 51 years. He met her the day he was born. "My mom's best friend was my wife's aunt. My wife's aunt brought her small baby girl to visit my mom and meet me the day I was born," Morris explained.
Morris was born in Bennett, which no longer exists. The small town was built around a brick plant. Everyone who lived there worked for the brick factory. "On pay day, the company would take out whatever rent we owed and [pay] whatever bill we had run up at the company store, and Dad brought home what was left," Morris recalled. Acme Brick owned the small brick plant by the time the Greshams moved to Erath County near Lipan, and the family became share croppers, living near their cousins on one farm, and sharing profits from the eggs of several hundred chickens. "I guess we were also share-eggers!" Morris remembered. "The drought ran us off the farm in 1953, and we moved to Mineral Wells. That is really the town I grew up in."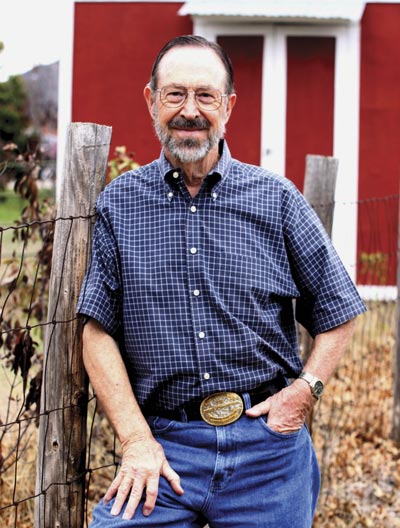 Thanks to a high school bookkeeping class, Morris' father was hired as the bookkeeper at a brick yard where he worked until he was 70 and was forced to retire. "It made him so mad. He got another job and worked several more years," Morris laughed.
After graduating Mineral Wells High School with 91 other students, Morris went to college for a little over a year, but quit to work and help take care of his family, which included his grandfather and two younger sisters, whom he calls Little Sister and Baby Sister, the latter affectionately shortened to simply "BS." Although he didn't have the same degree as some of his co-workers, Morris had a knack for mechanical engineering. "I was lucky enough to have a supervisor who cared more about performance and knowledge than a piece of paper," Morris said. So he was able to move up within the ranks because of his work ethic and eye for detail.
Not having seen his future wife since the day he was born, Morris was set up on a blind date with Bettie Nevil, and the two have been inseparable ever since. After the company he was working for cut back, Morris went to work for Continental Electronics, and then for the government working on the Superconducting Super Collider.
In 1974, Morris was telling a hunting story to a friend and co- worker who suggested Morris write down the story and submit it to a local magazine for publication.
"I didn't even know you could do that,"
Morris replied. "But hey, if I could get paid for telling stories I was going to tell anyway, I'd give it a shot."
That night, Morris wrote his story down on a Big Chief yellow pad and sent it to Outdoor Times. He made $40 on that first story, and a writer was born. He immediately wrote another story and that one was purchased, too. One year later, he became the editor of the magazine. The fourth article he wrote was passed on to and picked up by a national magazine that paid him $200. He was making real money then.
Morris went on to write for, and intermittently edit for, several hunting and fishing magazines. For a year, he was the outdoors columnist for the Focus Daily News in DeSoto. One of those columns earned him a national competition award in 2002, just two years after winning a national competition for an article in The Skeet Shooting Review. From 1995-2002 and again in 2004, he covered the World Skeet Shooting Championships held annually in San Antonio. At one point, Morris was working 70-80 hours a week as a lead engineer for Continental Electronics and editing USA Outdoors Magazine, reading letters, working out picture layouts and reading articles before 6:00 a.m. and after 9:00 p.m.
Morris retired in 2002 and about four or five years ago began writing a book. He started on his first book, Coming Up a Country Boy, Surviving the '40s and '50s, in 2005. However, half way through writing it, a classmate who was reading it and offering praise and suggestions, asked him about the food he kept mentioning. Morris credited his friends with the idea for the second book. "They said, 'So much of your life revolved around getting together and eating these wonderful sounding meals. You should write the recipes in the book.'" Morris didn't feel like the recipes fit in the flow of his story, so he took a break from the book he was writing and began the book that would actually end up being published first, A Country Boy's Appetite – Following Life From One Meal to the Next.
In this book, Morris tells anecdotes and uses homespun humor to introduce the reader to his family and his life through specific times and home cooked foods. He then includes the recipes from each meal. "It's not really a cookbook. When you grow up in the South, the food is just as important as the reason for gathering," Morris explained. After that book was off and running, he finished the original book, and now it has been printed, published and ready for purchase.
Morris' self-published books are an entertaining and informative read, especially for people who grew up country and understand the nuances of southern country living he brings to life with his vivid imagery and amusing side notes. But Morris is a writer, not a marketer. Morris stole a line from John Irsfeld to explain his philosophy. "God just told me to write 'em, He didn't tell me to sell 'em."
Now that his time is free to spend however he chooses, he is able to indulge in his hobbies — gardening and canning. He's an expert at bread and butter pickles and homemade preserves, and frequently treats the city workers to his creations. Occasionally, a magazine asks him for an article which he is happy to write anytime — except deer season.
Written by Cindy Malone.