ENNIS, TX — Books are a wonderful escape. Words in those same books can take you away to places both far and near. Rocky Denton's latest installment, Warhawk: Letters From Out of the Blue, takes the reader back to the time when World War II was raging, but love was still very much in the air. "Three years ago, Mom asked if I'd like to read the letters she'd
received from my dad when he was on active duty in WWII," Rocky said, referring to the time before his birth when his late father, Guy Denton, was serving some 6,000 miles from home. "Of course, I said, 'Yes.' I loved history, but I was also curious about my parents."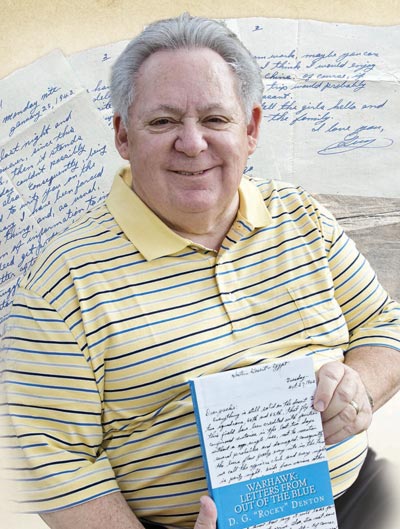 Growing up, Rocky knew how articulate his father was when it came to writing. After some pondering and getting the clearance he felt he needed from his mother, he decided to compile his father's letters to his mother in a book that could be shared with others. Even though Guy and Jacquelyn are his parents, Rocky knew the "courtship in letters" had merit. "I wanted to share the history of wartime," he admitted. "I felt others would be as intrigued and interested as I was when I read the letters for the first time."
In his first edition, the letters were transcribed in chronological order, with all mistakes and misspellings left intact. Putting them in order was not the ordeal some might think, because his father had not failed to date each letter, while including details of the where and when. "People who read the first edition said they would have loved to read more about the history of wartime," Rocky said. "They wanted commentary from others, including my mom, along with the letters. That's what prompted the second edition."
To fully understand the weight and importance of Guy's letters, we must return to the time when Jacquelyn had just
turned 18. She had met, courted and married a fellow named George Wrigley, who is no relation to the Wrigley Gum company. They were married in January of 1941, but Rocky's mother will never forget the announcement that took George away. "We were in a movie theater in Tampa, Florida, on December 7, when the movie stopped and the lights came on," Jacquelyn remembered. "An announcement said all military personnel must report for duty."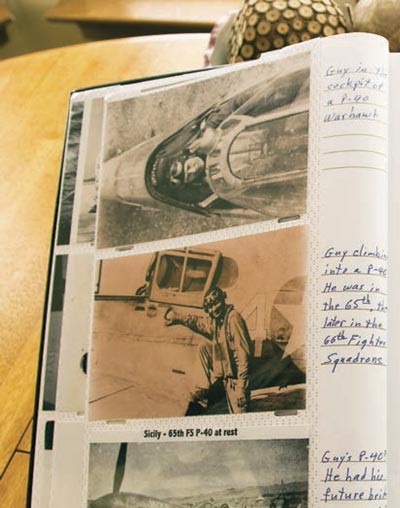 George was a sergeant in the Army Air Corps. He was only given three to four days to prepare for his journey into WWII. "He was a bombardier," Rocky explained. "He was the one who rode in the nose of the plane and released the bombs."
"We weren't even married a year," Jacquelyn said, with tears in her eyes for her first love. "We were still considered newlyweds."
George never returned. In mid-August, 1942, the B-17 bomber he was in was hit during a scheduled mission. Everyone was ordered to bail out. When George exited the hatch, he was slammed into the landing gear, which caused his parachute to tear. It never opened. George fell to his death in the desert below. Jacquelyn wouldn't get word of his tragic passing for several days.
"It wasn't but a month or two later that she met my dad," Rocky said. She had moved to Tallahassee, and was still very much in the grieving process. Realizing the picture show she had gone to see was about the war, she quickly vacated the theater. She went to the drug store across the street to get a Coke. "She was sitting there when my dad and his friends came in," Rocky shared, retelling it the same way his mother had told him. "Guy walked boldly over to her and said, 'You look as pitiful as a dying calf in a snow storm.'"
She didn't waste any time telling him why. Once her story about George was complete, Guy felt just horrible for his insensitivity. "He talked to her and tried his best to cheer her up," Rocky said. "He told her he was sent to Tallahassee to cheer up the civilian population, and he was going to start with her."
Her heart was still broken. She wasn't interested in Guy, but it was a much different story for Guy. He was "head- over-heels" for her from the start. After a great deal of prompting, she later agreed to go on a group date with Guy, his friends and their girlfriends. That first date took them to the Edgewood Club. Before long, Jacquelyn became close friends with Guy's best buddy, Harry Duncan. "I think she liked him because he was the best dancer in the group," Rocky laughed. "She dated Dad, but she was always dancing with Harry."
They dated for a month before Guy, a P-40 fighter pilot, was shipped overseas. "Mom said she couldn't afford to give her heart to another," Rocky said. "But the letters from Dad over a course of a year changed her mind and her heart."
Guy's letters to Jacquelyn were witty and charming. He was able to be serious and a jokester at the same time. "Here was great pathos," Rocky said with
pride. "He wrote with such detail about the things not of the war. My narrative between his letters allowed me to tell the parts he was unable to tell due to security issues. Thanks to Dad, I was able to fill in the blanks."
The wedding proposal came via the mail. Jacquelyn answered, 'Yes' in her reply, also in the form of a letter. These two letters started a series of letters where the couple planned their wedding.
Theirs truly was a courtship in words. "They only knew each other for a month before he shipped out," Rocky stated. "The courtship really did take place thanks to Dad's way with words and the postal service."
The couple finally exchanged vows on November 7, 1943. "During his time in WWII, my dad saw so many horrific things," Rocky confessed, "but he never let it define who he was. He never considered himself to be a hero. It was his job, and that's how he looked at it."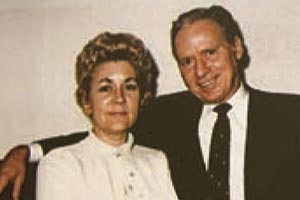 Compiling the love letters from his father to his mother into a book has meant a great deal to Rocky. He's shared his father's extraordinary courage, which was an ordinary characteristic during WWII, while also sharing the long- distance love story he finds great pride in retelling. "I told their story as a way to give tribute to both my parents," Rocky admitted. "I wanted something I could hand down to family and friends who knew them." No doubt, Warhawk: Letters From Out of the Blue does that and so much more.
Written by Sandra Strong.