CORSICANA, TX — Memorial Day weekend traditionally heralds the beginning of summer with its picnics, baseball games, camps and school vacation that's just over the horizon. Family and friends gather for fun and fellowship with cookouts and trips to the spray parks, swimming pools or Lake Richland Chambers. Nestled amongst the hustle and bustle of activities on this holiday weekend is a quiet, beautiful place in Corsicana. Oakwood Cemetery, with its tall American flag, is the site of many veterans' graves where, on this weekend, smaller flags are placed in honor of their service to their country. "Oakwood is a beautiful cemetery. There are so many stories to tell from the graves," Dana Stubbs said.
Dana, director of the Liz Gillispie Genealogy Department of the Corsicana Public Library, along with her husband, Norman, love to tell the stories of those buried within the rolling terrain of the cemetery. "I have always been interested in history and genealogy," Norman said. "As a child, I asked my momma about a tricycle that was in a case in the cemetery." His mother explained that a child was buried there.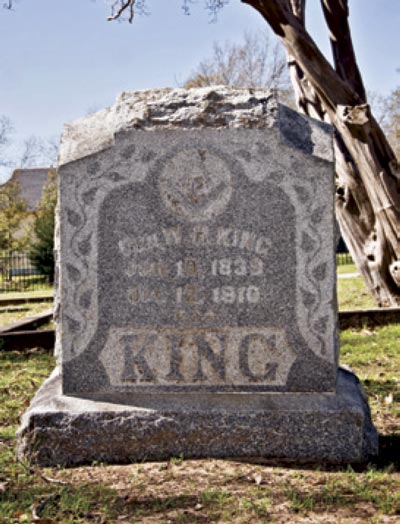 Dana's interest in genealogy was sparked when the couple started dating. "I asked Norman what CSA stood for," she remembered. She learned that CSA stands for Confederate States of America. Since that time, the couple has cultivated a shared interest in history by taking vacations to visit cemeteries across the nation and attend Civil War reenactments. Norman, a sixth-generation paper hanger and painter with a family business dating to the 1890s in Corsicana, has family members buried in Oakwood Cemetery, along with Dana's ancestors who settled in Navarro County in 1858. "I love history. I started reading about Cynthia Ann Parker when I was young and 'in the way' in my grandfather's antique store," Dana said. "I was hooked on history."
Grave markers in the cemetery rarely tell the whole story. While Oakwood Cemetery has historical markers for notables such as Texas Governor Beauford Jester and Elizabeth Glover, the Mother of Confederate Reunions, most markers invite further research. Dana and Norman have committed themselves to that task. "The cemetery means a lot to me," Norman said. With research and documentation, which the couple is continuing to do, more historical markers may be erected and stories can be shared on such Web sites as http://rootsweb.ancestry.com. Such information is valuable to people searching for their own roots and branches of their family trees.
Owned and maintained by the city of Corsicana, Oakwood Cemetery's first burial dates to the pre-Civil War year of 1851. Re-internments of remains from earlier Catholic and Methodist cemeteries located nearby were some of the first burials in Oakwood.
Among the graves are many who have died in service of their country. Memorial Day traces its roots to the Civil War days when women from the South decorated graves of both Union and Confederate fallen soldiers. The day was first officially observed May 5, 1868, when General John Logan, national commander of the Grand Army of the Republic, placed flowers on graves of Union and Confederate soldiers buried in Arlington Cemetery. The date became a federal three-day holiday with passage of the National Holiday Act of 1971. While the intent was to honor veterans who had paid the ultimate sacrifice, many families pay their respects during the holiday weekend to those veterans who served but survived to return home and contribute further to their communities.
"There is someone buried in Oakwood from every war except the Revolutionary War," Norman said. There are over 500 Confederate Army veterans including two generals. Confederate Airman Pvt. Adolphus E. Morse, the last man who went up in a balloon (aeronaut), is buried in Oakwood. Another interesting story surrounds Confederate Colonel Albert Miller Lea, a graduate of West Point Military Academy, who later settled in Corsicana and is buried in Oakwood. He paid, as a parent, the ultimate sacrifice. He was at the Battle of Galveston when his son, Edward Lea, a Union officer, died in his arms.
Among the many veterans' graves that will bear flags on Memorial Day are Lt. Frank Benson, James P. Lumpkin, Arthur D. McKinney, Jr., Lt. Alfred Marion Gibson and Dana's relative, Zane Christie. Lt. Benson was not killed in action but died like many wartime veterans of disease (pneumonia) in 1917, at age 25, while in training. James P. Lumpkin died at age 30 in France on Armistice Day 1918. Pilot "Sonny" McKinney was killed in 1945 at age 24 while piloting his plane, which was hit by enemy ack- ack (anti-aircraft fire). He hit his target but went down in water off Formosa (Taiwan). His body was not recovered. Another pilot whose remains were not recovered was Lt. Gibson, who at age 28, died piloting his F-86 when it exploded and crashed into the Mediterranean Sea off the shores of Libya. Staff Sgt. Christie was killed at age 22 in Vietnam in 1970.
Some veterans' lives were cut short due to physical complications resulting from their service. One such case was that of Cliff Pagano, who served as an intelligence officer in Alaska during the Korean War and Cold War Era. Fluent in Russian, he aspired to be an astronaut in spite of injuries sustained when he had thrown himself on a grenade. He died at age 42 in 1962.
History of all sorts is recorded in the epitaphs of Oakwood Cemetery. Joel Trimble, composer of the "CHS Fight Song," is buried in Oakwood along with coaches and players from former championship CHS teams. Graves of Navarro County's founders, movers and shakers, the famous, not so famous and infamous can be found among the rolling hills.
Among the infamous are several "ladies-of-the-night." "Corsicana was a pretty wild town. We were one of two towns in Texas that had licensed red-light districts. The other town was Galveston," Dana revealed.
Norman and Dana will continue to enjoy their shared hobbies of visiting cemeteries to find ancestors, Hood's Brigade and Navarro Rifles veterans and stories. Along the way, they also study the Old West. "We like stories about outlaws and scalawags," Norman said.
"For me, it's all about preservation," Dana added.
On Memorial Day, Norman and Dana will pause, as all Americans are asked to do at 3:00 p.m. local time, for a National Moment of Remembrance. It's a moment of silence to remember and honor the fallen.
Written by Virginia Riddle.