BURLESON, TX —  Odds are, Cisco and Heather Roberts would have met somewhere down the road had they not met and married when they were very young. Theirs is a partnership inspired by purpose and, as evidenced by the commercial bus in their driveway and the trailer sporting a bold logo and the name "Heather Roberts Band," theirs is clearly a story to be told.
Married for 10 years now, they are parents to beautiful daughters, 7-year-old Tynleigh and 5-year-old Natalie. Cisco works in the natural gas industry, and Heather is a dental assistant in Roanoke and a volunteer at Cook Children's Medical Center in Fort Worth. They live in a large home on the outskirts of Joshua.
Cisco and Heather met the summer before her senior year in high school. She was 17, and he was two years older. "I turned 18 in May," she smiled, "and we were married in August." As newlyweds, their days were filled with promise. "I've known Heather since she was almost a kid and so shy," Cisco said. They were a young couple in love. Cisco was nearing the completion of his time in the Army, and their futures were bright. "We were together for about six months when we got the call," he said. "We were at the Fort Worth Stock Show Rodeo, and the voice on the phone said to get to Fort Hood immediately."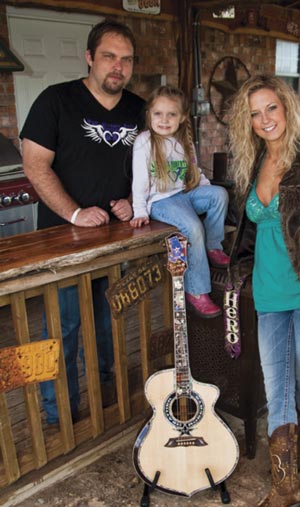 "We knew in our hearts what that meant," Heather shared. The year was 2003, Cisco was promptly deployed to Iraq, and life for the young couple darkened. Cisco would spend seven months working hydraulics on the back lines and running fuel escort missions to the front. Other than mail, he and Heather would have no contact. "The day finally arrived when he was really coming home," she said. "He was 40 pounds lighter and barely recognizable."
"We were two very different people and almost strangers," Cisco said. "We were kids and then adults with no time in- between. We had to fall in love again." Many of his buddies had come home to an empty knew it was not easy separation and effects also not told Heather house, and Cisco to weather the of war. He had about his fuel escort missions to the front. He knew they would need to deal with that.
"I was so young when he left," Heather added. "I had not even gone grocery shopping on my own. Hearing that he had protected me from the truth hurt and angered me at first, but I believe it ultimately helped to make our marriage what it is. We had to grow up and, thankfully, we grew together. Because of our experience, I realized there is something bigger to be done in this world."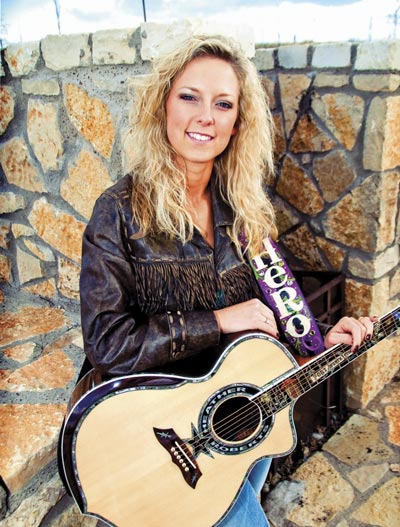 As they fell in love again, welcomed children, developed careers and settled into their home, destiny carefully and patiently provided them with a new passion. Arriving nearly three years ago, it came with a voice — Heather's voice — and a business challenge — Cisco's challenge. It brought the world as a stage, and Cisco was the first to see or, actually, hear it. "Heather sang for me one time, and I thought, Wow, this is what we need to be doing!" he said. "She has a message, a special talent and the ability to touch people." With daughters in tow, Heather and Cisco set about creating the Heather Roberts "sound." Today, with a solid fan base and growing popularity, the Heather Roberts Band is in demand at festivals, dance halls and events. Two months ago at the Texas Regional Radio Music Association Awards Show, Heather won New Female Vocalist of the Year. Heather is writing and performing her own songs, as well as songs that she and Cisco create together. She works with a publisher, an impressive list of sponsors and maintains a super-busy schedule.
"Music has always been in my life, but performing my own songs is truly a blessing," she said. "My dad is a musician." As a teenager, she was in middle and high school band and in the church choir, but it took Cisco's encouragement for her to trust the potential of her dream. Cisco manages the band, handles bookings, runs the sound, drives the bus and collaborates on songs. "He's the backbone of this operation," Heather affirmed. "We have fun, but we respect this as a business, and we've been lucky to find and work with great people and to have a strong support group. The whole dynamic of our family has changed in a good way. I'm excited to show my girls that it's possible to do something from your heart."
Cisco is a strategist, marketer, businessman and creative force. He and Heather team up to write songs. He designed her distinctive double-heart logo and the look of her custom-made guitar. "Cisco and I didn't have a clue what
we were doing when we started," she smiled. "He encouraged me to do 'open microphone' in the stockyards, and we would have to find someone to play the guitar. I was so nervous, but the whole point was to get the jitters out." It wasn't long before she learned to play her own guitar. "My dad always wanted to teach me. He left for Costa Rica two weeks after I got my guitar, so we didn't have much time. By the time he came back last summer, though, a lot had changed. He went to gigs with us, sat in on rehearsals, and it was a really special time."
Heather describes her music style as Texas Country and credits Texas performer and Crowley native, Joey Green, and nationally known, Miranda Lambert, as major influences. "When
I heard Joey Green for the first time, I liked that his music is so down-to-earth. I admire Miranda Lambert because she has something to say, and she's saying it."
Heather's recently released second single, "Coming Home," comes straight from her heart. "Cisco and I wrote it. I always ask audiences to never be afraid to thank a veteran. We need to remember that our freedom is not free." A portion of "Coming Home" sales is being donated to the Veterans of Foreign Wars.
"Thankfully, my 'coming home' was a happy one," Cisco added. "We know that is not always true. Some people are interpreting our song as a spiritual homecoming. We hope the words 'life goes on, the sun will rise' are bringing them some comfort."
As for the future, the Heather Roberts Band is ready to go. The bus is primed. The heart and talent are there, and Heather has many more things
to say.
Written by Carolyn Wills.