MANSFIELD, TX — When George and Roberta Dennis go out wearing their hats, they are often stopped by passersby who inquire about the patches adorning them. The hats are a testament to the service to their country of their sons and son-in-law. They have a patch for each of their sons' deployments in the Middle East, and each patch has been worn by one of the men while he was deployed from Operation Desert Storm until the present.
"My ancestry traces back to the Pilgrims at Plymouth, and there are Dennises in every conflict this country has ever had, so my family history is one of service to this country forever, even before George Washington. All four of my great- grandfathers fought for the Confederacy, and my paternal great-grandfather's brothers fought for the North, so I had ancestors on both sides," George said. "Our sons and son-in-law (whom we count as our own) are all active duty, career soldiers, and all have had multiple deployments to the Middle East. We wear our hats to honor those boys."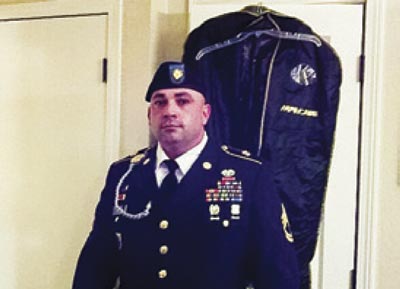 The Dennises' oldest son, Geoffrey, was named for the author Geoffrey Chaucer, George's favorite writer. He is a sergeant major serving full-time on the brigade staff in the operations office of the Texas National Guard. His first deployment was with the 82nd Airborne Division in Operation Desert Storm.
Their son-in-law, Ray Nixon, is a sergeant first class, who has been deployed three times to Iraq. He served with the 1st Infantry Division (commonly known as The Big Red One) as a medic, and is currently stationed at Fort Bliss, near El Paso.
Their youngest son, Matthew, is a major with the 2nd Infantry Division. He has been to Iraq three times and has also served in Afghanistan at the International Joint Command Center in Kabul. He earned a master's degree from the Army's School of Advanced Military Studies and is now a staff officer in an artillery battalion at Fort Lewis, Washington.
"At one time, Matthew and Ray were at adjacent bases in Iraq. They saw each other when they could and, since Matthew is an officer, Ray had to salute him. Ray always laughed about it and said, 'I salute, and then I hug him,'" Roberta chuckled.
Military service is not limited to the younger Dennises. George's father was an army private who drove mules in World War I. As he was growing up, soldiers were George's heroes. He often waved at convoys of soldiers as they passed his house, and when a soldier came home, George always made sure to listen to his stories.
George served in the Army in the late 1950s when the Cold War was "hot as the dickens." He came from a family of meager means, and it was hard for many young men to find work because the draft was in effect, and employers knew it was likely they would lose their young hires for two years. Therefore, George decided to enlist to get his service out of the way. He spent three years in the Army, two of them in Germany, where he recalls seeing lines of American tanks on one side of the East German border facing lines of Russian tanks on the other side. He was soberly reminded of the air raid drills that he had practiced at home could very well be necessary. George never fired his weapon, but army experience did get him started on a long career when he returned home.
"I trained to be a radar repairman, which started me on a professional career in electronics. I came home and got married, then went to college and became an electrical engineer. I am grateful to
the Army for getting me started with my career," George said.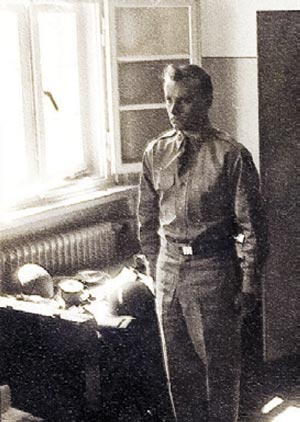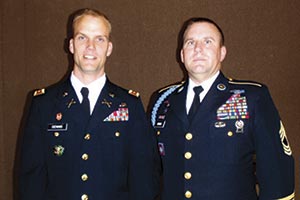 Roberta never served in the military, but her brothers were both Navy men. Her older brother was an aviation mechanic and never served outside the United States. Her younger brother left college after three years and was on a ship off the coast of Vietnam when their father fell ill, and their mother could not take care of him. She applied for a hardship discharge for her son through her Congressman, which was granted.
The Dennises are often asked about their sons, and how they deal with knowing that they could be hurt or killed. However, both say they do not worry much because they are confident that their sons' training, their ability to protect themselves and their leadership keep them as safe as possible.
"I don't like that they're gone, and I don't like that they're away from their families, but they've been deployed so often that they just do it. They might fuss about it, but they know the rules and they go," George said.
Roberta added, "We watch the news, and we keep maps on the wall so we know where they are. The only time I was really worried was about a year ago when an Afghan pilot shot several people at the International Command Center where Matthew was. I immediately sent him an e-mail, but I didn't hear from him that he was OK until several hours later. Once I heard from him, I was relieved, and I put him on a prayer chain. I have to live in faith that God will protect them."
While it is difficult for George and Roberta to see their sons deployed, they are most sympathetic for their sons' wives and their own daughter. Geoffrey's wife, Maranda, Ray's wife, Emily, and Matthew's wife, Gennie, each have endured multiple deployments and have had to raise children by themselves for large chunks of time.
"I really have a lot of sympathy for the girls. They're serving too. It's a family engagement, not just the husband," Roberta said.
Matthew will be starting his fifth tour in the fall, and he has only been married 10 years. He has missed the births of both of his children, Christmases, birthdays and anniversaries. Ray was deployed three times in eight years, and Emily was alone in Germany during those times. Maranda also has struggled with the life of a military wife.
"Sometimes I'm jealous of women whose children are nearby because they can have family gatherings and get together often. Then I realize we have our own life, and it works for us," Roberta said.
"I read a lot about military history, and I'm fascinated by the skill, perseverance and quality of the American fighting man," George said proudly. "They're experts at whatever they do, whether they're a clerk or fighting out of a scrape or, like Ray, helping their fellow soldiers when they're hurt. All of them are good soldiers."
Written by Jeremy Agor.