CORSICANA, TX —  "One of the beautiful things about baseball is that every once in a while you come into a situation where you want to, and where you have to, reach down and prove something," Nolan Ryan, former major league baseball pitcher and current principal owner, president and CEO of the Texas Rangers, said. That once-in-a-while opportunity has come again for Stayton Thomas, a familiar name to Navarro County residents who follow local baseball players through their college years. Stayton, who pitched for Mildred High School, Corsicana High School and The University of Texas at Austin, is embarking on his professional career as a recent recruit for the Tampa Bay Rays.
"It's been a long process getting here," he shared. "I am going to be like a sponge and just continue to learn."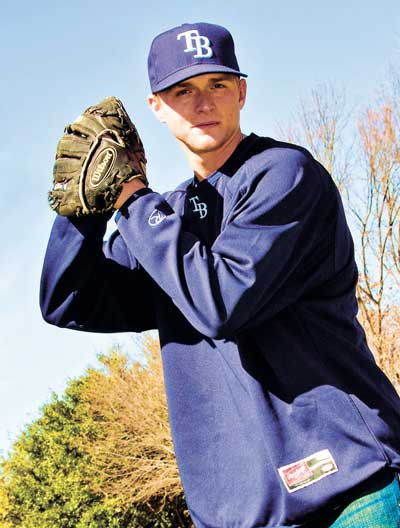 Stayton's road to the pros began, like so many players, in organized baseball with T-ball when he was 4 years old. "We have pictures of me playing even younger than that," Stayton revealed. He credits his parents, coaches and trainers for mentoring him along the way. He said of his parents, Robby
and Teresa Thomas, "I owe them big-time! My dad was always there to find the best people to push me on." And Robby's list of "best people" is a pretty lengthy list. "Mom paid the bills," Stayton continued, "helped me with equipment and made sure I kept my grades up." He has also enjoyed having his grandparents and other family members cheering him on through his many games.
"My wife and I spent many an anniversary at Sonic because we had a ballgame," Robby remembered.
As a high school freshman and sophomore, Stayton pitched for Mildred High School (MHS) under Coach Justin Terry, and then moved on to Coach Tracy Wood at Corsicana High School (CHS) for his junior and senior years. "My coaches gave me extra reps and pushed my name. When everyone else was through, they turned the lights back on, and we kept hitting. It was something special when we found high school coaches who took their time to stay out there with me," Stayton remembered. He credits Bernie (Doc), CHS's trainer, with helping him stay fit physically.
Dub Kilgo became Stayton's pitching coach when Stayton was 13 years old
and continued to coach him through his senior year. "He was very knowledgeable. We traveled to Waco to work with him," Stayton said. Summers were spent playing with the D-BAT organization's Show Case Tourneys. "Different colleges come around recruiting. I was noticed for the first time during Tourney 17 in Georgia," Stayton said.
The work paid off. Stayton joined former Navarro Coach Skip Johnson when both joined the Texas Longhorn's team — Johnson as an assistant coach and Stayton as a relief pitcher. Playing for the Longhorns while bleeding orange had always been Stayton's dream. "My mom said that even before I was born I would start kicking when "The Eyes of Texas" was played. I could do the Hook 'em Horns (signal) when I was a year old," Stayton laughed.
Stayton proved his worth with a list of impressive plays and wins throughout his college years, while still paying attention to his academics. During both semesters of his freshman year, he  made the Big 12 Commissioner's Honor Roll, and during each of his other three years, he made the Academic All-Big 12 Baseball First Team. Summers were spent in collegiate wood-bat league play. "I played in different places around the states. I was very blessed to have the host parents I had. They kept me in groceries and just did whatever I needed," he shared.
"College was a rough time," Stayton stated. "With highly recruited guys all around, you have to wait your time as a relief pitcher. It's frustrating." It's not easy to be a college student-athlete. Weight work was from 5:00-8:00 a.m., class from 8:00 a.m.-1:00 or 2:00 p.m., followed by field conditioning until 6:00 p.m. Study time was from 6:30-8:00 p.m. "I was constantly tired. You just keep working and hope that someone sees you and likes what they see." For Stayton, that someone was Pat Murphy, an area scout with the Tampa Bay Rays.
Stayton's chance to prove himself to the Rays began with the opening of spring training camp March 2, 2012, at Port Charlotte, Florida. "It's five minutes from the beach, so I got a two-for-one special," Stayton grinned. He took with him a repertoire that includes the four- seam fast ball, two-seam fast ball, curve and change-up pitches thrown at radar gun speeds of 89-95 mph. "Control is the biggest factor," he stated.
Discipline and dedication are factors of success also. "People don't understand what it takes to get to pro sports. It's not just luck. It takes countless hours to stay in shape 365 days of the year," Stayton explained. "You have to be mentally able to put your body through play every day for seven months while traveling on bus trips for hours from game to game."
While waiting for his date with camp to arrive, Stayton returned to his Navarro County roots. A few semester hours from a degree, he will continue his studies during his off-season time. Considered to be an undersized pitcher at 6 feet tall, Stayton worked out daily to keep in good condition. "I am blessed with my arm, a strong core and upper body strength," he said. Yoga for stretching, weight lifting for strengthening and running worked to keep his body in tune. Stayton kept busy giving pitching and weight training lessons to local athletes.
Stayton also made some speaking engagements as area coaches view him as a positive role model. "I tell students that you have to sustain a work ethic once you are in high school. You don't have to be the biggest or the fastest, but you do have to work the hardest if you want to achieve your dream," he said. When his pro ball career is finished, Stayton plans to coach baseball at the college level.
"My CHS teammates were such a
great influence in my life. We grew to be family and remain friends today," Stayton shared. His CHS teammates, his girlfriend who attends vet school at Texas A & M as well as family and friends throughout Navarro County are always with him in spirit and will continue cheering for him as he seeks to prove himself with every ball thrown. "I can't believe that I am getting paid to play the game I love," Stayton said. "I embrace this game!"
Written by Virginia Riddle.