ENNIS, TX — Growing up, Michael Aguilar Sr. did not have the opportunity to play sports. Determined not to let his children experience a similar situation, Michael Sr. did everything he could, from learning a game he knew nothing about to coaching every sport his son wanted to play.
At 2 years old, Michael Jr. was throwing balls and swinging bats. Michael Sr. and his wife, Lori, signed their son up for T-ball once he turned 4. They wanted him to have more opportunities than just football in the fall. Michael Jr. has been coached by his father since his very first T-ball team. "My dad is a great coach," Michael Jr. said. "He is the one that taught me how to play baseball. One day, I want to be able to play college baseball."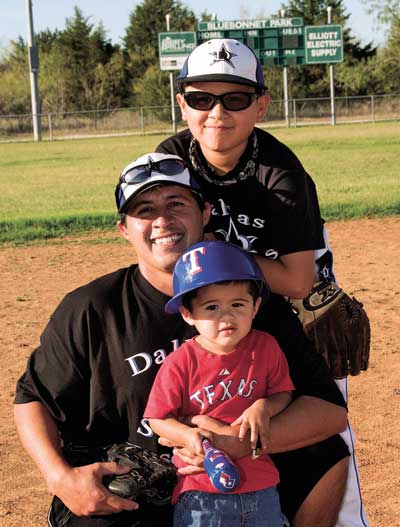 Michael Sr. turned to books and DVDs to learn the game. When Michael  Jr. began batting and pitching lessons, Michael Sr. went along to learn as well. Anytime he came across a baseball coach he would pick their brain for ideas. "I decided to coach so that I could be more involved in Michael's life," Michael Sr. admitted. "I want to show him that I will always want to be a part of his life. It's my goal to give him the opportunities I didn't have growing up."
Two years ago when the couple realized how much their son liked the game, they gave him the opportunity to sign up for a select team as well. Michael Sr. formed a select baseball team for Ennis boys who were Michael Jr.'s age. The Ennis Eliminators was a young team with no tournament experience. They scheduled a tournament the second weekend after they began playing together as a team.
Neither the coaches nor the players knew what to expect during their tournament debut. A pleasant surprise to all, the team walked away champions that weekend. "In a small town like Ennis, there isn't always an opportunity to play at the next level," Michael Sr. said. "When the opportunity to start a team presented itself, I wanted to give other boys the chance to play at a greater level and learn more about the game."
"I play both recreational and select baseball during the year," Michael Jr. stated. "I really like playing select because my teammates are great, and I like going to tournaments."
Things snowballed for the team after that first tournament, and they eventually went on to become runners-up in the USSA (United States Specialty Sports Association) Little League World Series. As the team continued to win, they began to show up on other people's radars. After their first year, the  liminators were approached by the Dallas Stars, a select baseball organization, about a possible merger. With the support of the other parents and the promise from the Dallas Stars organization of keeping the team together, Michael Sr. merged the team.
Since the formation of the first select team, four players have stuck together: Charles Mathes, Ryan Casas, Gordon Gilmore and Michael Jr. "It was a no brainer to merge the teams together," Michael Sr. said. "When we were part of the Dallas Stars organization, the players attended more instructional sessions by great coaches and players from colleges."
Whether they win or lose, Michael Sr. uses each game as a character-learning tool for his players. There were times, after a win, when other teams refused to shake the Dallas Stars' hands. These times, although few and far between,  became lessons in sportsmanship. After a loss, when feelings of disappointment wash over the team, Michael Sr. is quick to step in and remind the boys that it isn't over. "I tell them there's always the next game," Michael Sr. explained. "No matter the outcome, we must support each other as a team. We are good sports, and we don't trash talk other teams."
"Our jerseys may have said Dallas Stars, but we still represented Ennis," Lori said. "We remind the boys of that each game. Everything they do and say is a reflection of their home town." Just this past year, coaches, parents and players made the decision to come back home and be the Eliminators once again. "We wanted to come back home and represent our community," Michael Sr. stated.
Games and tournaments are still family events. The team plays nearly 15 tournaments a season, and their support system travels with them. They arrive
at each game as a caravan, set up their canopies before the game and sit together to support their boys. Between each game they all picnic together and rest up for the next game. "Other teams see us all together at every game," Michael Sr. said. "We try to represent ourselves as a team on and off the field and as a family when we're at a ballpark."
Lori is at every game and has become the team's official scorekeeper. Having once been a softball player herself, Lori knew about the game, but learned there were major differences in the two games once she began keeping score. "As the scorekeeper, I have to stay focused on the game," Lori said. "I can't stop and yell at the coach. Since my scorebooks are the official record of our home games, other teams will ask to look at them. I have to be as accurate as possible, but sometimes I still make up my own signs."
Michael Jr.'s little brother, Aiden, has become the team's mascot. Having just turned 2 in December, Aiden is quickly following in his big brother's footsteps, running around the house in a Texas Rangers' helmet with a bat and a ball. In a little less than a year he will be ready to join his first T-ball team. "Aiden is already swinging the bat really well," Michael Sr. said. "We learned that Waxahachie will let 3-year-olds sign up for T-ball. I can't wait for him to join the game."
During the busiest season of baseball, the two Michaels spend nearly 15 hours a week practicing and playing the game. It isn't work for them, but a special time they spend together throwing the ball, riding in the car and creating memories as a father and son. "Michael has improved a lot since the beginning, and we see it each year," Lori said. "I think that is a reflection of his coaches. Having his dad learn the game to be able to spend more time with him makes this game a lot more meaningful to Michael."
"I want Michael to enjoy the game and have all of these opportunities," Michael Sr. said. "The most important thing in all of this is for Michael to be able to reflect back on these moments one day and recall good memories."
Written by Sydni Thomas.