BURLESON, TX — When Sprinkles the clown arrives, there is no missing him. The joy emanating from him quickly fills his surroundings and captures the attention of everyone in sight. People of all ages are captivated by his playful antics, which is exactly why Mattie Foster invited him and his fellow clowns to help her with the annual Burleson Spring Meet for Special Athletes. "Sprinkles spreads cheer wherever he goes," she said. "I just love him to death. He has such a lovable spirit, and you can tell he has a genuine heart."
Sprinkles and his friends first joined the Spring Meet in 2004 as handlers for the young athletes in wheelchairs. Mattie, who has been a part of the event since it began 26 years ago, said their presence has taken the experience to a new level. "Since they have come aboard, all the kids get to participate," she said, "and the enthusiasm they bring can be felt in the air. They are so colorful and cheerful. They have a spark about them, and they work so hard. They're an amazing group of people."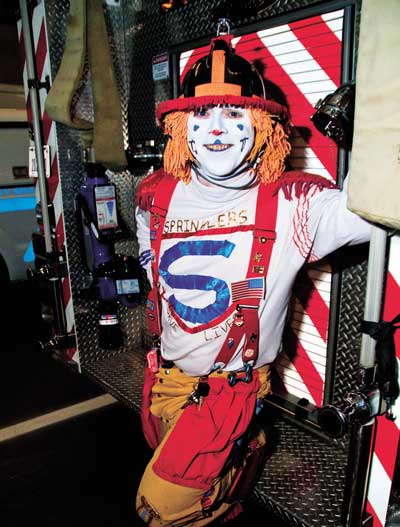 But Sprinkles and his cohorts didn't stop there. Over the last eight years, their role has evolved into much more. They run to greet the more than 500 students from over 18 area school districts as they arrive at Burleson's Elk Stadium. They march in the parade and even run with the other students, who race on foot. Mattie said they encourage and cheer on all the students throughout the meet. "What they do is just awesome," she smiled. "When the clowns show up, the kids' faces light up and they laugh and grin from ear to ear. By the end, there's rarely a dry eye in sight."
The students aren't the only ones who delight in the experience, though. Sprinkles and his friends walk away with joyful hearts, too. All the clowns — Sprinkles, Holly, Disney, Tweezer, Patches and the others — cherish the opportunity to give back. "We love it," Sprinkles admitted. "We're a bunch of big kids ourselves, and we look forward to it every year."
This year the April 5th Spring Meet will celebrate the theme "We Are Champions," which Mattie said fits perfectly. "Our athletes are champions, everyone one of them," she emphasized. "Sprinkles and the other clowns help make them feel that way."
But who are these enthusiastic, spunky characters? They
are Johnson County residents, most of whom are volunteer firefighters — firefighters who use their fun-loving alter egos to teach elementary students fire prevention and safety. The Burleson Spring Meet is only part of their commitment to giving back. The rest of the year, they are creating and planning their annual fire safety program for National Fire Prevention Week.
As the Alvarado Fire Prevention and Safety Educators, they dedicate the second full week of October to performing for local elementary schools, including all those in the Joshua ISD. They take a week of vacation from their day jobs to teach kindergarten through second-graders the importance of fire prevention. In one week, they visit at least 14 schools in at least five Johnson County communities. "We have a lot of fun and enjoy the heck out of it," Sprinkles said. "But we also take it very seriously. Even though we are joking around, we are teaching these children how to be safe if something were to happen."
When Sprinkles isn't wowing young audiences with his comedy-filled lessons, he is Robert Beimler, a fire sprinkler engineer, Boy Scout leader, husband
and father of three. He and his wife, Charlotte, a.k.a. Holly, work closely with Alvarado Fire Marshall Paul Bemis; Alvarado firefighter and Joshua volunteer firefighter, Joe Kratky, a.k.a. Ronnie
J.; and 9-1-1 dispatcher and Briaroaks volunteer firefighter, Kristi Kleine, a.k.a. Disney. Other volunteers join them
from time to time, but not everyone can consistently give that kind of time.
"It's a lot, but we love it," Charlotte said. "We are a close- knit team, and we all bring something unique to the table. We have a great time. I think we have as much fun as the kids do." The crew works year- round to create an entertaining and engaging program each year, that way the kids have a good time and remember the information when they need it.
Misti Fannin, the principal's secretary and bookkeeper at Joshua's Elder Elementary School, said the students are always excited to see Sprinkles. "They love him, and they get so much from the show," she said. "It's motivational and funny, and the clowns really keep the kids focused on the lesson."
But Misti was not always a fan of Sprinkles. Since she was a little girl, clowns have sent her into a panic. The first time she saw Sprinkles at school, she ran to hide in her office. She couldn't even look at him or the others. "I don't know why I have such a phobia of clowns, but it paralyzes me. I am deathly afraid of them," she laughed. "I can't help it."
Sprinkles, however, has won her over. It has taken years for her to warm up to him, but gradually she began to trust him. So much so, she even agreed to go on stage with him during this year's program.
"I was shaking like a leaf, but there's just something about him that put me at ease. He's very calm and patient," she said. "He's crazy on stage, but in a good way. He's so good with the kids and very understanding."
Sprinkles and his friends occasionally pop up at other community events, too. They have been known to show up
in parades or during fundraisers, and children aren't the only ones who enjoy their cheerful appearances. Adults adore them, too.
After nearly 14 years as Sprinkles, who was born when Robert was serving as a Nolan volunteer firefighter, he still loves every minute of it. Even out of make- up Robert is full of spirit. His friends agree that it shines through everything he does, but Robert insists he is not a one-man show. "We all work together to make this happen," Robert said. "Everyone contributes so much creativity and energy. We just feed off each other, laughing the entire time."
Sprinkles and his fellow clowns have been teaching fire safety since 1999, and years later, they're going strong but could always use more volunteers. "My vision is that we continue to grow," he said. "People don't realize how much goes into this. Given some people and some time, we are really going to become something. It's all about serving the kids in Johnson County."
Written by Sarah Anderson.