WEATHERFORD, TX — For many, a new year means a new commitment. Joe Birmingham made the commitment to volunteer as a Court Appointed Special Advocate for Parker County just over a year ago. When he first heard about the program four years ago, he thought it might be a perfect fit for him. "Our role is to act as people who care about these children, who are compassionate. At the same time, our role is to employ professional objectivity about their situations," Joe said. Joe thought the program meshed well with some of the things he was interested in and concerned about, but he also knew the children needed help.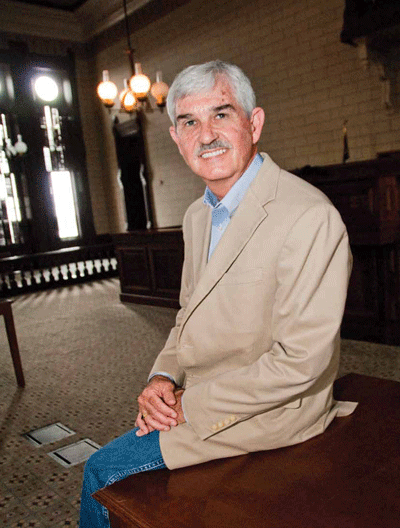 Once appointed to a case, Joe will review the child's file. If he feels comfortable with the case, he will accept it and begin the process of learning everything he can about the child or children involved. "Every case is a little bit different, but our role is to do a lot of fact finding," Joe said of speaking with the child's parents, other relatives, teachers or therapists.
Joe will interview as many people as possible to learn all he can about the child's situation. He will then write a report and make recommendations to the judge about what is in the best interest of that specific child. Ultimately it's up to the judge and Child Protective Services (CPS) to decide what is best for the child.
Depending on the situation, Joe spends an average of four hours each week volunteering for Court Appointed Special Advocate (CASA). He tries to build relationships with the children. "I think that's very important. In many cases, these children have been removed from the home," he stated. "Sometimes, they have very little consistency in their lives."
Many CASA cases involve children ranging from toddlers to teenagers. "Somebody comes in the middle of the night, and the police are there. Someone from CPS is there to take the child away," Joe explained. "The children don't know any of these people, and it can be very frightening."
When the advocate first meets the child, the child may not be too receptive. Over time, the children recognize their advocate is there to help them. Joe says many cases are heartbreaking. "There are times I wish I could step in there and do something to help the child, but that's not our role. As CASA, that's not our job." That's someone else's role to play, and Joe is always hopeful that it is played out well.
"There are sad situations where things don't work out as well as you would like them to," Joe explained. Some children are placed into a residential treatment center to get the help they need, while others may age-out in the system after turning 18. "But on the other hand, there are incredibly heartwarming cases," he added. Many children are adopted or find comfort in foster homes. Others are reunited with their parents or are placed with a relative or close family friend.
The CASA volunteer program is for people who want to try to make a difference in a child's life. "We become part of the system that helps that child," Joe said. "It's just so exciting to be part of their lives — to see that these kids will probably progress to adulthood and achieve some level of responsibility, independence and well-being."
Joe recommends the CASA program for anyone who wants to get involved. "There are so many children who are neglected and abused and taken into the court system. There are just not enough CASAs to be assigned to the cases,"
he said.
For children in the court system, staffers and case workers may come and go. Often, their CASA volunteers stay the same. Many volunteers want to stay with the program for the sake of the child, but things do happen. Some people move away or simply cannot take on the case anymore, so another advocate is assigned to the child.
Although Joe has been involved with five cases over the past year, CASA volunteers will normally only work two or three cases at a time. Joe retired from his position as president of Weatherford College in 2009, so he has the extra time to volunteer. Joe feels his 35 years of experience as a college administrator helps him with his volunteer work. CASA volunteers must analyze case information, have the ability to interview people and know what kinds of questions to ask.
"It's an important attribute to be able to take the facts and shape them into a format for a report," he said.
Dealing with the CASA program can take an emotional toll on volunteers. "This is a part of society we normally are not familiar with. We normally don't see situations where there is child abuse or neglect," he said. "We have to deal with it as unemotionally as we can, because our role is to have professional objectivity about what's going on. At the same time, we have a compassion and concern for these children," he explained. His cases do affect him, but Joe has learned to cope with it himself.
Evelyn, his wife of 39 years, is very supportive of his volunteer work with CASA. Evelyn is a social worker in Fort Worth. "She understands 100 percent of what I do," Joe explained. Over the years, Joe has listened to many of Evelyn's cases, in a very generic sense, so he has an understanding of the challenges these children face.
The CASA of Parker County office is there to help its volunteers. The centralized office is an important support function, and staffers are always there to offer advice. Orientations are held for interested advocates, and training sessions are also provided for potential advocates. An advocate must complete 30 hours of training to become a volunteer. The Parker County office manages record keeping and communication from the District Attorney's Office, Texas Department of Family and Protective Services and other involved parties. Program officials then communicate that information with the advocates.
When it comes to volunteering with CASA, Joe thinks the advocate must be able to withhold judgment about others. In many cases, some of the parents may not have acted properly with their children. "I think it can cloud your professional judgment if you are too emotional or too judgmental," Joe rationalized. He tries to accept this world and work with it for the best outcome. In some cases, things do work out very well for the child. "You just couldn't ask for anything else."
Written by Amber D. Brown.