ENNIS, TX — Last year around this same time, Sam and Kathy Harrell and Steve and Suzie Betik had just returned from from their first trip to Hospital Punta Pacifica, a John Hopkins' affiliate, in Panama City, Panama. While there, Sam and Steve underwent their first round of stem cell treatments to help slow down and hopefully reverse the adverse effects of multiple sclerosis (MS),
a debilitating muscle and nerve disease both men have suffered with for years. Just a few weeks after returning home, they began to see and feel improvement in specific areas; the most important for both men being balance.
Understanding what new stem cells do in relation to damaged areas in the brain and spine was knowledge both families needed prior to returning home so they would be able to recognize improvements, however large or small, during this year following treatment. The body's nervous system is made up of nerves, which act as a messenger system for the body. Each nerve is covered by a fatty substance called myelin. "Myelin insulates the nerves and helps in the transmission of nerve impulses between the brain and all other parts of the body," Sam explained in the simplest way possible. "These nerve impulses control the muscle movements that allow the body to walk and talk."
Although the nerves can regain myelin, the body's natural rejuvenation process is not fast enough to outrun the deterioration that occurs with MS. "MS attacks the protective covering with a vengeance," Sam added, as the other three nodded their heads in agreement. "MS causes small, hairline cracks in the myelin. We were told the stem cell treatment was supposed to repair these damaged areas."
Doctors in Panama were up front with Sam and Steve, realistically preparing them for the 12 months following their initial treatment. As the Stem Cell Institute's pamphlet states, each treatment is unique because each patient is unique. There is no guarantee of what results will be seen or how quickly they may be observed. Some patients see results during treatment, while others notice positive changes after they return home. "They [the doctors] told us not to look for immediate changes," Kathy remembered. Thankfully, positive changes were felt almost immediately. As aforementioned, balance was the first thing both families noticed, with improvement in stamina, strength and cognitive thinking following closely behind.
No one ever said life after stem cell treatment would be easy, quite the contrary. Sam and Steve have had a year of ups and downs and lots of life changes, but they've never once lost hope. It's that hope, their strong faith and the giving hearts of the community that have kept them moving forward, literally one step at a time.
There are many different kinds of MS. Sam has been diagnosed with secondary progressive MS, while Steve has been suffering with the roller coaster ride relapsing remitting MS (RRMS) causes. In fact, shortly after his return, Steve was hospitalized for what he called an episode. "I don't really know what I do to bring these episodes on," Steve admitted. "But, I credit the stem cell treatment with my faster-than-normal recovery from that relapse."
The months following the relapse recovery have been eventful for Steve. He was able to enjoy the birth of his newest granddaughter in October. His speech is easier to understand. Thankfully, balance has improved because Steve hates using a cane or walker. "His kidney and bladder control is much improved," Suzie noted. "I think that's the most significant positive from Panama." Just a few weeks prior to spring break, Steve was chosen to be part of a study with Acorda Therapeutics, which provides medications to help MS patients with balance and the ability to walk. "It was a six-week trial," Suzie said, "and Steve hasalways wanted to be on the cutting edge of anything that will improve the quality of life for those suffering with MS."
Steve has also become much more self-sufficient. He still drives to and from his appointments with Dr. William Davis where he undergoes chiropractic adjustments and acupuncture, which help tremendously with his day-to-day pain. He is once again able to ride a stationary bicycle. He shakes his head as he thinks of his granddaughter. "I sit on the couch and I get to hold her for a minute or two," he smiled.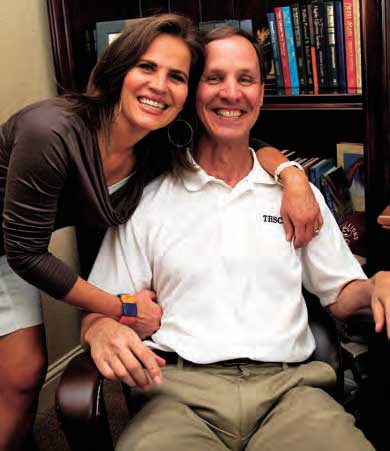 Sam's year has been filled with changes, too. He admits that he was a bit naive after that first treatment. "I was expecting the 'one-trip miracle,'" he stated. "I was thinking that in three to four months, I'd be back to where I was before the MS diagnosis." Sadly, that hasn't been the case, so in the fall Sam decided it was time to stop coaching football – a job that for years has been synonymous with the Harrell name. To make a long and painfully emotional story a bit shorter, the same day Sam went to say goodbye turned into a day when a heavy burden was lifted. "I went in to retire from coaching," Sam remembered, "but they gave me an option to take a six-month leave of absence from coaching, and the district also offered me an advisory position, which had been vacated earlier."
Going to another job within the district proved much easier than leaving altogether. In December, Sam revisited the idea of returning as the Ennis High School head football coach, but decided it was in the best interest of all parties involved to step down permanently. As this school year came to an end, Sam made another decision. "I decided to retire altogether. I'm now planning on doing things that aren't so physically demanding and that keep me out of the heat. It's the heat that zaps all my energy."
Steve and Sam both agree that multiple trips to Panama for stem cell treatments are the ticket to the lifestyle they were both accustomed to prior to their MS diagnoses. Sam was able to return for his second round of treatments during spring break, and he's already seeing some improvement in the cognitive issues that still somewhat troubled him following his first trip. Steve plans to return once the medical trials are complete.
Both men still "live in the moment" of each day they are given. They're still thankful for the giving hearts of a loving community. "We want to be a picture of hope for those who may be feeling hopeless," Sam said. "We want our story to influence and affect others in a good way." Bottom line, they want everyone who has been so supportive to see what stem cell treatment can do for the overall quality of life. Stem cell treatment – it really does a body good.
Written by Sandra Strong.