MANSFIELD, TX — Rex Wenger likes to hang the American flag over the Mansfield Farmers Market. "To me, that's the most important banner we can put up," Rex said. One of five on the board who oversees the farmers market, the 79-year-old gentleman wakes at 5:00 a.m. every Saturday during the season to help set up all the awnings, tents, trash cans, hoses, electrical cords and odds and ends required for vendors to display their wares. Rex also carries along a case of pure honey with live enzymes. "Seventy percent of the customers buy raw honey for their allergies," said Rex, who uses honey as a sweetener because he is a diabetic.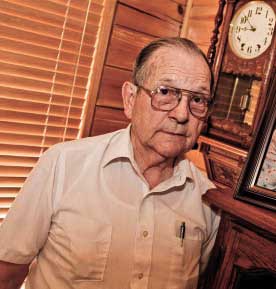 He raised bees in high school, as part of Future Farmers of America (FFA) education, but would not dare raise bees now. He has not lived on enough acreage to keep the bees happy since he left his father's farm and joined the service in 1949. "I stayed for three-and-a -half years, and got out because I wanted to go to college. Thanks to the Korean GI Bill," Rex said, "I was the only one in my family fortunate enough to finish college. Now my daughter has her degree." Rex worked 41 years as an aircraft designer, retiring 14 years ago.
Hard work has not hurt this man. "I'm a share cropper's kid. I started doing a man's work when I was 12, driving mules while my dad drove horses. We farmed 90 acres up in Oklahoma, raising corn, wheat, oats, milo (sorghum) and cotton," Rex recalled. "We had livestock and a garden. Mainly you raised your crops for feeding the stock. We raised cotton in some bottom lands, and that was for sale.
That gave us some cash, but not much." The most money Rex ever saw his dad have at one time, after the last bill was paid and seed was bought for next year's planting, was $300.
"Everybody else I knew was poor, but we didn't know we were poor," Rex said. In addition to a roof over their heads and clothes on their backs, the family had plenty of food to eat: green beans, potatoes, peas, carrots, turnips and parsnips. "Mother made bread, and we had livestock plus wild game, squirrels, rabbits and quail. We raised our own sorghum, made our own molasses. I had honey bees, and we'd get fish out of the creek. We had a good variety. We had plenty." They ate big because they worked hard. His father preferred using only horse and human power on his farm, and Rex is therefore skilled with the use of the saw and axe.
"The only thing that came on our property was a thrashing machine, because that was a community-type event with every one helping everyone during harvest season," Rex remembered. "My dad was an organic farmer before they coined the word. We didn't use pesticides because they didn't exist at that time. We used arsenic of lead strictly for potato bugs. Everything else was the manure out of the barn and mulching your crops. My mother had a garden and was consistent about keeping the soil in good health. Organic is getting your soil like it was originally, the way God made it."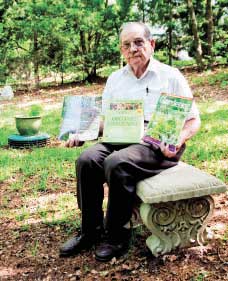 Accomplishing this in Texas is no small task, although Rex believes it is more economical. "Anytime you're doing business outside, the weather controls what you're going to do whether you like it or not," Rex said. "You till the garden, prepare the soil, get it planted — and that's always a guess to keep from planting too early and then getting it frosted. The weeding and watering and picking and cleaning and getting it to market is a big-sized task if you have a large plot."
Knowing Rex had the knowledge to help local farmers get their produce to market, his friend, Russell Zimmer, called Rex 10 years ago to help organize the farmers market in Mansfield. Joining forces with John Cox, Vicki Asher and James Hudson, they found full-time produce farmers willing to offer their harvest to Mansfield shoppers. Now, Nancy Markos and LaMarilys Doering help supervise the market. Busy as bees, their community effort still pays off.
This is the closest Rex has come to a farm environment since he moved off the farm at 17. The soil where he lives now has never been used except for a small garden plot used to grow corn and squash, but has lain dormant the last four years since the passing of the love of his life, Opal Rose. The couple moved to Mansfield in 1977, and their great neighbors and strong church friends have supported his efforts to adjust to being single. Hanging on his dining room wall is a beautiful set of Harvest Plates Opal painted. They are a symbol not just of his happy, hard-working youth, but of work that requires dedication and planning. As a member of the Mansfield Lions Club, Rex has contributed time and energy to their projects that help handicapped children and vision-impaired people. "I'm old-fashioned," Rex said. "I don't just haphazardly go and join something, because it doesn't make sense to join a service organization and then not participate."
In more ways than one, Mansfield is reaping the harvest of Rex's desire to do something useful. "I enjoy the people who participate in the farmers market, too, and because of my background I feel like I'm doing something worthwhile even though I'm not growing anything," he said. But Rex is able to judge the quality of the produce. "Most people who do that kind of business are really conscientious about what they present." It works, as evidenced by the other farmers markets in Dallas, Grand Prairie, Arlington and Burleson.
As people become more aware of health issues, consumers are experimenting with organic produce. Rex feels the value of organics is rising. "If you've studied anything about what it takes to raise those homegrown tomatoes, you can value them despite the fact they do not look as nice as those that have been dyed and sprayed with a little wax coating," Rex said. "And if you've ever gone out in the garden with a salt shaker and picked a tomato off the vine, you'll never forget that taste — and you haven't lived until you've had fried green tomatoes."
At the end of each Saturday, Rex loads up his trusty white Toyota pickup and hauls the farmers market's infrastructure back to his garage. This type of work keeps him strong. Once home, he can relax with magazines like Birds & Blooms and A Backwoods Home Anthology, and get busy planning his fall garden.
Written by Melissa Rawlins.