CORSICANA, TX — Leon Tates strides confidently into the room dressed like a true cowboy in boots and a white hat. Humbly, he admits, "I'm not a real cowboy at all, but I know
how that story got started." He related that one day he was at the Corsicana ranch of a good friend and customer, Joe Robinson. A photographer was there taking pictures for a publication. Joe offered Leon the use of a horse for the photo shoot, and Leon accepted. Right after the picture was taken, Joe slapped Leon's horse on the rear and the horse reacted as horses will. "I had only been on horses that walked around, up 'til then. Luckily we were in a round pen," Leon related, while laughing at the memory. The photo was published, and Leon's cowboy urban legend was set in motion. "Even my boss, Brian McCoy, saw the photo and sent me a book about black cowboys," Leon said.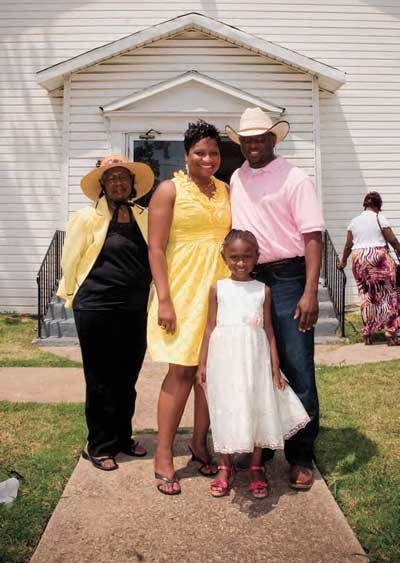 True cowboys are not just born with the title; it is earned daily throughout a lifetime. Even though Leon cannot "sit a horse well," this self-proclaimed urban "computer geek" and College Station native has adapted well to rural life in Corsicana. "I am a city slicker, but I have learned to love the country and Corsicana," Leon stated. As manager of Corsicana's McCoy Building Supply, Leon works closely with building contractors and many of the area's farmers and ranchers whom he finds to be honest and hardworking. "Their word still means something," Leon said.
A true cowboy is always ready to help his neighbors, and Leon does that in many ways. One of those ways is through volunteering at the Navarro County Youth Expo. For the last two years, Leon and his wife, Yolanda, have worked through their company, Tates Enterprise, to bring quality family entertainment to a kick-off concert benefiting the Youth Expo. "We wanted to do something different for this community, so we thought, Let's bring live entertainment to Corsicana," Leon related. Deryl Dodd and Aaron Watson have been the headliners to date. The Watson concert attracted more than 700 people and provided proceeds of nearly $6,000, which was presented in the form of a check to the Navarro County Youth Expo for general use. "It felt really good to present that check and give back to the Expo. Everywhere I go around town people talk about the concert now," Leon said.
Leon encourages others to work with programs that make a difference for the children in Navarro County. He has been actively involved in Boys & Girls Club of America, as well as Success Through Active Role-Modeling (STAR) and serves on the Corsicana Chamber of Commerce Board of Directors. Leon enjoys volunteering his time by working with programs that help give the next generation a meaningful life and self-worth.
Most people would say that Leon's involvement with service organizations is fulfillment enough, but not Leon. He also felt the call of God to preach and lead worship services as pastor of Calvary Baptist Church in Corsicana. "God called me to help people. He just tells me what to say," he explained. Since Leon began his ministry in August 2010, the church has seen considerable growth. Just like any true cowboy, Leon is striving to become a beacon of integrity and lead his church members to a life of service in the community. "I didn't want to be the everyday pastor. We need to consider ourselves to be a church without walls that can move into the community and work with the youth. We need our 'boots on the ground.'"
Leon's messages to church members have centered around several themes. He relates his and other's life stories. The message is simple. "If I can get past a problem, you can, too," he said. Another theme has been living a purpose- driven life. "A lot of people don't have a purpose, especially our youth," Leon stated. "We used to go to church all the time for everything. I'm just trying to apply biblical principals to life." Creating a strong family is a theme close to Leon. He and Yolanda not only preach the message but live it. They recently decided that their family needed Yolanda to be a stay-at-home mom again while helping with their business. The couple now enjoys more time with daughters, Jasmine, who is 15, and Leah, who is 4. "I missed my baby. Now I get to pick her up at school," Yolanda said. Leah now can spend time with Mom in the afternoons after her morning in pre-kindergarten at Agape Christian Academy.
Leon and Yolanda want to bring a vision of prosperity to Corsicana. Always wishing to encourage others toward success, Leon is in demand as a motivational speaker. He also writes a regular inspirational column for the Navarro County Times and is authoring a book about domestic violence from a child's perspective. "This is our own personal ministry. We have started at a small level and want to serve and support others," Leon said.
Just like a true cowboy might do, Leon married the girl next door. He attended Paul Quinn College while Yolanda became an Aggie in her hometown.
A position as a designer and engineer with Alenco, followed by Lowe's where Leon became a manager, led to his current position. "I was just working at a computer in a darkened office as a designer. I had an opportunity to work with people as a manager. I took it. Everything you do has a purpose in life," he said.
When asked how he manages to pack so many jobs into his days, Leon pointed to his church's pulpit while saying, "I put it all together right here on Sunday mornings. Everything I do leads to my purpose in life, which is helping people." Leon also gives a great deal of credit to those people who help him. "Fortunately, I have a great staff and a great wife," he stated.
At the end of the day, Leon likes to take a break from working, preaching and volunteering to spend time with Yolanda and his girls at home by watching movies together. Just like every cowboy in western movies, Leon wears the white hat, wins the girl next door, saves the day and helps neighbors succeed. Thus, the urban legend really is a reality. Leon is a true cowboy.
Written by Virginia Riddle