MANSFIELD, TX — Tonya LeClair was only about 8 months old when her dad brought her to visit Grandma at her job in the Wonder Bread bakery in Sioux City, Iowa. Little Tonya's eye rested on a ceramic kitty cat with a little pink nose. "She had a fit wanting it," said Evelyn Pedersen, aka Grandma, who is now 80 years old and living with Tonya and her husband, Ed, and their son, Brandon. Wonder kitty sits atop their kitchen cabinet, purring at all the love he witnesses.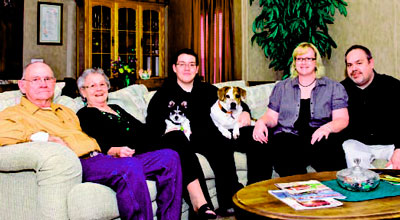 The family moved into their new home in August of last year from just up the street. Tonya had been laid off, so they all downsized. Originally from Iowa, they came to Texas 14 years ago. Now, Brandon is in his third year at Legacy High School, where he sings in the choir besides pursuing his studies. He uses his bedroom as a practice hall before choir concerts. And to prepare for a hoped- for career in criminal justice, this young history buff spends a lot of his time here at home, in his room, reading.
"I'm also on the computer, Facebook, into technology and figuring out how the programs on the computer work," Brandon said. "Like Microsoft PowerPoint, which I use for my history notes so I can go over them and remember them." This diligence translates into mostly A's and B's all this year and last year, and has earned the young man a place in Who's Who of American High School Students.
Just up the hall is Evelyn's room, past the ocean-themed bathroom, which Brandon keeps clean so his great- grandma can enjoy it, too. "The seashell motif was Brandon's idea," beamed Evelyn, whose pride in her great- grandson contributes to the fun in the home they share.
Another factor, Ed explained with a grin: "Grandma's in her second teenage years."
So, Ed and Tonya run Evelyn and Brandon from here to there. Ed will be teaching Brandon to drive this year. And Evelyn? "When I came down from Iowa to live with them, I said, 'You just have to know your limits.' I told them, 'I don't drive.'" But Evelyn met a "friend," Bill Benson, at the 2009 Christmas dance at the Mansfield Activities Center. And Bill drives. "Grandma's got him running all over to pick up their friends for the dances," Ed laughed.
"I can't have anybody sitting by themselves," Evelyn said. "Once Bill and I started dancing, we've been dancing ever since."
Brandon helps everyone in the family. "Keeping up with Grandma is a full- time job," said Brandon, who helps her fix stuff. If Bill wants his computer to even run, he calls Brandon. The teen also cooks and bakes, finding many of his recipes on the Internet.
This Easter, he will help Ed and Tonya cook a nice meal. Since Brandon has grown up, they no longer decorate Easter eggs. Tonya treasures an Easter bunny, hanging out in a little basket, made by two of her sisters. One does the sawing, and the other — who is legally blind — uses a magnifying glass to draw and paint. "Between the two of them they
can make just about anything," Tonya said. "Of course, Easter is about Jesus, and we go to mass." They have crosses displayed, as well. The one in the kitchen curio cabinet, hanging behind the flowers, came from Ed's parents. A rebar cross on the front porch is propped next to a little deer Evelyn brought from Iowa three years ago, after accepting Ed's invitation to move down to Mansfield where family could care for her.
Grandma shared the task of decorating this home with Tonya, who loves the rosary from the Holy Land that hangs on the living room curio cabinet full of dolls and mementos of Ed's family. This is where Ed relaxes after a long day's work at Cuna Mutual Group working with disability claims. He watches the History Channel on television, surrounded by two sentimental and long-lived houseplants. "The peace lily came from Grandpa Teddy's funeral, in 1996," Tonya said. "That plant is so durable! Our Labrador- Boxer mix, Daisy, once pulled it down, and I repotted it. Once we went on a trip and came home to find it drooping. Now, it's blooming!" Brandon planted the other vine during second grade in a two-liter coke bottle. Half of it is now in his great- grandma's room, where Evelyn sleeps with her shadow, Lucky the Chihuahua- Rat Terrier. Eight decades of beautiful memories line the walls of Evelyn's room. "In 1975, my middle husband stood in line for four hours to get me a Cabbage Patch Kid. It's pathetic," laughed Evelyn. "Her name is Sheila, and she has a birth certificate! I found Jimmie at a garage sale so she could have company. I can't stand for nothing to be alone."
Everything in Evelyn's curio cabinet has a story, from the poem "What Mom Took" painted in gold on a ceramic book that her youngest son gave her, to the flowers from her wedding to JR, to the corsage from Tonya's wedding to Ed. "This glass rose is supposed to be put on a bride's breakfast-in-bed tray, and that's going to be Brandon's," reminisced Evelyn. "The sugar and creamer I got in 1939, when I married my first husband, who gave me my children. Behind it is a vase from 1958, when I married  my second husband who helped raise my children. The blue plate I got from Denmark in 1997, when I married my third husband, who was just for me."
"He worshiped the ground you walked on," Ed said.
"I don't associate with bad men," Evelyn said with a wink, patting Bill on the arm.
Opposite Evelyn and Brandon's wing is the bedroom Ed and Tonya share. For organizing her clothes, they use a buffet that was Ed's grandmother's. "It was manufactured sometime in the 1800s, and was pretty shabby, but I took it and sanded it, refinished it. I'm still working on it," Ed said. "The desk was also handed down from my grandma. Both of those have followed me throughout my life."
Ed follows the family closely, looking for ways to help. When Tonya bakes guitar cakes for Grandma or a truck cake for a friend, Ed is there to help clean up. Sunday mornings, he heads to the kitchen and whips up eggs, bacon and hash browns. "Eddie doesn't have to get up. He could sleep another half hour," Tonya observed. "But he gets up and makes breakfast for us all!" Then he takes Evelyn to worship at Bisbee Baptist Church before the LeClair's go to their church service.
"Breakfast is something my dad used to cook for us on Sundays. It's a family tradition," Ed shrugged. "In this relaxed family, everyone knows what they are supposed to do, and they just do it. God has blessed us. So far, so good."
Written by Melissa Rawlins.