BURLESON, TX — When circumstances beyond anyone's control tampered with their plans, it took a family's childlike faith and a miraculous healing to get them across the world. Tim and Laurie Kutch have reared their family on the importance of volunteering their time to those who need it in their community and across the globe. Before adopting their children from Asia, Tim and Laurie took frequent trips there leading groups of volunteers.
After a few years, they began the adoption process, first with identical twins, Jordan and Haley, now 10, and then with Caleb and Noah, now 7. "We call Caleb and Noah our virtual twins," Tim said. "They were born on the same day in the same country, but with different birth parents. They came to us two-and-a-half years apart and the fact that they were born on the same day can only be explained by God."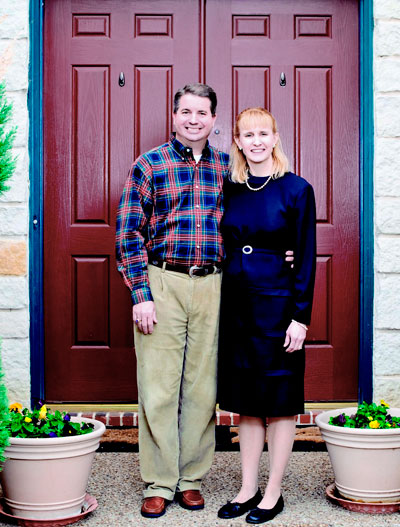 It was a normal Monday for Tim, with the exception that Laurie was in East Asia with a group of volunteers. He dropped their children off at school and made a trip to the Mansfield Post Office. While Tim was sitting at the red light next to the post office, a Ford F350 driving 60 miles per hour plowed into the back of the Kutch family van, launching it onto the car directly in front of him.
On impact, Tim hit his head. His chair snapped forcing him into his son's booster seat directly behind him. The back row of seats was uprooted and disfigured. Tim, the lady in the car he landed on and the driver of the F350 were transported to Harris Methodist Hospital via air ambulance. "Everyone survived the accident," Tim said. "I was stitched up and had a major concussion, but luckily nothing was broken and no limbs were lost. My van was completely totaled. If that is the worst thing, I am OK with that. Things we can replace. People we cannot. I am so thankful that my kids weren't with me."
When Tim was brought into the hospital, nurses started going through his belongings looking for information and discovered he was scheduled to pick up the children at 3:00 p.m. Tim's parents live in a house adjacent to theirs and the nurses were able to contact them to pick up the children. His father then drove up to the hospital just as Tim was checking out. The next morning when Tim woke up in his bed, he wondered how he had gotten there. The only thing he remembered was taking his children to school and going to the post office. Through his father and police reports, Tim was able to put together the pieces of the previous day. "It was a miracle that I was able to check out the same day," Tim said. "I should have been dead, but it wasn't my time. I literally walked out of there with no broken bones under my own power."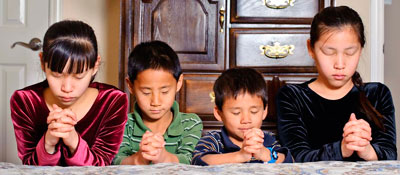 Prior to his accident, Tim was in the process of planning a trip to East Asia with his twin daughters. In January of 2009, he began by sending out e-mails to orphanages asking if he could bring the girls over to work with the children. Each e-mail Tim received back declined their request. Still he kept trying and began researching flights. He planned to use frequent-flyer miles, but all of those seats had been booked months, and even years in advance. There was nothing available. "June came around and I thought I was going to have to postpone the trip," Tim said. "There still weren't any airline seats available and nobody wanted us to come. That is when I shared my concerns with our Life Group."
Life Group is a weekly meeting that Tim and Laurie attend with other members of their church. They study the Bible and spend time praying. Tim shared the trials of the trip with them on a Sunday night before the Fourth of July, and they began praying for the Kutch family. "That next morning I woke up to find 25 to 30 frequent-flyer seats had opened," Tim said. "Now we had tickets, but nowhere to volunteer. By Wednesday that same week, I had three orphanages that I had e-mailed months earlier respond wanting our help."
With details coming into place a new fear crept into the plans. From the concussion Tim suffered after the car wreck, he developed Strabismus, a condition where his right eye was not able to straighten like the left leaving him unable to see clearly. Each day he had to wear a special pair of glasses to straighten out his eye. If the eye was not able to heal with the help of the glasses after four months, Tim would have to undergo surgery. "As the time got closer to our trip, I started getting really concerned about my vision," Tim said. "What would happen if I was over there with these two girls and I lost my glasses or they broke? We would be stranded."
Each night Tim and Laurie have a time of prayer with their children. Since the day of his wreck, Haley prayed specifically that her father's eye would be healed. It had already been four months and the glasses had not helped the eye straighten out. Tim began making arrangements for surgery at the end of the year. On July 24, 2009, two weeks to the day from when they were to leave for China, Tim woke up early as usual and started getting ready so he could take the children to school. After his shower, he put on his glasses and everything was blurry. Thinking that maybe his eyes were not adjusted yet, he carried the glasses with him as he went through the day. To this day, he has not put the glasses back on. "Haley was so confident that my eyes would be healed," Tim said. "I would tell her that I believe God can do miracles, but maybe this time this isn't meant to happen. As an adult, I'm a person of faith who believes in miracles, but I was trying to do everything on my own. I was not confident that God would heal my eyes. She taught me that we have to come to God with faith like a child on our knees."
Tim, Jordan and Haley's trip to the orphanage in Langfang, China, was a trip they will never forget. Both girls eagerly recounted tales of their trip from loving on children to eating new and unusual food. They are already planning their next trip. "Through all of this I've learned to appreciate the little things even more," Tim said. "I'm a very orderly person who values a schedule, but life does not work on a schedule."
Written by Sydni Thomas