CORSICANA, TX — A visit to Dolores Shriefer's Corsicana home is an easy way to take a tour of Italy, with side trips to Germany and England on the way. The tree-lined winding streets of her neighborhood are reminiscent of winding Tuscany lanes. The antique brick home and the Persian carpets that lie inside give the home a British air. However, no matter where she roams, Dolores is still always happy to come back home.
"Being in a small community where people are so friendly is wonderful," she said.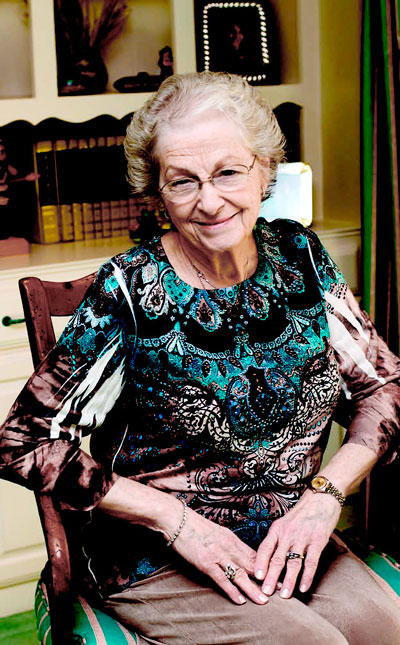 Erie, Pennsylvania, the town from which Dolores hails, is greatly influenced by the many Italian immigrants who settled in that city's Little Italy many years ago. "Most of my vacations throughout the years have been back to Erie," Dolores revealed.
She and her late husband, Alfred Richard Schriefer, were high school sweethearts attending very traditional Catholic schools in the city. "We knew each other quite a while before we got married," Dolores recalled. Their 57-year marriage produced five children.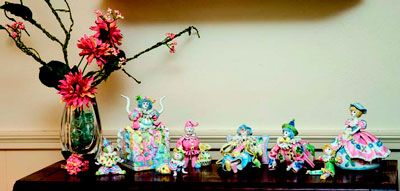 Transfers were a fact of life during Al's 45-year career with General Telephone and Electronics Corporation (GTE), which is now Verizon Communications. From Erie the couple moved to Lexington, Kentucky, followed by a move to California. The year 1970 brought Dolores and Al to Corsicana and their current home. "This home has only had one owner, really," Dolores stated. Updates that Dolores has completed throughout the years have made the home reflective of her Italian and Catholic heritage, as well as a beautiful and functional abode in which to entertain and live.
The entryway is convenient to both the den and living room. A bay window enlarges the living room and provides space for Dolores' Christmas village each year. Pieces of the village, with its rolling hills of snow, have been given to Dolores over the years by friends and family. She especially enjoys the Christmas season and keeps many of her decorations on display year-round. Her near-Christmas birthday inspires a love of angels and Madonnas.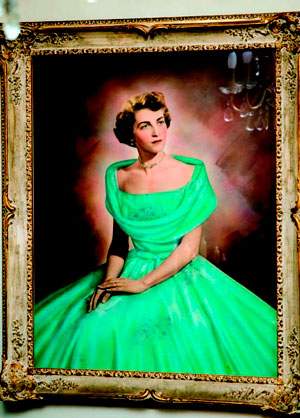 A collection of Swarovski crystal sparkles in a cabinet above an English butler table that was purchased locally. Several other furniture pieces are reminders of the couple's time as newlyweds. A Nativity scene crafted by the Anri master wood carvers of the Tuscany area of Italy and Dolores' Hummel figurine collection from Germany complete the European tour of the formal area. Hummel figures were first created by Sister Hummel, a Catholic nun whose artworks and drawings continue to inspire the figurines of children and Catholic saints.
Dolores has hung an elegant engagement portrait of herself in the formal dining room. Her mother commissioned the work of art. Artistic talent runs in the family, as elaborate needlework created by Dolores' mother, her daughter and daughter-in-law grace other walls. Dolores enjoys knitting as a pastime.
The focal point of the kitchen, remodeled in 1997, is the beautiful hand- painted backdrop of a Mediterranean area scene created in hand-painted tiles by Stephanie Brown. The work, commissioned by Dolores, is complemented further by the custom painted tile work carried throughout the countertops. "I wanted to see the Mediterranean every day," she explained.
The informal dining area, with its bay window, is a favorite and comfortable gathering place for friends and Dolores' children, grandchildren and great- grandchildren. Since her children all live in Texas, Dolores hosts regular family get-togethers. A leaded glass cabinet provides ample display and storage space for her collection of hand-painted Tuscan pottery pieces, which are inspired by Italian art and fashion designs.
Family holiday gatherings are celebrated in traditional Italian fashion. Dolores remembers when her children discovered at school that their classmates ate turkey for Thanksgiving and Christmas dinner and ham for Easter. "They came home saying, 'It's Christmas, and they're going to have turkey again,'" she laughed. The menu for Easter in Dolores' kitchen includes ravioli, antipasto, sausage meatballs with sauce and ricotta cheesecake pie. "The ravioli takes all day to prepare," Dolores stated. "Everything is made by hand, from scratch."
A very recently remodeled half guest bath and utility area leads out to a side entry garage. Dolores purchased an onyx vessel, which she had installed as a sink with a decorative old-fashioned style hand-water pump for a faucet. New tile throughout completes the look.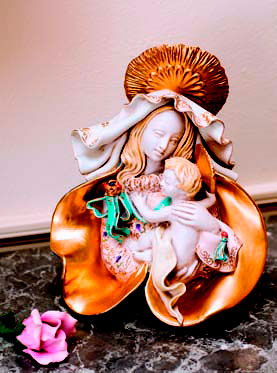 A fireplace gently warms the den and welcomes everyone to come in and relax. The mantel displays two of Dolores' favorite Hummel Madonnas and two pieces of Lladro figurines. Angels also watch from high above the mantel. A complete wall of the room is dedicated to lighted, built-in cabinets, which are the backdrop for the colorful collections of Hummels, Italian ceramic clowns and the white cups of Vietri pottery.
A trip down the hallway leading to the four bedrooms is also a visit down memory lane for Dolores since family photographs for several generations have been hung with care. One bedroom is dedicated to a home office space where more family photos and needlework are displayed. Two guest bedrooms are adjoined by a Jack-and-Jill bathroom.
These rooms were recently redecorated in shades of pink and aqua, with wicker furnishings giving the sunshine bright rooms with their large windows a feeling of being out-of-doors.
The master bedroom is decorated in warm corals and greens with an accompanying bath that wraps around to the hallway. Dolores, ever updating her home, has plans for a complete remodeling of these two rooms, which will complete the European trip throughout this warm and inviting home.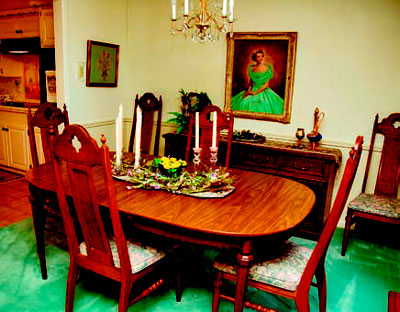 Dolores enjoys sitting on her backyard patio, which takes full advantage of her corner lot where she has created a rock garden guarded by a faithful little garden gnome. After working for nearly 20 years as the bookkeeper for Immaculate Conception Catholic Church and Collins Catholic School, Dolores does not just relax in her retirement years. Still active in her church, she also enjoys playing golf and other activities with the Ladies Golf Association at Corsicana Country Club and playing poker with "the girls." "It's nice to be in a town where you can be involved in things," Dolores said. Even when travels take her away from Corsicana to New England and Cape Cod, she is still ready to come home to her little piece of Europe in Corsicana where she can be involved in the business of living.
Written by Virginia Riddle.