Helping others feeds Monika Ringo's soul. She is an ordained minister, a nurse, and an instructor of CPR, first aid and infant safety — not to mention the mother of four daughters, three of whom are triplets. Meghan, the eldest at age 26, lives in Lubbock while the triplets, Shannon, Callie and Kristen, 21, still live at home.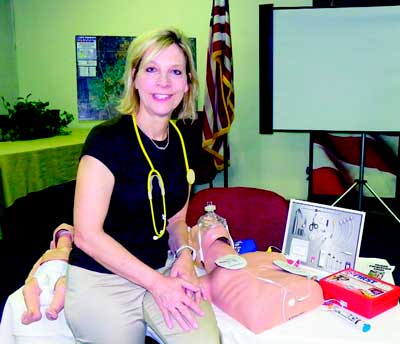 Born prematurely, the triplets are one of the reasons Monika teaches classes for the community. "Knowing what it is like to have a child in neonatal intensive care, and how scary it is to take a preemie baby home, has given me extra compassion and heightened my passion to equip parents with these important skills," said Monika, who loves to teach and has found teaching CPR especially enjoyable. "It's just interesting how God redirected my life!
"I have that knack to relate to people," Monika said. "And it's absolutely a gift from up above to connect with people and get them beyond their fear, so they have confidence that they could jump in and help if they want to. When it comes time for the CPR portion of my class, people sit up and go, 'Wow!' When you see them … practicing and doing hands on, they relax enough to where they get the hang of it. It is exciting to then see that look of confidence like, 'I can do this!' By the time they leave, they're smiling and saying, 'Thanks, it was really good; I enjoyed it.' And it's genuine."
While working in surgical intensive care in Lubbock's Methodist Hospital during her nursing studies 24 years ago, Monika realized the importance of confidence. "I think lots of times my students come in realizing that it would be a good idea to learn these skills. Deep down inside, a lot of their desire stems from that fear of what they would do if they had to help somebody in an emergency," said Monika. She helps students from all walks of life challenge and conquer their fear by teaching them how to give care to loved ones and even strangers who are in critical situations. Her classroom is wherever people want to meet, whether in Fort Worth at Baylor Hospital or in Burleson in a meeting hall at First United Methodist Church or in the conference room at the Chamber of Commerce where Monika feels blessed to hold classes regularly. Using baby and adult/child mannequins, plus a training Automated External Defribulator, like the one found in most schools and public places for emergency situations, Monika teaches techniques for helping children and adults who are unconscious and unresponsive and may need to have their heart shocked into a more regular rhythm. She
also teaches breathing and chest compressions for ministering to a person until the ambulance arrives.
"I do a lot of teaching at Baylor Hospital to expectant parents. It's usually people who are expecting their first baby, who want to be safe and prepared through childproofing their homes and learning to administer CPR. On occasion, I do some baby basic classes on how to care for a newborn, something as simple as how to change a diaper, how to feed your baby, and what to look for when your baby's getting sick. You could have a new dad with a Ph.D. in engineering who breaks out in a cold sweat when he has to change a diaper," Monika said. "We don't have the extended family anymore, and a lot of these new parents don't know what to do! I teach how to hold a baby, how to comfort a baby, how to decipher some of the baby's cries. For that I have different props like tubs, blankets, baby dolls. The soon-to-be parents constantly hold that baby doll so they get used to not putting down that baby!"
Adjusting her presentations for diverse groups, Monika keeps her classes informal and interactive. "If people want to add comments, it works for me. The big thing I use is humor," Monika said. "I am the first one to make fun of myself. Just the other day, I picked up one of my baby mannequins and just as I got ready, I conked the baby's head on the side of the table. I said, 'Not the thing to do! Now we have to worry about the head!' I don't come across as the one with all the wisdom. I put people at ease, and that opens people up so they're not afraid to ask a 'dumb' question or even to practice."
Monika has stretched out her hand to help people in other ways. In 1999, Monika went to Brite Seminary at Texas Christian University and graduated with her Master of Divinity in 2004. While in seminary, and working full time as a nurse, Monika also pastored a church in the Hill Country, 45 miles south of Brownwood. "It was hard to leave my little country church," said Monika, who makes a better income nursing. "Whether I'm nursing, preaching or teaching, I'm passing on something that does make a difference in that person's life. If I can connect with someone and convey a sense of respect for their core, that's what it's all about."
Written by Melissa Rawlins