With very little fanfare, new neighbors moved into Kerens in July 2009. Six Benedictine monks moved from their home at the Christ in the Desert Abby in New Mexico to establish the new Monastery of Thien Tam. Two of the monks came to Texas to supervise the remodeling of the buildings on their 300-acre property in Kerens. When the work was finished, two priests, a deacon and three brothers moved into this newest Benedictine house for Vietnamese vocations.
On January 3, 2010, this congregation of Vietnamese-born monks held a ceremony to bless their bell and bell tower. The bell is a sign in the monastic community and becomes the voice of God, inviting all to pray, to do lectio divina (spiritual reading) and to gather for meals.
Father Dominic said, "There are 21 Benedictine congregations located on every continent. They all follow the Rule of Saint Benedict that calls for work, prayer and study, but each monastery is autonomous, that is, they can set their own focus on the work they do or on prayer or on study. We see ourselves as contemplatives. We pray six times a day."
The Rule of Saint Benedict states in part, "Let all guests who arrive be received as Christ … let all kindness be shown them." In that spirit, the monks at Thien Tam plan to develop a pastoral center for individual and group retreats. "People are drawn to places that are set aside for religious purposes," Father Dominic said. "For many, this is a first step to spiritual renewal, to accepting yourself as holy, to be aware of the intention to reach out to God. If it helps them to have such a place, I want this to be that place." Future plans include facilities for outdoor and indoor events, camping sites and athletic fields. "It will be a place where people of all faiths can come," Father Dominic said. They have added a wing to the main house with six additional rooms to house monks and visitors to the house.
In June, a three-day program dedicated to the Blessed Sacrament was held on the monastery grounds for Vietnamese members of Roman Catholic parishes from Houston to north of Dallas. The first night about 400 or 500 people participated. On Saturday, the number grew to about 1,000 people. There was perpetual adoration of the Blessed Sacrament as well as teaching about the Blessed Sacrament, and there were conferences for different age groups. Three large canopies provided shade for the dining area, where traditional Vietnamese dishes were served, for the perpetual adoration area and the seating area for Mass and meetings. Families in RVs and tents camped under the trees. A group of young girls could be seen dressed in the traditional ao dai, a tight-fitting silk dress worn over silk pants. They floated across the grass like pastel-colored butterflies to settle themselves in a circle of chairs under a tent where they pulled out cell phones and began to chat with friends.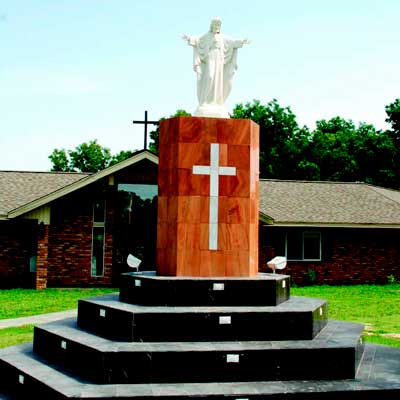 Saint Benedict was born around the year 480 in the district of Nursia in Umbria, central Italy. He is regarded as the "Father of Western Monasticism." Benedict had the revolutionary idea that work was a necessary instrument of virtue almost on a par with prayer, and often indistinguishable from it. To him, it was the natural condition of man, and he envisioned a state of life in which the physical components of work, prayer and reading were in all ways equal. His Rule was meant to be for the governance of the domestic life of lay individuals who wanted to live in the fullest possible way, the path that led to God. The work of the monks may include such crafts as the making of soap, candles and vestments for liturgical services. There is an emphasis at the Abby in New Mexico on sustainable and environmentally friendly building and gardening. In keeping with this effort, the monks at Thien Tan raise free-range chickens and ducks and plan to add gardens and craft work. "We choose work that can stop when the bell rings for prayer six or seven times a day; work that occupies the hands and allows you to be attentive to what you are doing, like cooking or cleaning," Father Dominic said.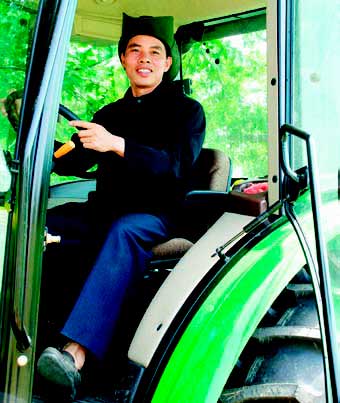 The Benedictine Abby at Christ in the Desert, New Mexico, maintains an informative Web site at christdesert.org for persons wishing to make retreats or just learn about monastic life. They describe a monk's life as a day punctuated by regular times for prayer that keep one mindful of his or her purpose. The explanation begins with the second "little hour," Sext, at 1:00 p.m., when the monks take their main meal in silence in the monastic refectory, listening to reading from the Bible and from a book or article chosen for the purpose of "feeding the mind" while the body is being fed. These books and articles are usually on a monastic, historical or spiritual topic.
After washing dishes, the brothers can rest or read until the office of None, the third "little hour," chanted together in church at 3:30 p.m. After None, coffee or tea can be taken in silence in the refectory, then an hour is devoted to sacred reading and reflecting on Scripture texts. After that, there are some 20 minutes of free time followed by a common period of silent prayer for all in the church from 5:20 until 5:50 p.m., when Vespers is chanted. Vespers includes a half hour of praying, psalms, a hymn, the Magnificat, and a prolonged prayer of intercession for the needs and intentions of the entire Church. After Vespers there is time for supper, and then at 7:10 p.m., a nightly "chapter meeting," when the monks gather to listen to a chapter from the Rule of St. Benedict and a commentary by the abbot, as well as to prayer intentions sent to the monks. At 7:30 p.m. all proceed to church for the final office of the day, Compline, consisting of a penitential rite, psalms and hymns which vary according to the liturgical season. The day officially ends at about 7:50 p.m. when the monks are free to retire for the night. Between Compline and the following day's Mass, the monks observe "the Great Silence," when all unnecessary conversation ceases and the monks turn their thoughts to resting in God.
In these turbulent times, it is good to know that there is a place where peace and quiet reflection can be found. The monks at Thien Tam can, by example, show us how to bring these gifts into our lives.
Written by Joan Kilbourne