After 17 years of Thanksgiving dinners served to as many as 25 guests in a small dining room and prepared in an equally small kitchen, Diane Kelly thought it would be nice to have a bigger kitchen, a larger dining room and maybe a back porch. Keith Kelly agreed and the two began envisioning their 1,300-square-foot house in a bigger form. "Keith and I love to cook," Diane said. "We've each cooked commercially, and we also love to entertain. Part of the reason we decided to renovate rather than move is that we have such great neighbors."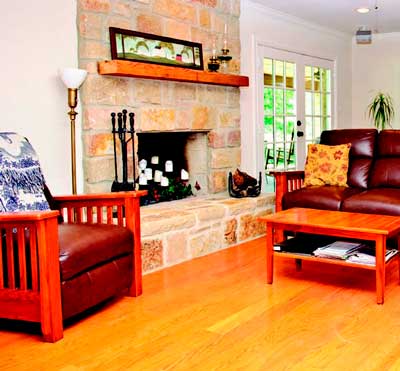 Next to loving antiques and cherishing family heirlooms, the Kellys are all about tradition. "Our Thanksgiving tradition took on another dimension the year our daughter did a project in school that involved a bottle rocket," he explained. "Everyone enjoyed it so much that we launched our own bottle rocket contest. Each Thanksgiving, the winner takes home a perpetual trophy.
"We really kind of 'blew' this house up three years ago," he continued. "Our goal was to add a porch and increase the interior space but, importantly, we didn't want it to look like an add-on. We described our vision to an individual who drew up the plans; then we hired a contractor and were on our way."
Today, the little house on Black Jack Lane is an impressive 2,300-square-foot country home dressed in a beautiful sandstone exterior, surrounded by stylish metal fencing that defines both the house and the neighboring building that houses Keith's business, the KMP Group, one of the largest suppliers of emergency vehicle graphics in Texas. The original bedrooms and baths remain as they were, but the dining room, kitchen, living room and game room/home office combination have either been added or renovated.
The old front door is now an interior entry to a tiny pantry while the new front door opens to a massive dining room with 12-foot ceilings and an open state- of-the art kitchen with stainless steel counters and a massive granite-topped island. The old brick fireplace in the living room has been refaced with the same sandstone as the home's exterior and now has the substance and look suited to a country home. With the approval of the Kelly's three dogs, Lizzy, the Greyhound/Doberman mix; Mason, the Golden Retriever; and Abby, the Brittany Spaniel mix, the flooring in the living room is a wide- plank oak, and, in the kitchen, dining and game areas, it is a soft-colored ceramic tile. "We kept the walls and floors neutral," Diane explained, "to highlight our antiques, most of which are family heirlooms."
"We like old things," Keith reiterated. "The piano, purchased in 1898, was passed down to Diane from her great-grandmother. Our bed is the one I slept in as a child. Amazingly, it survived the 1972 Hurricane Agnes flood and Diane brought it back to 'life' by refinishing it."
Keith's enthusiasm for old things also extends to his passion for motor sports and historic vehicles. "I bought an antique fire truck four years ago and have driven it in more parades than I can count." As past president of the Burleson Lions Club, Keith is active in the community. He grew up attending Formula One races in his hometown of Watkins Glen, New York, and, as president of KMP Racing, a division of his company, he has represented clients and sponsors competing at the top levels
of racing. "We've also held part ownership in pro racing teams," he added.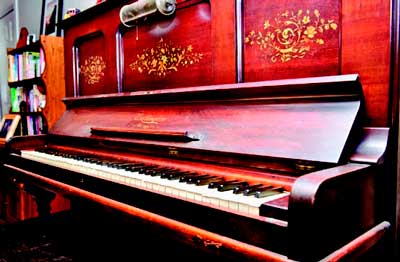 It is hard to imagine the Kellys' home as having been different than it is today. The open space and higher ceilings in the dining room and a portion of the kitchen meld into the original 8-foot ceilings so that the impression is one of architectural interest rather than any sign of renovation. And the large game room and home office, distinguished by a bay window and French doors opening to the back porch, show no signs of having been anything but an integral part of the home. The neutral walls and floors and tall ceilings accentuate the spacious open design so that each piece of antique furniture is set apart and appears as
a work of art. The walls are largely left bare with the exception of two substantial art pieces created by Burleson artist, Gary Crouch. "I love the kitchen, and I love that the house is so open," Diane said, "but I especially love the big back porch."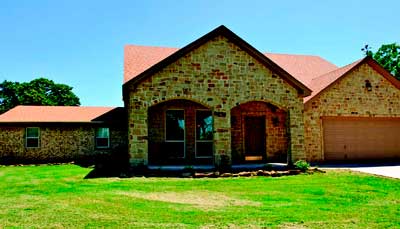 In fact, the expansive back porch has inspired another tradition. "A musician friend stopped by to see the house," Keith said. "He looked at the porch and announced he and a friend would be returning to play some music, and we were welcome to invite a few of our friends." That October evening three years ago sparked what is now known as the Battle of the Bands. Each year, the Kellys' backyard fills with people who come to enjoy the music and, as Kelly tradition will have it, the celebration promises to thrive for many years.
Until 20 years ago, Texas was nowhere in Keith and Diane's history nor a part of any plan. Keith had grown up in upstate New York and Diane had grown up in northern Pennsylvania. Their first home as husband and wife was in Boston where they lived for five years until Keith was called to Fort Worth for a temporary job. Before they knew it, his job became full time; Diane was offered a position in Cleburne; and the search for a new home was on. "We must have looked at 70 houses before we found this one," Keith said. "I don't know if we picked it because we were so tired or because we liked it!" At the time, the house was still a modest three-bedroom, two-bath, ranch style brick on four acres. Burleson was just beginning to grow and the area off East Renfro was largely unpopulated.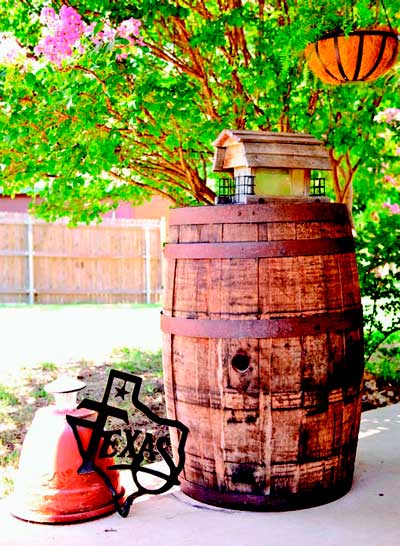 As life unfolded, the neighborhood developed; Burleson became a small city; and, most importantly, the Kellys' daughter was born. "Shannon is 17," Diane said, "and is a senior at Burleson High School." Over the years, other changes happened, too. Keith established his business, and Diane accepted a position in the Leadership Development Department of Texas Health Resources in Arlington where she continues to enjoy her job. "We're so blessed," Diane said. The little house on Black Jack Lane that served the Kelly family for 17 years is now their spacious country home.
Written by Carolyn Wills