"I guess it is true, if you grow up in Corsicana and move away, sooner or later you will move back here," said Lynn Taylor, who left Dallas to return to her hometown when her close-as-a-sister friend was diagnosed with cancer. She was Lynn's former roommate at the State Home, where they  grew up, and Lynn made frequent trips from Dallas to Corsicana to sit with her.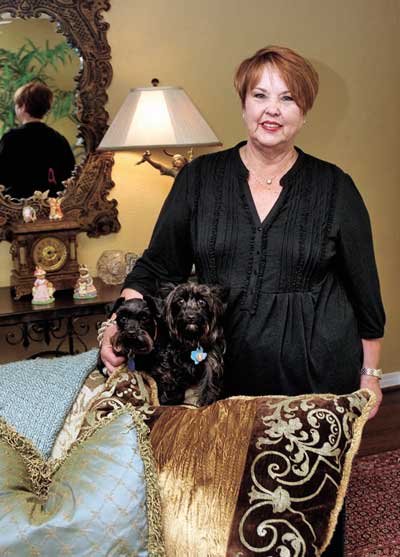 While waiting in an outer room as her friend received chemotherapy treatments, Lynn listened to other patients' family members who were hurting as much as the patients in the next room, and she took away something very valuable from those meetings. "They needed to talk to someone about their loved one who was so sick. I had to admire how they coped with the difficult situation," Lynn said. "The coffee there was only warm and there was no food, no magazines. So I started bringing in lunchmeat and fruit, apples, chips, peanut butter and little rolls. In the morning I brought Danish and orange juice and water. It was a kind of cold room so I brought decorations, too. The nurses got to know me and let me bring food in to the eight to 10 patients there who were hooked to intravenous drip equipment for four or five hours at a time — they needed to eat, too!"
"When I left Corsicana and moved to Dallas I started out with a store of my own where I sold some interior decorations. Later I worked for a design firm," Lynn said. She learned to listen to clients and to find the best-dollar cost for what they wanted. Lynn originally taught herself the interior design business by moving around the furniture in her room at the State Home in Corsicana. "My design sense probably came from a combination of movies and fantasies," she explained. "I lived at the State Home when it was an orphanage] from the time I was 5 until I left at 21. I give a lot of credit to the city. People didn't need to give us labels. The city didn't make us feel less. We felt we were socially equal with other kids we met in school. Other children at the home were like sisters. We were not mistreated. There were many good workers there. We had lots of activities and athletics. We started going to public school at fourth grade and good teachers treated us as people 'of worth.' Jim Compton was an important mentor to me."
When she finished high school she was sent to Stephen F. Austin State University. "They left me there with my boxes of shoes. I didn't know you had to register. I did not know how to do it either, so I just stood in the shortest lines and I ended up with classes like golf and geology," Lynn said laughing. After a year, I knew I was just not right there, so I came back to Navarro College. After I moved out of the home, I worked there for a while. "Another reason I returned to Corsicana was that Tom's father, Perry, got sick," Lynn said. "Perry Taylor was a radio announcer here in Corsicana. I admired Tom's parents and loved how they took me into their family when we married. When Perry got sick, I knew it was time to come home." Tom and I found this house that had been empty for a year-and-a-half. It is not a big house, but I grew up in big buildings, and now I like smaller, cozy rooms. I want the house to fold its arms around you."
Family is important to Lynn. There is an extensive collection of photographs on the "family wall" in the master bedroom. "When my daughter, Tina, was born, I knew there was a good God to create such a miracle," Lynn said. "My son, Jake, is in finance. He has two sons, Gavin who is 9 and Gage who is 6. My daughter, Tina, is a diagnostician in Mansfield, and she has a son, Jake, who is 8, and a daughter, Kinsey, who is 4. We have a big Easter Egg hunt event every year," Lynn said. "I'm the kid at this event." Big straw bunnies in Easter clothes dominate the long dining room table, and an Easter basket welcomes the children at the front door. When the couple moved into the house, it needed work, and they spent the first year redecorating, moving doorways and opening up French doors to the patio. The deck was expanded to create a large, inviting space to sit and read, to eat outdoors in good weather and to entertain friends and family. A two-story clubhouse is under construction in the backyard. The upper house will be a special hideaway for the three boy grandchildren, Gavin, Gage and Jake. The space for the couple's granddaughter, Kinsey, and her girl friends will be on ground level. Tom's space is a vegetable garden next to the clubhouse.
"I am intimidated by my kitchen," Lynn admitted. "Not much intimidates me, but the kitchen does. My kids say I am a good cook. I just keep it simple." Clearly, Lynn is not intimidated by the rest of the house. From the first step through the front door a visitor will recognize the masterly hand of an experienced designer. There is something interesting and unusual to see on every wall and on every table top. Lynn is a practiced bargain hunter. The look of custom drapery in the master bedroom was created by adding fabric and trim to the drapery brought from a former house. "The dining room table came from an estate sale in the neighborhood," Lynn pointed out. "And that lamp was a great deal I found in one of the antique stores on Beaton Street. I love redoing older houses. I'd do it again, moving out of this one to start over on another one."
Written by Joan Kilbourne