Waxahachie High School sophomore Max Mills attended the Hugh O'Brien Youth (HOBY) Leadership Conference this month at T.C.U in Fort Worth.
The three-day seminar was part of a worldwide series of conferences that strive to promote strong critical-thinking skills among high school students so that they may excel in their future endeavors.
Organizers of the conference invite students with a variety of talents to attend. Students chosen for the conference may be academically astute, athletically gifted, keenly observant, highly charismatic or possess some other remarkable characteristic and are nominated by their school.
At the conference, Mills joined other students from throughout the region in learning from business and government leaders. Additionally, conference attendees were challenged to complete 100 hours of community service in the year following the event in order to improve their schools and communities.
Mills said that he is grateful to Vintage Bank of Waxahachie for sponsoring his participation in the conference. In the past, local students have either paid for conference registration and expenses themselves or have been helped by their schools to cover the cost.
"This is the first time Vintage Bank has sponsored a student to attend this conference," Vintage Bank Vice President Becky Wilson said. "We just want to be able to recognize Max for being selected and we plan to make sponsorship of a local student an annual project for the bank."
The conference is the legacy of former 1950s Hollywood actor Hugh O'Brien. After returning from a trip to Africa and meeting with humanitarian Albert Schweitzer, O'Brien decided to make a contribution to society by creating the HOBY Leadership Forum. After four decades, the forum has grown to conduct 70 conferences each spring and summer in the U.S. and other countries.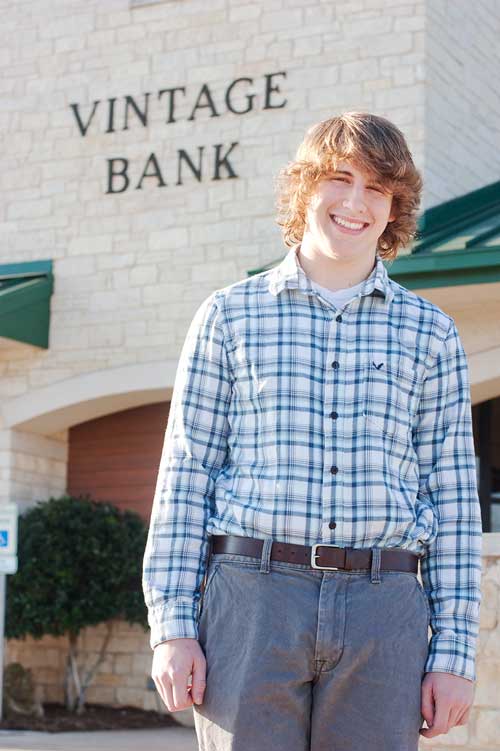 With no specific political or religious agenda, the conference attempts to instill the values of democracy and free enterprise along with social responsibility within its attendees.
The conference accepts all students nominated by their schools to attend.