When Kimberly Baker, an Ennis native, decided to bake and design her own cake for her son's first birthday party in 2006, she had no idea it would be the beginning of a newfound talent. She is quick to admit her baking talents did not manifest until her adult years and actually branched out of her creative interests. "It's been a learning process," she explained. "I've always enjoyed art, and then I tied art to baking."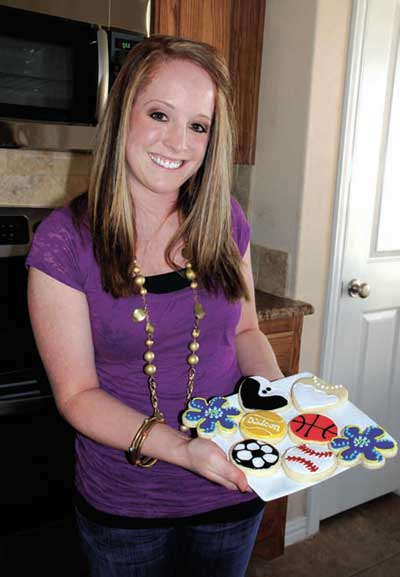 These artistic talents were honed at Sam Houston State University where Kimberly studied graphic design. She then returned to Ennis with her husband to be closer to her family, including her mother, Pam Stokes. "Mom is the baker, and I am the designer," Kimberly explained.
Her mother uses family recipes, including one for cream cheese sugar cookies. Then, depending on the design, Kimberly chooses the icing, coloring and technique she will use. Kimberly designs cupcakes, cakes and cookies for a variety of occasions. She has baked for bachelorette, engagement and birthday parties in addition to weddings and holiday events. She admits it is easier if
she designs using a napkin or picture from a themed occasion, but she also enjoys coming up with her own ideas. "If they
give me the freedom to do what I want, it requires more planning," Kimberly explained. "I have to sketch out the design and play with it a little bit."
She begins the evening before or the day of the event to ensure the creations are fresh. Between two and five hours are necessary for both the baking and designing due to her self-proclaimed
perfectionism. "I need the whole day to design," she said. "If I don't like it, I have time to start over." With the exception of the Christmas season, when Kimberly makes a large number of cookies in the shapes of trees, stockings and snowmen, she averages about one design a month. Cookies and cupcakes are the most popular and easier to perfect because as Kimberly admits, if
she messes up on one, she can start over on a new one. She usually makes between two and three dozen per design. "We just do it on the side for fun," she said of her time spent designing.
Her most challenging creation so far has been designing 300 cupcakes for a friend's wedding. "Thank goodness it was a basic
design," Kimberly added jokingly. One of her early and most unique creations was a peacock feather cookie design
for a themed bridal shower. She cut out oval-shaped sugar cookies
and baked them. Then she used brown, blue and green icing to create stripes, thus transforming them into the design
of feathers.
Kimberly gains inspiration for her designs from several different sources. She enjoys watching a variety of different cooking television shows and often browses the Internet and books on cookie designs for ideas. One book-inspired design features cupcakes arranged in the shape of an alligator. In addition to green icing, Kimberly uses marshmallows and candy to create scales, claws and eyes.
Her favorite designs are those for Valentine's Day. Kimberly enjoys making heart-shaped cookies with red, white, pink and purple icing. To create her unique effects, Kimberly focuses on the shape of her designs and the color of her homemade royal icing or butter cream frosting. For example, she is able to manipulate shapes to create a three dimensional effect, as she did with farm
animal shaped cupcakes. By arranging cookies on top of the cupcakes, Kimberly was able to build faces for the animals, including using Oreo cookies for monkey ears. "I like creating  things, and making them realistic," she said of her efforts.
For cakes, Kimberly often uses novelty cake pans in a variety of shapes that she purchases online or at a Dallas-area cake design store. For one occasion, she used a tractor shaped cake pan to create a John Deere themed cake to go along with tractor shaped cookies.
Kimberly continues to try new decorating techniques. Up next for her is decorating a birthday cake with fondant icing. This often challenging craft requires rolling the icing onto the cake leaving the cake with an almost satin like finish.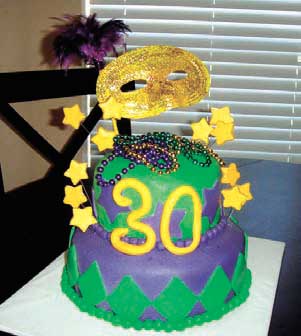 When not designing treats, Kimberly works as a preschool teacher and is mother to two boys, ages 1 and 3. They often join her in the kitchen to create batches of cookies for the family. "I also like to decorate for my boys' birthdays and school parties," Kimberly said. "I make cookies as party favors." Part of Kimberly's popularity is attributed to the taste of her made-from-scratch creations, and also to the artistic touch she places on each batch. "I personalize each design. People always say they taste so great and look so cute at the
same time," she said.
This popularity began with compliments and requests from attendees at parties Kimberly hosted, and has expanded, as has her confidence in her craft and hopes for the future. "It's always been my dream to open a little bakery with my mom," Kimberly said. "There's nothing I think I can't do."
Written by Alana Williamson