Do you believe in love at first sight? Do you think everyone has a special soul mate? If you were to ask Xavier and Tiffany Villarreal these two questions,
they would look at one another, smile and then answer without hesitation. "I never saw myself as a wife and mother," Tiffany said, "but when I saw Xavier for the first time, I knew without a doubt he was the man I was going to marry."
As she spoke about their first meeting in the halls of the Eastern Oklahoma Medical Center, Xavier held on tightly to Isabella, the younger of their two children, grinning and nodding his head in agreement.
That was just a little over five years ago. At 29, he was the CEO at the hospital, and she was about to begin nursing school. It was not long after this first meeting that Xavier proposed and a very short engagement began. They were married September 25, 2004. "It was love at first sight for both of us," he said.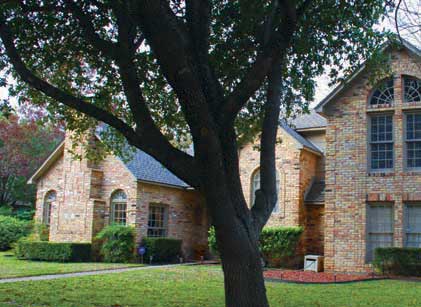 The young couple moved to Corsicana when Xavier accepted the CEO position at Navarro Regional Hospital. They both laughed aloud as they remembered house hunting and trying to decide on
the one abode that would be right for their growing family. "He spent two to three weeks living in temporary housing while looking at possible homes, while Michael, our oldest, and I waited in Abilene," Tiffany said, also mentioning that she remained behind to complete her education in nursing and earn her
associate's degree. As Xavier looked at newer homes, Tiffany spent countless hours on the Internet house hunting. "I found this home and fell in love with the sunroom," she confessed. "It had been
vacant for nearly a year. The yard was
grown up and the in-ground pool needed lots of attention."
In the beginning, Xavier did not want to seriously consider the two-story, three-bedroom, two-and-a-half bath, traditional style home because of the elbow grease it was going to need at the onset. That soon changed after some "persistent pushing" from Tiffany. "I compromised," Xavier said. The remodel with its Old World charm included a fresh coat of paint throughout,
refurbished hardwood floors, new carpet and updates that modernized the house and transformed it into exactly what Tiffany had envisioned when she first saw it.
The master bath was the only room that was completely gutted and redone in the remodeling process. Xavier said, "We upgraded the room to allow for height. We made something very small into a room that is much more functional." The stonework, soothing
earth tone colors and natural skylight give the room a spa-like feeling. "It was money well spent," Xavier added.
Wallpaper was removed and replaced with textured walls and paint colors that change from room-to-room, yet all are complementary to one another. The Jack-and-Jill bathroom upstairs received a much-needed facelift that included paint, new tile countertops and the addition of a shower. "My dad converted the tub into a tub with a shower," Tiffany explained.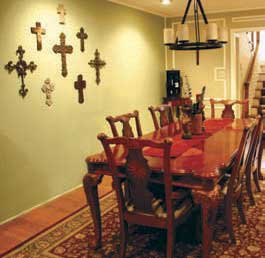 "I laid the tile on both countertops to match his work in the shower." Thanks to her father, HGTV and a rented wet tile saw, Tiffany's handiwork turned out to be something she and Xavier are very proud of, and it only took her one weekend to complete the task. One wall downstairs comes with a story all its own.
"The longest wall in the formal dining area was nothing but floor-to-ceiling mirrors," Xavier recalled. "People would stare at themselves," Tiffany added. "Sometimes they would even scare themselves." They turned the "aerobic wall" into a sheet-rocked, textured and painted wall that is now the showcase for the family's collection of crosses.
As members of Immaculate Conception Catholic Church in Corsicana, the family's faith is felt and also seen throughout the house. Aside from the collection in the dining room, almost every other
room displays at least one or more crosses, while very special crucifixes protect Michael and Isabella.
"The crucifix hanging over Michael's door was my mom's christening cross," Tiffany noted. "The one hanging over Isabella's bedroom door was given to us by Xavier's father and his wife. It was brought back from the Holy Land, and it was blessed by a priest in Xavier's hometown of Corpus Christi."
In this new home, Tiffany's childhood Barbie doll collection remains carefully boxed up and stored in the attic. Tiffany's vast collection may be stored away, but that has not stopped her from starting a collection for Isabella. "Every year from now on she will receive a celebration or holiday Barbie," Tiffany added. "The entire collection will all be Isabella's one day."
As an avid reader of the written word, Xavier collects books, lots and lots of books, as evidenced by the built-in bookshelf in the home office. With a wife, two small children and a demanding position at the hospital, he does not always find the time he would like to spend reading, but when the extra time does present itself, he does not hurt for a good book.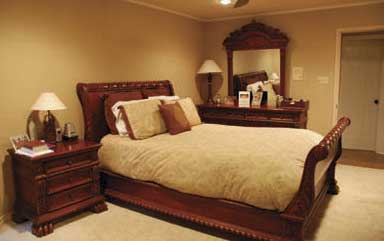 Other items that are sentimental to the couple include a Bible that once belonged to Tiffany's grandparents and a piano that Xavier grew up with. "Michael bangs on it now to his own tune," Tiffany smiled. A bookcase that was built by Xavier's dad when he was in high school holds Tiffany's large collection of cookbooks. "It's very functional," she said, "but it also has such deep meaning."
A silver tea set that once belonged to Tiffany's grandmother, and Limoges china and crystal are lovingly displayed in the china hutch. The sunroom is the most comfortable, lived-in area in the home. With two walls of floor-to-ceiling windows looking out to the backyard and pool area, the
natural lighting offers a great place for the children to play during the day, while becoming a movie room for the adults in the evenings and on weekends.
Looking back over the past five years of their marriage, Tiffany confesses it was love at first sight prompting her to want to become a wife and mother.
Today, marriage and children have enriched her and Xavier's lives in so many ways. "When we're alone or away, we miss the kids," Xavier said. "Life now is focused on the children," Tiffany added. "We are very blessed."
Written by Sandra Skoda