Paul (Pappy) Middleton grew up with music in his house, and was playing in a garage band in high school by 1963. By his 20s he was rocking in the big name Dallas club band, Blackhorse, and had started his own sound company.
These days, he tours as Bonnie Raitt's sound engineer and owns a sound studio in Palmer, which is managed by Milo Phillips. "I was very lucky, because my career has been over this span of 40-something years now," Pappy said. "I've been playing guitar and bass, and a little bit of everything, ever since I was a kid," Pappy recalled. "My dad played piano and auditioned for Bob Wills, and could have had the gig, but he didn't want to move to Tulsa." Pappy remembers his dad having two vintage 1930s-era guitars at home when he was growing up — a Kalamazoo, which was one of the first Gibson guitars, and a chrome-looking metal guitar called a resonator. When Paul was in high school, he experienced a moment of rock history. "I heard the Beatles the very first time they were played in America on KFJZ in Fort Worth."
After starting college, Paul was drafted. He married his sweetheart, Carol, before he left for the Army. As soon as Paul was out of the service, he enrolled in The University of Texas in the music and drama department, but soon decided that he was ready to step out on his own in the industry. "I made the decision through the course of the next year to start a little sound company." Outlaw country had come into style in the early '70s, and Pappy got his start doing Willie Nelson shows, Jerry Jeff Walker, and Rusty Weir shows. He purchased PA systems and leased them to several area clubs, such as the
Electric Ballroom (formerly the Wagon Wheel), Mother Blue's, Gertie's and the Travis Street Electric Company. "I did big concert tours all over the world with Julio Iglesias, who had done a record with Willie Nelson, To All the Girls I've Loved Before."
One day, in 1973, Pappy was in a club talking to the club manager about booking Point Blank, a band Pappy was helping. The band Blackhorse was performing, and when the bass player became ill during a set, Pappy offered to step in. "I played with the drummer, John Teague, and the guitar player, Gary James, for two hours." It led to a successful partnership, which lasted until 1981, although the band still does reunion gigs together.
They made an album together, and came very close to opening for Van Halen during a world tour. "We were the only band to ever headline Zoo World two years, and we did it two years in a row. We were one of the top bands in the Dallas area for 10 years, and it was all because we took over the audience. We worked every single week for six years."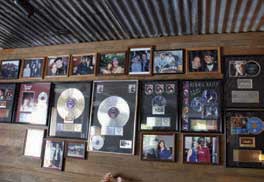 After the band years, Pappy started doing sound full time. He was friends with Buford Jones, who owned a Dallas sound studio. "Buford Jones had been Showco's main engineer, and he is one of the top live engineers in the business. He mixed ZZ Top, Lynyrd Skynyrd, Pink Floyd, Stevie Wonder. We were independent, but he let me work in his studio."
When a call came in from Bonnie Raitt, and Buford was heading out to do the last Jackson's Victory Tour, the two week gig ended up going to Pappy. "That was the start of my touring with Bonnie. Now, I tour exclusively with Bonnie Raitt as her sound engineer; I have for 24 years. She says she won't do a show without me." When in town, Pappy and his love, Susie, who is an integral part of the spirit of the studio, can be found in the fascinating world of Palmyra Studios, surrounded by a 150-year-old Mason & Hamlin pump organ, which was designed for a San Francisco ship captain, a Rupert Neve-designed control console, which came out of
Abbey Road Studios in London, and a Pearl drum kit that was given to him by famed drummer Ricky Fataar. "Ricky and Eric Idol, while lying on the beach in Barbados, were the ones who came up with the idea of making a movie about the Beatles and calling it The Rutles. Ricky played the George Harrison guy [Stig O'Hara] in the movie."
On tour, Pappy enjoys the opportunity to interact with other creative musicians. "Rock stars are nice people, not the drugged-out crazies people are always hearing about. I got to meet George Harrison. He was a sweetheart of a guy. Buford mixed the last tour that George did. I had just gotten into London with Bonnie when I got a call from Buford, and he had me go to Victoria Station and come out to the studio. It was the dress rehearsal day for the tour, and Eric Clapton and George Harrison were going on tour. I turned around and here is Jeff Lynne from ELO (Electric Light
Orchestra), Paul McCartney, Ringo Starr. All of George's friends were there to
support him."
Pappy's creative journey takes him all over the world, but home is right here in Palmer now. His sound studio is in the country, and he finds it to be a retreat when he is not on tour, as well as a place his musical associates can make music whenever they want to. "It gives us the freedom to come out here, and we can just play as long and as late as we like," he said. "This place is built to be really creative."
Written by Kelly Kovar