It is haunting time and quite a few Ennis families have already discovered the house that has caused many a little ghost, princess, super hero and pirate to run screaming for their parents in delighted fright.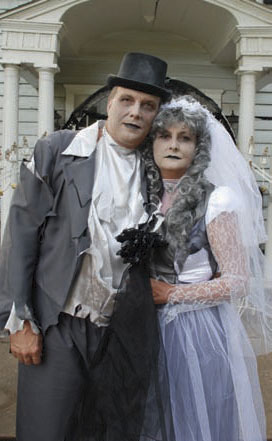 Kelly Ludwig, originally from West Texas, has lived in her haunted Halloween house for 10 years now, and each year, her decorations get a little more elaborate, her costumes a little more fun and her stockpile of candy a little larger.
"At first I was scared to death of what the neighbors would think," Kelly admitted. Now, with the help of her newlywed husband, Erik, and the seven children of their blended family, as well as
some extended family and friends, the Ludwig house is quickly becoming a favorite trick-or-treat stop.
The sidewalks leading up to the Ludwig home begin their frightful transformation at the end of September. "I've collected so much stuff over the years; it takes a while to get it all up. When I start opening up all my boxes of stuff — every year it's like Christmas for me," Kelly said. Spooky spider webs string their way across trees, chilling coffins and cemetery headstones pop up, grasping hands protrude from the ground and dead mannequins sit, stand and lie around in all their gory, lifelike glory.
"I try to make sure that nothing is too scary. I want the kids to have a good time, but I don't want to make them really scared," Kelly added. "If there's such a thing as good scary, that's what I'm going for. I'll tell parents to have their kids come by in the daytime, and I'll walk with them so they don't get so scared."
Kelly, the marketing assistant for Erwin Distributing, the home office for Wally's Party Factory, counts herself lucky because each year she is able to add to her already impressive stockpile of Halloween goodies. "I'm just constantly buying supplies. I buy something new every year. You should see my attic!" she smiled.
Kelly's love for the Halloween holiday comes from her childhood. "I grew up in the country, and no one goes trick-or-treating in the country," she said.
"Houses are too spaced out, and it's just not possible like it is in town. I never got to give out candy on Halloween, so when I got older, it was just something I loved to do." Kelly's favorite part of the holiday tradition is giving the children who come by her house candy and treats. "I just love being on the giving end, seeing their faces light up," she added. "It's so much fun, and they're so entertaining. It's like having a big carnival in my front yard."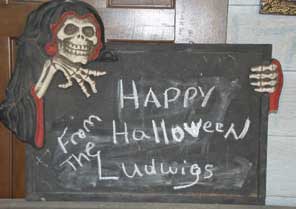 Kelly and her crew love to hand-pick treats from the candy cauldron for those with the best costumes. The house actually had a haunted tradition even before Kelly purchased it. Like many homes in this area of Texas, ghost stories and scary tales about the residence have been passed down for generations.
"There's a picture of this house in Best Tales of Texas Ghosts on page 45," Kelly shared, revealing her copy of the book by Docia Schultz Williams. "This used to be the Keever home, and there have been all kinds of stories about the place. Personally, I've never felt it to be haunted. I've loved living here, but the stories are fun, and we do get a lot of curious people who come by because they've heard about it
or read about it."
Erik, a volunteer fireman, not only indulges his wife in her Halloween obsession, but has become a part of the ensuing craziness. In fact, he and his son drove by the house one October years ago, before ever having met Kelly.
"I'm sure he never would have guessed he'd end up married to the crazy lady dressed as Elvira," Kelly laughed. "We actually met on a blind date, and my sister warned me of certain things not to talk about on a first date. She asked me, 'Does he know what you do for Halloween?'" Their first date was in August, and that next October, Erik found himself standing in the yard, dressed in a lab coat covered in fake blood with a big screw coming out of his head. "Now that's love!" Kelly smiled. "We had his son, Lucas, dressed up too, as the guy from the Texas Chainsaw Massacre. It was great." They wish Erik's other two boys, Josh and Matt, could join in the fun, but since they live in San Marcos it is not possible.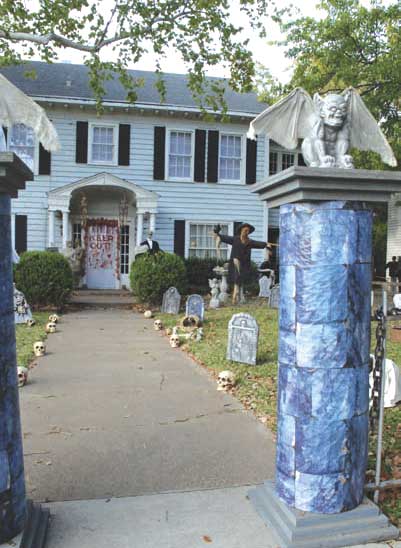 Erik promises this year will be the scariest year yet. "I'm working on the lighting," he said. "Kelly had things too bright, so I'm going to fix that, make things even spookier." While her favorite costume is Elvira, Kelly has donned such get-ups as a witch and vampire. "I have a ton of
costumes. I've been a safari guide, a fairy, a mermaid, a '50s-diner waitress and a Hollywood starlet. I love it because I'm 49 and I still get to play dress up," she said. This year, she and Erik are planning on making their frightening debut as a dead bride and groom. "He's such a good sport," Kelly said proudly.
Kelly's four children, Jay, Sarah, Savannah and Rebekah have all inherited their mother's love of the spooky holiday. Kelly plans to pass down more than just her festive spirit. "I'm betting my kids will be fighting over all my Halloween stuff when I'm gone," she laughed. Jay, who lives across the street, has also begun decorating his home, but he really enjoys coming over to help in his mother's fun.
"One year, he convinced me to move out some of my furniture and decorate inside," Kelly recalled. That year, trick-or-treaters trekked through the front rooms past decor such as a butcher shop, an autopsy man and a couple eating eyeballs. "I still can't believe he talked me into doing that," she added. "We do everything outside now."
For a while, Kelly was concerned not only about how her neighbors, but also her church friends would view her Halloween fun. "We're good church-going, God-fearing people, and I was a little nervous about what people would think," she confessed. "But now, seeing how the little kids and even their parents are having such a blast — it's worth it."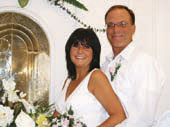 Texas fall weather has been perfect the past few years for Kelly's haunted house, and she is counting on this year being no different. "It's so much fun because it involves the whole family," she said. "I love watching the families park down the street and all walk together toward the house. Sometimes, the grown-ups get just as scared as the children!"
— Written by Jaime Ruark