There is a long-standing tradition in Corsicana of neighbors looking out for one another. What began with individual generosity continues today with those who work with organizations such as the Family Service Association. Back in 1905, Augusta Helms graduated from college in Sherman and returned to her home in Corsicana intending to do something to help children who could not afford to buy shoes to attend school.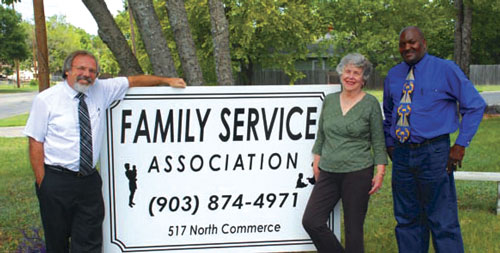 She and her colleague, Adeline Watts, began to gather clothes and food for families in need. In 1914, they formed an organization known as United Charities. Today, the Family Service Association (FSA) continues the work begun by these pioneering women. Mark Luera, minister of the First Christian Church, assumed the post of on-site coordinator two years ago. "Their vision of doing the 'hands-on work of helping' is what we still do today," Mark said. As the bookkeeper, administrator and self selected historian, he is researching and writing down the 100-year history of the association.
"He [Mark] is a blessing to this organization and to the community," Jane Biltz said. "With his long experience in ministry, his counseling skills are an added benefit to the Family Services program."
In times of personal or medical crisis, the greatest need may be an understanding and encouraging listener. The FSA does not believe in turning someone away because they do not provide a particular service. As an officer of the Ministerial Alliance, Mark will refer clients to other organizations that can help. "When Augusta needed more money, she just went to the bank trust officer and got it," Mark explained. "The Family Service Association still operates entirely on private funding from generous individuals and businesses in Navarro County and the United Way."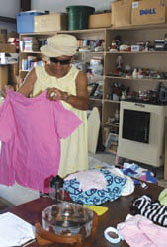 It is also about 60 percent supported with funds available through various trusts and from the Navarro Community Foundation. Mrs. Billie Love McFerran is a longtime board member who worked with Augusta in those early years. Billie Love and Augusta made house calls to get to know the people in the community and to discover their needs.
Of course, in those early days, if you had such "nonessential luxuries" as beer in the refrigerator, or if they could detect signs that someone in the house smoked, food and other supplies might be denied. Today, however, the door is wide open to anyone who comes looking for assistance. Two relatively new board members are President Ed Monk, an Episcopal priest, and Jane, who works with the hospital and with local doctors to assure that the Patient Assistance program operates efficiently.
In 1946, the United Charities organization changed its name to Family Service Association and became committed to "… the support of any benevolences and charities that are worthy and needy in and about Corsicana, Texas." The board of directors was set at 24 members. Miss Helm served as the executive secretary of FSA for 46 years. "She knew everyone who was needy in Corsicana," Mark said.
"She conducted many home visits to determine the actual situation of her clients. She personally provided transportation for people who needed to go to a doctor or hospital that would
serve the poor and indigent. With the help of the board, she provided groceries and medicines for people in need. To provide services, she established credit accounts with small grocery stores and
pharmacies all over Corsicana that would often deliver purchases to the families who needed them. She helped with medical bills, dental bills, utilities and rent."
The two principal programs offered by the FSA are the Patient Assistance program and the free clothing and household items store. Through the Patient Assistance program, applicants who cannot pay for prescriptions can obtain the medicine they need through a voucher system. This service is designed for people with chronic illness and for children who do not have other coverage. The family service staff also helps clients learn how to meet ongoing needs by enrolling in the free prescription plans available through some pharmaceutical companies.
A computer-based program helps the staff sort through a collection of companies with free medication programs with their varying eligibility rules. Counseling is also available to individuals who need refills and find the re-enrollment requirements confusing.
The free store program is probably better known in the community. Clothing and household goods are offered without cost to individuals and families who need them. "We think of it as redistributing the wealth," Mark said. "There are many in the community who have a need to give and many who need what is offered. Both of them benefit." Speaking about the donated goods, Mark said, "People are often surprised to learn that in June, for example, we had $140,000 worth of goods donated. Even though we tend to undervalue each item when we calculate this, we still average around $70,000 worth of merchandise and cash donations each month."
Some of this monthly income comes in memorial donations. "Finding space to house the donations was a constant problem," Mark said. "The FSA moved to its present location on Commerce Street at 1st Avenue in June of 2007. The purchase of the building was made possible thanks to grants from the Trust Departments of the Bank of America and Community National Bank, and the many donations received in memory of longtime board member, John Taylor."
The FSA has expanded the original focus of the association to include assistance to individuals who need help when utility companies threaten to turn off services. "It's our goal to enable a client to pay their bills the next month after our intervention," Mark said. In the summer, the store sets aside children's clothing that meets the requirements for school uniforms.
FSA also buys school supplies, which are sent to each of the elementary schools in Navarro County so that teachers can give their students what they need. Some idea of the impact this service has on the community can be seen in the record of prescriptions and other services that FSA has provided. Each month, they average between $300 to $400 worth of medications and approximately $800 worth of other food and household items.
The records also show that more than 50 percent of the people who benefit from these services are children and youth under the age of 21. All of this is possible because of the staff and the many volunteers who give generously of their time and effort to do the "hands-on work of helping" that Augusta began more than 100 years ago
— Written by Joan Kilbourne