The word laodicean holds three different meanings. For the 2009 Scripps National Spelling Bee champion, Kavya Shivashanker, it can be a native or inhabitant of Laodicea or, it can mean to be indifferent or lukewarm especially in matters of religion. But for Timberview High School freshman, Liz Adetiba, it holds a special meaning. That seemingly simple word symbolizes hard work, good work ethics, belief and desire. It is a word that will both haunt and inspire Liz as she strives for personal goals. It is a word she believes was meant to be hers.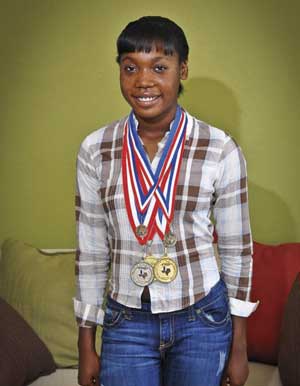 "I could have won [the Scripps Spelling Bee]," Liz said. "When I heard that word, I couldn't believe it! I knew that word. I had come across it so many times in history and reading the Bible. I knew that word."
But alas, it was not meant to be. A change in the National Spelling Bee regulations left Liz unprepared and out of the competition by the second round due to technical problems. In 2006, at just 11 years of age, Liz earned her first trip to Washington, D.C., as the champion speller from Wichita Falls, Texas, but when she returned this year, representing the Fort Worth region, the rules had changed. As Liz sat with her family, watching each round, her frustrations mounted as she knew the origin and spelling of each word.
"But the day I was eliminated, I just went back to my room and cried," Liz confessed. "It was really hard because I worked so hard for it." Admittedly, she was not nearly so dedicated on her first trip to the nation's capital. "I didn't take it seriously enough. I wasn't prepared, but this time I realized what an honor it was," making the change in rules and her early elimination all the more painful. But today, she uses this loss — and the word loadicean — as her guide. "Any time I think about giving up, I think about that to motivate me."
Born in Nigeria, Liz traveled to the United States with her mother when she was just 2 years of age. But even then, the value of education was greatly impressed upon the little girl and she was reading easily by the age of 4.
"It is part of my cultural background," said Liz's mother, Bola. "In Nigeria, education is your meal ticket. We do not have social services, there is no social security."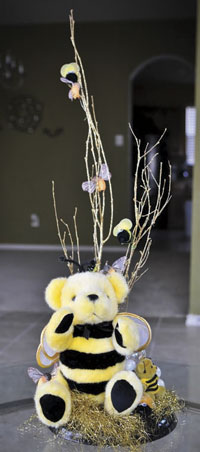 Education is and has always been Plan A. "In my country, there is no Plan B." So, while Bola has returned to school to earn her master's at the University of Texas at Arlington (UTA) as a nurse practitioner and serves as a wonderful role model to her three children, Liz has already found her Plan A. "I want to go to Baylor University," she smiled. Specifically, Liz hopes to become a
cardio vascular surgeon, and while others might mistakenly call it her Plan B, Liz has another motivator for her academics: track.
"When I was in high school," Bola recalled, "I used to run, but my uncle discouraged me. He said that education was more important." But as Bola watched a classmate compete in the Olympics, a girl with whom she was quite competitive, Bola realized there are different aspects to education that can make a person a success in life. With decorative plaques in her home that say "Dream" and "Believe," Bola is encouraging Liz to take full advantage of all her gifts and is allowing Liz to follow her own passion.
"I love track!" she smiled. With a mega-watt smile and the exuberance of a young, strong athlete impossible to miss, Liz is optimistic about her future on the fast track. In fact, Liz hopes to shine on Timberview's state champion girls' track team, running the 100-meter and 200-meter dash, the triple jump and as the first leg on the girls' 4×400 team. But no amount of record-breaking runs or jumps will equal the importance of grades in the Adetiba household, a hard, fast rule of which Liz is all too aware.
For Bola, Plan A requires getting A's. "I have told her," Bola said, "earning good grades is a step to achieving your goals."
"I've learned that if I really want something, I have to give 100 percent. Just like the spelling bee," Liz said. "At first, that really upset me, but now it just motivates me more and it's going to push me for track."
As Liz enters her freshman year, she plans to attend Ben Barber Career and Technology Academy to earn more advanced credits in Health Science while she takes on a full load at Timberview and prepares for the track season of her life. Already, she is off to a tremendous start, qualifying for state this summer with her running club, the Mansfield Express, earning gold in the 100-meter dash. But as she talks about the lessons learned from her spelling bee experience, her desire to become a surgeon and her interest in human anatomy, there is no missing the irony of her statement, "I
just think the heart is the greatest thing." Indeed. National Spelling Bee champion Kavya Shivashanker may own the word laodicean, but Liz Adetiba owns the heart
— By Alex Allred