October is finally here and with it cooler weather, we hope. It is a great time to reevaluate your yard and garden. If you find each year bringing more and more yard challenges, maybe it is time to think about moving toward a low-maintenance landscape.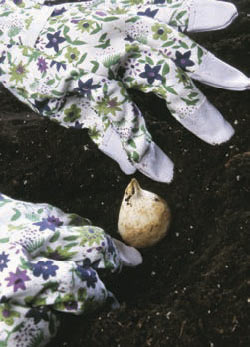 Such a project begins with reducing the size of your grass areas. Start with areas that are tough to maintain anyway, such as areas under heavy shade trees, pet runs and high-traffic areas. Go for easy-care beds with native perennials and lots of mulch. Wood ferns are great under trees, as are inland sea oats, and they do not require extra water after the first year. Mass planting of bulbs that will naturalize like jonquils and daffodils, will give you a lot of color early in the spring before the trees leaf out. Daylilies will start blooming later in the summer, continue to bloom through the fall and come back stronger year after year. Irises are hardy, easy and tough, just right for low-maintenance beds. Turk's caps and lantanas are two hardy natives that grow almost in spite of our efforts and provide lots of color during the hot days of summer.
Plan to mulch heavily and sit back with nice cold lemonade to enjoy your renovated landscape. You will have less mowing, trimming and edging plus more time to enjoy if you plan now
and get started while it is cool. Plants and flowers planted now will have a head start next spring and bloom while you watch.
Do not forget about the Master Gardeners' Great Iris Giveaway, Saturday, October 3 to be held at the
Farmers Market in Waxahachie.
— Written by Nancy Fenton, Master Gardener.