First United Methodist Church in Red Oak has been in its location for more than 22 years, and in this time has become a place where believers have gathered to worship, Boys and Girls Scout troops have met and those seeking peace and comfort could find it.
Yet as visitors and members approached the church, they were welcomed by a dismal-looking 32 x 37-foot garden. That was until a 16-year-old pursuing his Eagle Scout badge decided to do something about it.

"The church wanted this to be a nice place because it's the first thing you see as you drive up," Jordan Brown said. "The trustees asked me if I had any ideas for Eagle Scout Award, and I replied, 'What do you need the most?'"
Jordan, who has been a Scout since first grade, understood what renovating the garden would mean not only to the church, but also the community, and he took on the venture. "The church sponsors the Cub and Boy Scout programs, so this was a way to give back to the church," Jordan's mother, Sue Brown, said. "We wanted an area where people could come and gather to have Sunday school classes or Scout meetings."
So Jordan sat down with his Scout leaders and began planning a prayer garden. "He had no background in gardening or landscaping, so we had a brainstorming committee sit down and develop a plan," Terry Brown, Jordan's father said. "He sat down with one of his Scout leaders and they designed the layout together. He learned all about landscape design and step-by-step figured out what plants and materials were needed." Plans were flowing smoothly until Jordan encountered a big obstacle. "I planned this out more than a year ago. I had called a local nursery, and they gave me an estimate of about $3,500. That number scared me off a bit."
Such a substantial amount seemed intimidating and discouraged Jordan from continuing the project any further, until he was reminded of his commitment. "I had put it on the back burner for six months, but I remembered that I had made a promise to the church and felt I needed to live up to that," he explained. "One of my leaders gave me the advice that if I take a big goal and break it into smaller goals, it becomes more doable."
Sold out to finishing what he started, Jordan rolled up his sleeves and began fundraising to make his blueprint a reality. "The most challenging part was the fundraising, because $3,500 is a lot of money," Jordan said. "But we sold fertilizer, which we had done already, but our troop allowed all the funds to go to the project.
Between selling more than 100 bags of fertilizer and donations, we were able to raise
the funds." With a goal of completing the project before Easter, Jordan had his work cut out for him. "The garden was in pretty sad shape. It had been resurrected three times, but never maintained," Terry said. "As we began cleaning it up, we discovered layer after layer of landscaping that had been poorly maintained. It had an unbelievable amount of plants put in haphazardly. We even found two sprinkler systems."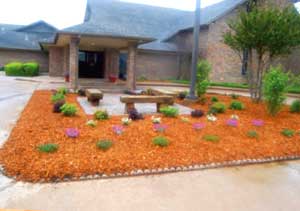 It was a huge commitment for Jordan, but eventually he had plenty of helping hands offering their green thumbs and elbow grease. "I would go every day after school and work on the garden," Jordan said. "We had a lot of late nights, but as we got started, a lot of members wanted to be a part of what we were doing. We got tons of help from the church and local troops, and it really became a big group effort."
As Master Gardeners, stonemasons and craftspeople all volunteered to be a part of the garden, Jordan began to see his prayers answered and burdens lifted.
"We had planned on repairing and installing sprinklers on our own, but one of the Cub Scouts' parents donated a new sprinkler system," Terry said. "The nursery also gave us a really good deal on all of the plants and donated one of the trees, which enabled the budget to work out. When there was a need, people stepped up. It was one miracle after another. We would have paid about $10,000 had all this been contracted."
The miraculous donations and community effort outweighed the bad weather and stubborn ground, and within three weeks the garden was completed, just in time for Easter. "It took a lot of time and was a long road, but it is something that will be there for years," Terry said. "Unlike previous years, it now has good soil throughout, and plants and perennials that will stay green even throughout the winter."
The new garden also features a paved area with benches, and has become a favorite spot for those who attend the church. "It's neat to see people enjoy using it," Jordan said.
"Before it was just a space, but it feels good to hear that people go there and have their morning coffee or lunch or go there to pray. That's what we were aiming for. It's neat to see this is a usable space." Unlike past endeavors to keep the space well preserved, this time around the garden is sure to be kept in good condition. "Along with this commitment, the garden has to be maintained," Jordan said. "So there will be an appointed groundskeeper, which is a six-month position established within our troop. Our troop, having been at this church for 30 years, made this a real important effort. This will be a longstanding improvement for the community."
The reward reaped for all the hard work Jordan sowed is the Eagle Scout Award, an achievement made only by about three percent of Scouts nationwide.
"This is the highest honor in Boy Scouting," Terry said. "It takes a long time to achieve, so it takes a lot of discipline and character. He has been real active since he started in first grade. He has been taught character of service to the community and life skills. So
this is a great accomplishment. This project was, in a way, a culmination of all these years in Scouting."
For Jordan, it is more than just receiving an award. This 16-year-old is content knowing his sweat went to bless the church and anyone else who is drawn to the prayer garden. "It feels good to look at something, take it and run with it," he said. "To see the finished project is humbling; it feels good. I would do it all over again, without a doubt."
— Written by Danielle Parker.