"I'm really just an amateur," protested Laura Hallmark as she shared her all but amateur photos. While some define an amateur as one lacking experience or competence, an amateur is actually one who pursues something for the pure love, joy and fun of it.
In Laura's case, her love of photography is evidenced in the exquisite shots she captures. "What excites me most is finding the shot actually captured what I saw," Laura enthused. "I seldom go out with an agenda or specific plan; in fact, I make it a habit to have my camera with me all the time, because you never know what might strike you as a great photo."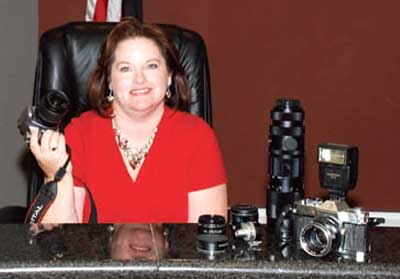 Laura began her day job in the DeSoto city offices three-and-a-half years ago as assistant to the city secretary. Now she is the city secretary. Her job demands ebb and flow around elections and various government activities. "Having seven bosses (the mayor and six council members) can be challenging at times, especially as one or two of them change each year, but I like my job," Laura remarked.
Laura and her assistant, Kisha Morris (public records coordinator), handle elections, public records, keep city documents, as well as oversee the records management
program. Kisha is the one who let Laura's photographic talent "out of the bag." While excelling in her job, it is Laura's photography interest that feeds her artistic need. "I always liked taking photos. My first real exposure to photography came in middle school while working on the school newspaper. Assigned to cover the photography and shop classes, I was given a camera and then shown how to use the dark room
to develop the campus pictures I had taken. That really caught my interest," Laura reminisced.
Photography did not truly become a hobby until about 15 years ago, when her dad gave her a Yashica 35mm, which he had purchased in Vietnam.
"It came with a 200mm telephoto lens weighing about five pounds. Even with its limitations, experimenting whet my interest. With my first paycheck at this job, I bought a digital camera to take more artistic shots, which I could enlarge," Laura remarked. "I have taken 2,923 photos since last August; a thousand were taken in Italy last November."
Sometimes, the smallest things capture Laura's eye and come under the scrutiny of her camera lens. She entered three photos in the DeSoto Art League's Juried Art Show displayed at the Town Center from May 29-July 31. Her photo of a water drop delicately hanging from the tip of a leaf is entitled, Quenched Thirst. The photo of a stairway leading to a bright blue door of a gold building overlooking a cove in Italy is called Scala a Paradiso, or the stairway to heaven. "It sounded better in Italian than English.
The hardest part of showing photos is naming them," Laura admitted. She titled a photo of a torn screen door on an old house caught by her camera, Days Gone By.
"I love my digital camera, but although able to view my shots on the camera, seeing them on the computer is like opening up a wonderful surprise on Christmas morning," Laura smiled.
She continued to display photo after photo of things which have caught her eye, such as irregularly laid paving stones in Rome with a smashed long-stem rose, called Forgotten Love.
"I'm really pleased with the photos I took in Italy. One particular day while my mother was painting, I went into the village and took random shots. That afternoon, while I painted, my mother took the camera. As we viewed each other's work, we found we had both taken photos of the same doorway framed differently. That illustrates for me how differently we each see the same aspects of life and how beauty is in the eye of the beholder. Although our photos were of the same shot, the different lighting and angles produced completely different perspectives," Laura reflected. "When we returned and I showed the photos around, people either found hers or mine more appealing for varied reasons. What was most fun was hearing why they liked one or the other more — they were seeing what we had — what a thrill!"
Laura's godmother is a professional portrait artist; Laura also credits her mother with "giving me her creative, artistic streak. She paints as a hobby." Laura's daughter, Jordan, just graduated from high school and Laura explained, "She, too, is creative. She's torn between politics and fashion merchandizing, but she will be creative at whatever she does."
Laura's son, Jacob, is going into first grade. "He had use of a camera one day and took some pretty fair shots," she laughed. "In an alternate universe, if I had time, I would love to be an event planner, doing the hands-on stuff," Laura confessed. "But this job lets me channel my artistic side occasionally by planning banquets with themes and making the centerpieces and floral arrangements." She displays her photos under her maiden name. "My professional side is Laura Hallmark, but I wanted to let Laura Grenadier out, too. So that name represents my artistic side," she said.
— Written by Beverly Shay