As a new school year rolls around and A&M University prepares to welcome its largest freshman class ever — with 8,200 new students — former A&M students in the Ennis area like to gather to wish Aggie students well. "In July or August, before the kids go back to school, we have a big 'hamburger cook,'" said Robert "Bob" Erisman Jr., charter member of the Ennis A&M Club. "We give them all a little care package to take back to school." The hamburger cook is just one of several yearly events the Ennis A&M Club plans. "We have chartered buses and gone to football games," Bob mentioned. Club members appreciate any chance to get together.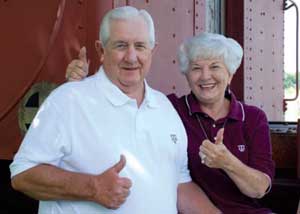 "When I got out of school, there was not an Ennis A&M Club," Bob recalled. "We were getting more and more and more Aggies in this area and we started talking about forming our own club," he said. "We wanted to do some things on a local level. We wanted to start giving scholarships to local kids here in Ennis that were going to A&M." On August 29, 1973, they got their charter for the Ennis A&M Club. Charter
members included Bob Erisman, Dr. Raymond Cook, Bob Stone, Warren Jamison, Bob Carter, Dick Roberts, Jim Bain and Terry Lamkin. "We have between 40 and 50 members now."
Dues are used primarily for scholarships. "I think the first year we might have given a $200 scholarship. This year, we were able to give three scholarships: a $500, a $1,000, and a $1,500 scholarship." Every March, the club secretary sends scholarship applications to the high school. Seniors who have already been accepted to Texas A&M can apply. Club officers and directors meet and decide on the recipients based on academics and financial need. "There is also another scholarship which is given through the A&M Club," Bob said. "That is the Buster Callaway Scholarship. Buster was a dyed-in-the-wool Aggie; he was a football player down there; he was part of the club." Buster's wife Pat (Budai) and his two children, both A&M graduates, give a memorial scholarship each year. "Buster was a very outgoing, vivacious, personable type guy and the Callaways look for a student who meets that criteria."
The annual club fundraiser is a golf tournament. "This year we raised $3,700, about a $700 increase over last year."
The scholarships are awarded on April 21 each year, during "Aggie Muster," which is one of the most significant nights of the year for all Aggies. On this night every year, Aggies traditionally gather together in groups, wherever they are, to reflect on their A&M memories and to solemnly pay respect to those Aggies who have died since the last muster. A roll call of deceased Aggies is read, and friends or family members answer "here," and light a candle to honor their missing loved one. This has been practiced since 1883. In 1922, April 21 became the official day to observe muster. "The largest Muster ceremony is on the Texas A&M campus in College Station, but it is celebrated in over 400 places worldwide," Bob explained.
The allegiance to A&M is often passed from generation to generation. When Bob attended A&M, he had several professors who had taught his dad, Robert Erisman Sr., Class of '36.
"Dad wanted to go to A&M so badly, that he just packed up and left with no idea how he was going to do it. He said when he got to the A&M campus he had a $1 bill in his pocket. He got a job digging ditches on campus."
Those "ditches" can still be seen all over the A&M University campus. They are called steam tunnels, and they were designed so that a large boiler in the physical plant could pump hot steam to all the buildings, powering the radiators. "Dad also worked at a cafeteria, at the Aggieland Inn and was the campus dog catcher. He also sold hot tamales and apparently worked up a pretty good business." Robert
Erisman Sr. worked his way through school and then returned to Ennis where he had a veterinary practice. He passed his love of A&M on to his son, Robert (Bob) Erisman Jr. "I bleed maroon," Bob said, referring to the school colors.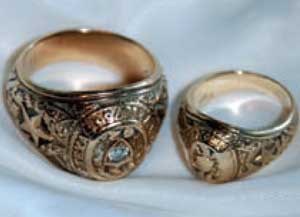 Bob grew up in Ennis, and his wife, Peggy, is from the adjoining Oak Grove
community. "We went to schooltogether in Ennis," Peggy said.
They were in the same grade, and graduated together from Ennis High School. Bob attended A&M University while Peggy worked. "I was a beautician," she said. "We got married his junior year and lived in College Station."
After Bob's graduation in 1962, Bob and Peggy moved to West Texas
where Bob worked for the Farm Bureau. After nine years of dealing with dust and tumbleweeds, Bob was transferred back to Ennis in 1971.
"We bought a house next door to my mother on Denton Street," Peggy recounted. "Then we moved to a house on the corner of Preston and Tyler. We were there for 15 years, and one day Bob said, 'Let's move to the country.'"
The couple found a former dairy farm in the Oak Grove community and renovated the house there. Bob's office is decorated with an A&M theme and displays a photo of Bob as an A&M Corps cadet. Over the years, they reared three children, Robert, Jamie and John.
"We have eight grandchildren now." Bob retired two years ago this past March, after working for the Farm Bureau for 43 years, and now has more time to enjoy helping with the Ennis A&M Club.
"People ask me all the time, 'What is there about A&M that is so different from other organizations?' It is really an indescribable phenomenon," Bob explained. "You have to experience it. The Aggie spirit is very real. There is a closeness, and there is a fellowship among Aggies. The true spirit of Aggieland is all for one, and one for all."
"Aggie spirit is a bond. If an Aggie ever gets in trouble somewhere and hollers, 'Old Army Fight,' and there is an Aggie within hearing distance, he is going to come help you."
One thing Bob is sure of is that there is no such thing as an ex-Aggie.
"Many times someone in their course of conversation will say, 'I understand you are an ex-Aggie.' No, there is no such thing as an ex-Aggie," he said. "There are just former students. Once you are an Aggie, you are always an Aggie."
— Written by Kelly Kovar.