As young children, most of us probably thought our teachers lived at school, slept at school and that teaching was their life — essentially they had no outside life. We never fathomed the possibility that they had a family, children or a home, let alone hobbies and interests other than teaching!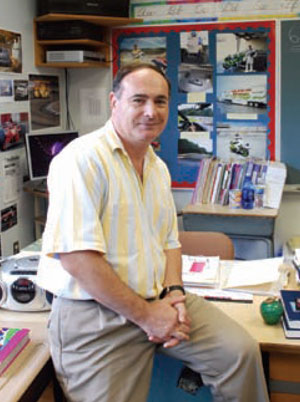 Well Fred Lagomarsino, the incredibly dedicated and effective fourth-grade teacher at Collins Catholic School, most certainly does have an alter ego when it comes to his hobbies outside the walls of his classroom. "I love to teach; I feel that I am building [the] basic necessities of their lives," Fred explained. "But I have also held a great passion for cars, and I have ever since I was a little kid."
Fred graduated from high school in a smaller, Northeastern town in 1978, and went on to pursue his degree in marketing from Providence College. After graduation, he was fortunate enough to find a career he was passionate about.
"I took a job with a Volvo and Honda dealership, where I rose through the ranks of the company and made a huge impression on the owner of the dealership," Fred stated. "My boss was extremely impressed with my abilities to fix the problem, no matter the situation. So … he moved me to the Augusta store to make some changes and improvements to that particular location." The owner made him the youngest general manager in charge of a store in Augusta, Maine.
"After all my promotions and kudos within the industry, I woke up one morning knowing that life was good, with some great perks, but along with that came exhaustion and stress," Fred recalled.
The full revelation came to him one day while sitting on the dock of his dad's boat house. As he talked with his dad, he realized he not only needed a life change, but a career change as well. His current life situation was causing burn out Knowing Fred's innate ability to connect with people and strong communication skills, a friend of the family, Nelson Megna, suggested teaching as an alternative career.
"David Hale asked me to come to Corsicana once I received my teaching certificate," Fred explained. "So in 1996, I immediately began teaching fifth-graders at Drane Intermediate School. … In fact, I was with Corsicana Independent School District for over 15 years, until one day when I received a phone call from Phillip Riley, the former principal at the Catholic School, [asking me] to start teaching fourth-graders there.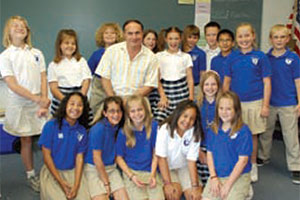 "Phillip already had my contract filled out and waiting for me on his desk," Fred said smiling. So in 2006, Fred embarked on his most current life adventure, and that is teaching and influencing the minds of the fourth-graders at Collins Catholic School.
"I love teaching young children; I feel that the teaching environment I am currently in offers children more discipline
and more one-on-one, student/teacher time," Fred explained.
"The personal attention given to each child enables the teacher to bring out the best in each of their students. The other thing I love about teaching is it gives me time in the summers to focus on and enjoy my other passion, which is car racing and the automotive lifestyle."
Fred thoroughly enjoys everything about his career. He knows that he is helping shape and mold the minds of our future citizens.
"I feel that the fourth grade is a very pivotal point in a young person's life," he stated. "I am creating a strong foundation [upon] which they can build
— both academically and in life."
Fred's primary objective is to teach his students to be free thinkers, able to see the world from their own point of view and to think outside the box. "I
love having the freedom to teach them about the world — not to teach them for the preparation of certain tests," he explained. It is obvious that he is
extremely passionate about his students developing the ability to creatively think and understand on their own, without too many rules and restrictions.
"Not only do I love what I teach, but where I teach," Fred said. "This school is not just a school; it is a community. We are all here to boost each other up and support each other, when needed."]
Fred realizes that teaching does not just stop at the threshold of his classroom; it continues in the hallways and outside the walls of the school.
"Experience is the spice of life," Fred explained. "You must force yourself to step into an experience and learn from it, as learning is a lifelong job."
— Written by Samantha Davis.