Bill Russell is a big fan of 2-1-1.
"As a police officer, I fell short of helping people solve their problems," Bill said. "At the time I was an officer, there was no such thing as 2-1-1. Now that I know the value of a 2-1-1 card, it hurts me to think I spent my entire police career without one."
These are strong words from a man who served both his community and country, who was awarded the Medal of Valor with the Arlington Police Department, served with the U.S. Marine Corps and was recognized with the prestigious Foundation of Improvement of Justice Award, a national honor given to only 10 recipients annually.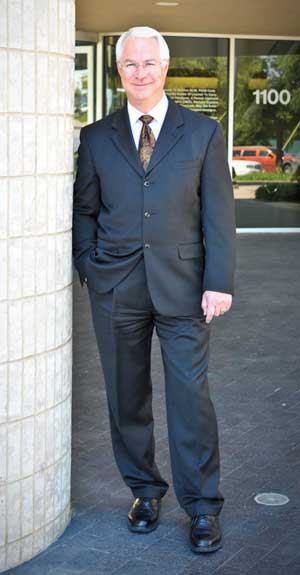 He became the commander of youth services at Arlington, went on to serve as chief of police in Angel Fire, New Mexico, and was part of the first ever tactical team to use what is termed "explosive entry" while serving on the SWAT team.
Yet this same man, with an impressive, if not outstanding, record in serving his community, cannot imagine he did so without the 2-1-1 resource.
"By calling 2-1-1," Bill explained, "you can access resources for cancer, diabetes, an out-of-control teenager or a person in need of elder care." With a database of over 3,000 resources, dialing 2-1-1 can link a person to whatever service they may need.
"When I learned that each call operator is a social worker," Bill said, "I asked for the 2-1-1 cards!"
This discovery is just a part of Bill's fascinating journey. After high school, he entered college to study for the ministry, but when he served as a volunteer reserve police officer, "I fell in love with law enforcement."
During his 20 years with the Arlington Police Department, he married, had four children and worked two additional part-time jobs while earning a bachelor's degree in psychology. Within the department, Bill rose through the ranks quickly earning a reputation as the guy who "walked the walk." He served as a crime scene investigator, patrol officer and SWAT team sniper. When he was promoted to sergeant, he began "chasing grant money," and created the first auto theft task force, for which he would later earn an award. He was promoted again to lieutenant, but as he was rising in
rank, he surprised everyone with the announcement of an early retirement.
"I had the dream of going to the mountains and retiring into a small town environment."
So, the avid hunter and outdoorsman readily accepted the position of chief of police in New Mexico "long enough to determine that it was not a good fit for the family." Bill returned and began work with the Tarrant County District Attorney's office, commanding one of the largest undercover narcotic units in Texas.
He created the first meth awareness campaign in Texas, "because I've seen the ravages and effects of methamphetamines on families."
As commander, he put up 65 billboards across North Texas with the title, "Meth Kills Families" and though Bill is hesitant to discuss any awards he has received in the past, he is immensely proud of this campaign, saying, "I know it made a difference in people's lives."
Unfortunately, when federal funding ended in 2004, Bill lost his job and the task force broke apart. Following that turn of events, he began work as a recruiter for DynCorp International, a defense contractor with the U.S. State Department that sent American police officers to Iraq and Afghanistan to teach and train citizens to become police officers.
After two years acting as a manger, Bill assigned himself to Afghanistan in 2007.
"I decided it was time for me to go and take a mission myself," Bill said, indicating there are few words to describe what he saw during that very long year. When he returned to the U.S., he had divorced, remarried and found new employment as the community outreach coordinator for Commissioner Marti VanRavenswaay.
For the man who is on the constant quest to help others, it is a perfect fit.
"She [VanRavenswaay] gave me specific instructions to learn about what resources are available for Arlington and Mansfield residents, which is the majority of her precinct. There are so many resources out there, but many were underutilized. The question was 'how can we bridge that gap? How can we better help people?'"
As Bill began to investigate, he learned of the many different needs of
the community. "From food pantries, counseling, employment, health care,
to child care, all anyone has to do is pick up the phone and call 2-1-1. The idea is to connect people to resources."
In fact, when Commissioner VanRavenswaay helped create the Mansfield subcourthouse, the purpose was to better serve the public, but eight years after its construction, few people know that they can renew car titles and registration, get their wedding or birth certificates, pay taxes or access Tarrant County Juvenile Services here in Mansfield. "Instead of forcing people to drive into downtown Fort Worth to
pay their taxes, she made it possible for these things to be taken care of
here at the subcourthouse in Mansfield," Bill said.
Despite his many and sometimes very dangerous adventures, this has been Bill's most gratifying. "I want the people of Mansfield to understand they have significant value, and it's been a privilege to serve them. As we grow older and the Baby Boomer generation ages, of which I am one, I am very grateful to have the access to so many resources. I would ask that each and every resident learn the value
of 2-1-1 and understand that it is there as a safety net. It really can make a difference.
"When I was in law enforcement," Bill recalled, "I would respond to a domestic disturbance. People would be arguing for many different reasons, but all I could really tell them, as a police officer, was to stop arguing and maintain their peace."
Today, he understands that there is so much more help out there. Once upon a time, Bill Russell entertained the idea of becoming a minister so that he could help people.
Instead, he turned to law enforcement and never could he have imagined what an impact his career, then and now, would have on our community.
"I knew that law enforcement was a form of ministry, because when law enforcement is needed, it is at a person's point of greatest need — at a moment of crisis — and what better way to help people than to be given the privilege and authority to intervene
at the most critical time?" That is the 2-1-1 on Bill Russell
— Written by Alex Allred.