These recipes were contributed by Daniela Kojouharov, a Mansfield resident, and originally appeared in the MansfieldNOW September 2015 issue.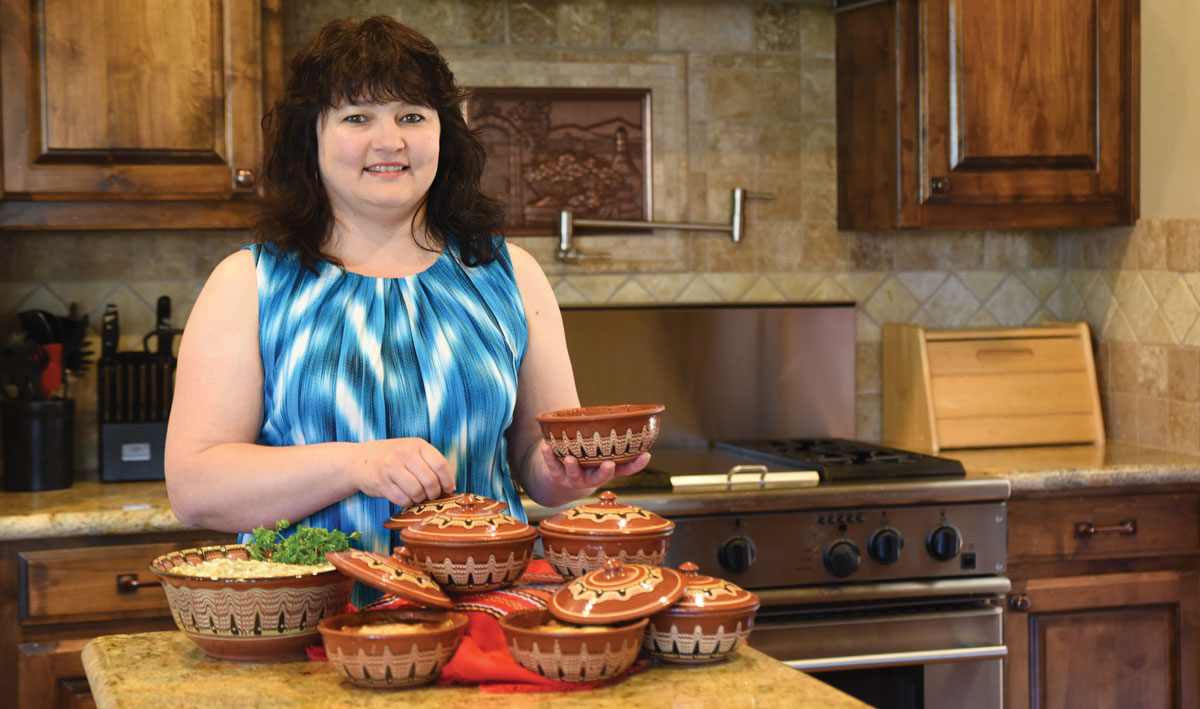 Roasted Bell Peppers Salad (Lyutika)
10 green bell peppers
6 eggs
1/2 cup crumbled feta cheese
1 cup plain yogurt
1/2 tsp. salt
Preheat oven to 450 F. Clean, deseed and cut peppers into quarters. Place in oven on a piece of foil or a baking sheet and roast until skin is blackened. Remove from oven and allow to cool before peeling skin off; chop.
Bring a pot of water to a boil. Add eggs and boil for about 10 minutes. Remove from water and allow to cool before peeling and chopping.
Mix peppers, eggs and remaining ingredients in a bowl and mix well. Refrigerate for at least 1 hour. Serve cold.
Individual Beef and Vegetables Casseroles (Guvecheta)
1 lb. beef stew meat

 

30 small cocktail smoked sausages
1 onion, roughly chopped
1 large potato, roughly chopped
8 oz. fresh mushrooms, quartered
1 2.25-oz. can sliced black olives
1 14.5-oz. can fire roasted tomatoes
Salt and pepper, to taste
1/4 cup parsley, chopped
1 tsp. paprika
1 tsp. dry oregano
1/2 cup water
6 slices mozzarella cheese
6 eggs
Preheat oven to 375 F.
Place beef in a large pot, cover with water and simmer for 45 minutes. Reserve the beef broth for later.
Divide beef, sausages, onion, potato, mushrooms, black olives and tomatoes into 6 individual casserole dishes. Add 1 cup beef broth to each dish. (If you do not have individual casserole dishes, this recipe can be prepared in a 9×13-inch baking dish.) Add salt and pepper. Cover and bake for 45 minutes.
In a bowl mix parsley, paprika and oregano with 1/2 cup water.
Remove casseroles from oven. Divide parsley mixture into 6 parts and add to each casserole dish. Mix carefully with a spoon. Taste and adjust salt and pepper if necessary. Place one slice of cheese on each dish and then crack an egg over the top. Cover with foil and bake for another 10 to 15 minutes, or until the eggs are set.
Bulgarian Moussaka
2 lbs. ground beef
1 medium onion, diced
6 large russet potatoes, cubed
2 carrots, diced
1 tsp. salt
2 tsp. paprika
1 Tbsp. dry oregano
1 14 1/2-oz. can diced tomatoes
3 eggs
1/3 cup flour
1/2 cup milk
Preheat oven to 400 F.
In a skillet, sauté ground beef and onion until well-browned. Add potatoes and carrots. Sauté for 5 minutes. Add salt, paprika and oregano. Mix well. Add tomatoes and mix well. Pour into a greased 9×13-inch baking dish. Add enough water to cover the ingredients by 1/4 inch. Bake for 45 minutes.
While this bakes, beat eggs and add a pinch of salt. Gradually add flour until the mixture is thick. Add milk to make a batter. Mixture should have the same consistency as cake batter.

 

Remove moussaka from the oven. Pour batter mixture on top and spread evenly. Return to oven and bake for about 15 minutes or until top is brown.
Cold Yogurt Soup (Tarator)
2 English cucumbers
3 garlic cloves
3 springs fresh dill chopped or 1 tsp. dry dill
1/2 tsp. salt
1 cup water
3 1/2 cups plain yogurt
1 Tbsp. olive oil
1/4 cup chopped walnuts
Grate the cucumbers and mince the garlic. Combine in a bowl with dill, salt, water and yogurt. Mix well. Refrigerate for at least 2 hours.
When ready to serve, add the oil and chopped walnuts. Serve cold.