These recipes were contributed by Bob King, a Granbury resident, and originally appeared in the GranburyNOW September 2015 issue.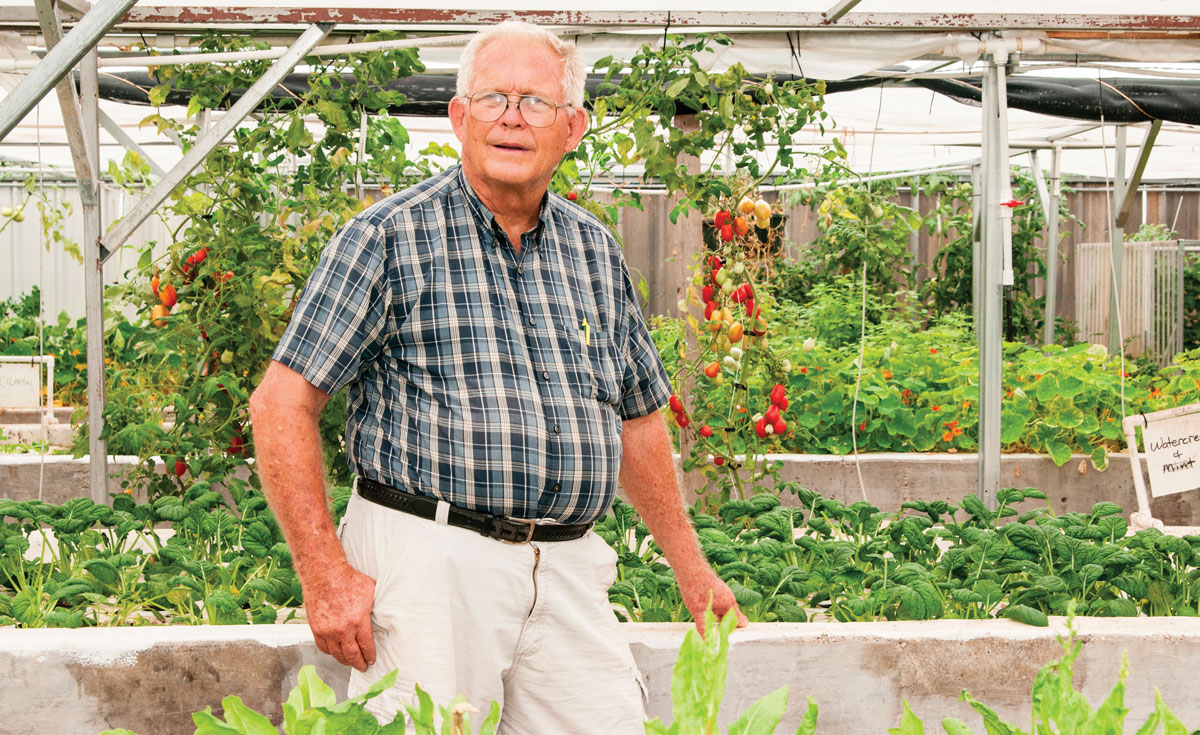 Fried Shrimp
1-2 lbs. shrimp
2 cups buttermilk
2 Tbsp. Worcestershire sauce
2 eggs, beaten
2 cups corn meal
1/2 cup flour
Peanut oil, for frying
Clean, devein and butterfly the shrimp.
Mix the next three ingredients well; coat shrimp with the mixture.
Mix the corn meal and flour in a large Ziploc bag.
Preheat peanut oil to 375 F.
Put wet shrimp individually into the Ziploc bag, close tightly, shake to coat shrimp and quickly remove.
Fry the shrimp in the peanut oil until the shrimp floats longer than 30 seconds.
Remove from oil, drip dry on paper towels and keep warm until all are cooked. Serve immediately.
Fish Tacos
Makes 8 tacos.
Salad:
4 leaves romaine lettuce
6 leaves lemon sorrel
4 leaves Swiss chard
1 bunch watercress
4 leaves butter lettuce
1 bunch cilantro
Fish:
1 lb. catfish, perch or tilapia fillets
1/4 cup olive oil
1/4 cup water
1 tsp. garlic salt
1 Tbsp. Jamaican Jerk seasoning
1 Tbsp. Louisiana Cajun seasoning
1 tsp. cumin
8 corn or flour tortillas
1/2 stick butter
1/2 cup tomato-based salad dressing
1 cup cheddar cheese, grated
For salad: Wash and dry salad greens. Finely tear greens into small pieces and, with hands, toss them together in a large bowl. Set aside.
For fish: Place fish fillets in a skillet at 325 F. Add olive oil, 1 Tbsp. at a time, until fillets are moist; add water in same manner. Cook until fish crumbles. Stir in seasonings, adding more to suit your taste.
Heat tortillas with butter in a skillet.
Add 1/8-lb. fish to each tortilla. Garnish generously with salad.
Add a tomato-based dressing to enhance the flavor, and top with grated cheese.
Fish Cakes 
4 eggs, beaten (divided use)
2 cups fish fillets, cooked until flaky
1 cup corn flake crumbs
1/2 cup green onions, sliced
1 Tbsp. Worcestershire sauce
1/4 tsp. salt
1/4 tsp. pepper
4 chicken or beef bouillon cubes
1 tsp. lemon juice
2 cups breadcrumbs
2 cups vegetable oil
In a large bowl, combine 2 beaten eggs with all remaining ingredients, except breadcrumbs and oil. Mix well.
Divide into six equal portions, shaping into 3/4-inch patties.
Dip patties into 2 additional beaten eggs, and then dredge in a shallow bowl of breadcrumbs.
Heat vegetable oil to medium in a 10-inch skillet. Fry patties in oil for 2 to 4 minutes on each side, until golden brown.
Drain on paper towels and serve with lemon slices, tartar sauce or cocktail sauce.
Deep Fried Fish
1-2 lbs. fish, filleted or chunked
2 cups peanut oil
2 eggs, beaten
2 cups buttermilk
1 Tbsp. Worcestershire sauce
2 cups cornmeal
1/2 cup flour
Prepare fish no more than 1/2-inch thick and, preferably, weighing no more than 1/4 pound.
Preheat oil to 375 F, using a thermometer to verify temperature is not lower than 375 F.
Beat eggs with buttermilk and Worcestershire sauce; dip fish into batter.
Mix together cornmeal and flour in a Ziploc bag. Put wet fish, individually, into Ziploc bag, close tightly, shake to coat fish and quickly remove.
Place coated fish individually into the hot oil, and cook until the fish rises. Fry another 30 seconds. Do not overcrowd the fish when cooking. Remember, the cooking temperature is the key to success.

 

Drain the cooked fish on paper towels and serve as soon as possible with fresh salad.