These recipes were contributed by Wolfgang Weichert, a Granbury resident, and originally appeared in the GranburyNOW July 2015 issue.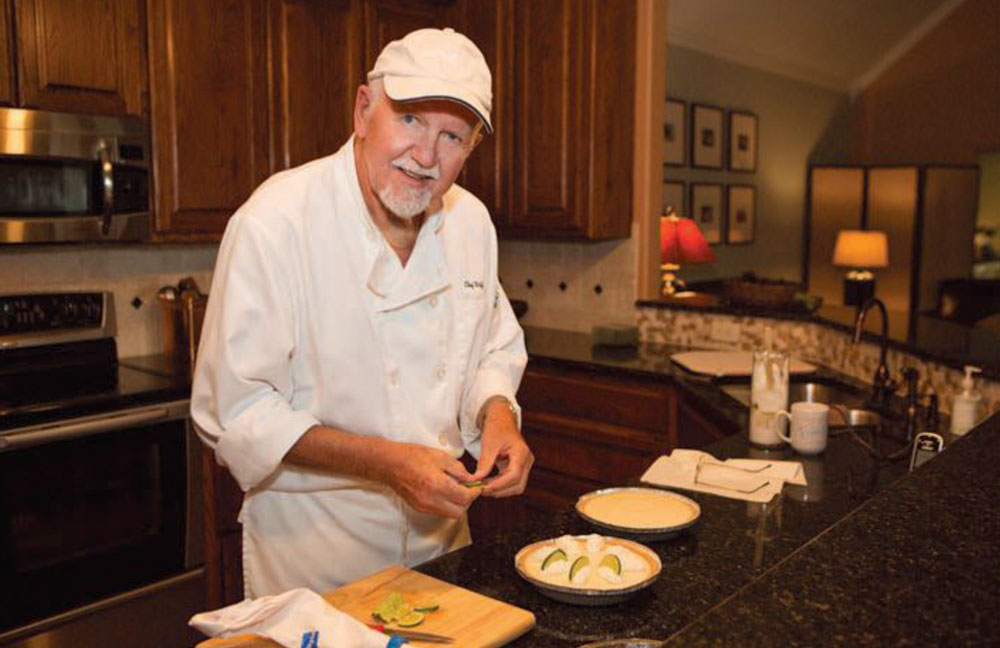 Key Lime Cheese Pie
1 lb. cream cheese
2 14-oz. cans sweetened condensed milk
2 cups lime juice, heated
1 1-oz. envelope gelatin
2 9-inch graham cracker pie crusts
2 cups whipped topping
1 fresh key lime
1. Warm cream cheese in the microwave; add condensed milk.
2. Dissolve gelatin in heated lime juice; add to cream cheese mixture. Beat until creamy and without lumps.
3. Pour into pie shells and cool in refrigerator.
4. With a warm knife, cut each pie into 6-8 pieces, dipping knife into warm water and wiping before each cut.
5. Garnish with 1 Tbsp. mound of whipped topping and 1/2 thin slice of fresh lime before serving.
Summer Salad
1 head romaine lettuce
1 16-oz. box spring mix lettuce greens
1 12-oz. bottle raspberry dressing
1 pint each: blueberries, strawberries and blackberries
4 oz. shaved white chocolate
1. Cut romaine into bite-sized pieces. Mix with spring mix lettuce greens.
2. Add dressing to taste. Top with mixed berries and shaved chocolate, and then serve.
Cream of Mushroom Soup
24 oz. mushrooms, pre-sliced
4 cups water (divided use)
1 quart whole milk
1 pint heavy cream
4 Tbsp. Knorr chicken base, to taste
3/4 tsp. white pepper, to taste
3/4 cup all-purpose flour
1. In a 1-gallon pot, bring mushrooms to a boil in 2 1/2 cups water; reduce heat to low for 15 minutes.
2. Add milk, heavy cream, Knorr chicken base and pepper. Bring to a boil; reduce heat to low.
3. Using a wire whip, mix flour with 1 1/2 cups water until lumps dissolve.
4. Using the same whip, slowly incorporate flour mix into soup. Thicken while bringing to a boil, and then serve.
Pork or Chicken Scaloppini
1 3 1/4- to 3 3/4-lb. loin of pork (or 3 1/4- to 3 3/4-lbs. chicken breasts)
Salt and pepper, to taste
1 cup all-purpose flour
3 sticks butter (divided use)
4 Tbsp. capers
3 lemons, peeled and diced
1. If you did not have your butcher prepare your meat for scaloppini, then slice pork loin or chicken breasts thinly, lengthwise. Beat each piece of meat until very thin. Use approximately 3 pieces, equaling 5-6 ounces, per serving.
2. Season individual pork or chicken slices with salt and pepper to taste. Dip each piece in flour.
4. In a hot pan, melt 1 stick butter. Cook meat pieces to light golden brown and remove.
5. Using the same pan, add 2 sticks of butter, capers and lemon; sauté.
6. Drizzle sautéed lemon butter with capers over pork or chicken and serve.
Grilled Asparagus
2 lbs. asparagus
Spray cooking oil
Salt and pepper, to taste
1. Spray asparagus until coated with cooking oil.
2. Grill until tender.
3. Reheat, season with salt and pepper; serve 4-5 pieces per person.
Garlic Smashed Potatoes
4 lbs. red potatoes, unpeeled, washed and cut into 2-inch chunks
Salt and white pepper, to taste
2 sticks butter
2 Tbsp. garlic, minced
1. Wash potatoes and cut into 2-inch chunks, leaving skin on. Cook until tender with salt and pepper; drain.
2. Smash potatoes with a masher while mixing in butter and garlic, being careful not to over mash. Serve with asparagus and scaloppini, while hot.
Penne Pasta With Vodka Sauce Appetizer
1 lb. mini penne
45 oz. tomato sauce
1 pint heavy cream
3/4 cup vodka
Cayenne pepper, to taste
Salt, to taste
1. Cook pasta according to box directions, drain and set aside.
2. Heat tomato sauce. Add heavy cream, vodka, pepper and salt to taste.
3. Stir in penne and serve.